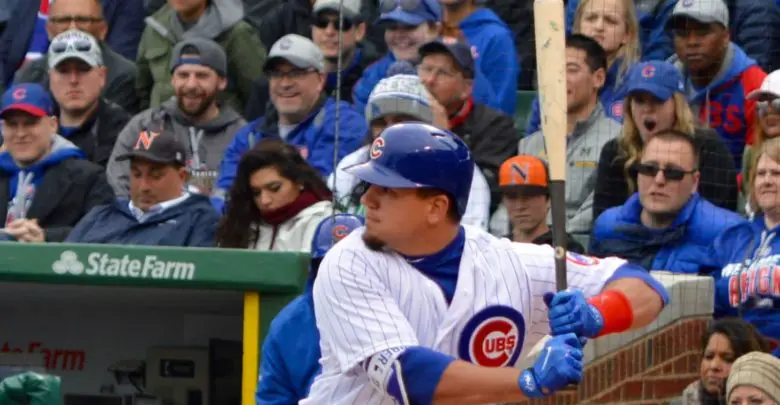 Schwarber Admits Catching Days Are Over, Which Could Spur Overall Improvement
You might have missed it at the end of a piece that was focused on Kyle Schwarber gushing about Yu Darvish, but the erstwhile catcher basically admitted that his days behind the plate are over. Though he sort of soft-pedaled it, Schwarber seems to have come around to what the Cubs themselves have known for a long time.
"I think those days might be done," Schwarber told the Tribune's Mark Gonzalez when asked about getting a different look at his new teammate. "I might wander my way back there and see what it looks like from a catcher's point of view."
Most probably view that as a completely innocuous statement with all the weight and substance of dandelion fluff floating on a spring breeze. I, however, see it as confirmation of a suspicion I had a few weeks ago. It's easy to discount the mental side of the game in light of all the statistical information we're inundated with, but psychology matters. A lot.
Rather than try to re-state it somehow, here's what I wrote back in January about Schwarber finally becoming woke to the idea that his future is in left field.
Not only is Schwarber now two years removed from knee surgery, but this will really be the first season in which he's purely an outfielder. Even if there's some part of him that still wants to catch, it's obvious by now that a role as a backstop just isn't in the cards unless it's in an emergency situation.
Though I'm not privy to the Cubs' machinations in that regard, I've said for quite some time that allowing Schwarber to work out as a catcher was a conciliatory gesture. They wanted to placate him and also to make him as comfortable as possible in his transition to the outfield. Think of it like sneaking cauliflower into your kids' mashed potatoes.
Before you know it, the kids like cauliflower and Schwarber likes playing left field. Or at least he has fully embraced the idea that he's going to be an outfielder on a permanent basis. And if I'm being honest, I truly believe that realization and the resultant emotional unburdening will bear all kinds of fruit for Schwarber moving forward. I know that's totally intangible and unquantifiable, but we can file it under the mental skills training that the Cubs have so diligently cultivated.
Gee, I guess there's not much else to say about it at this point. Well, other than to add that this whole theory coming to fruition would be really, really good for Schwarber and the Cubs. Which means I'll probably mess up my rotator cuff from patting myself on the back all season.
Am I way out there for believing that a seemingly insignificant shift in mentality could help Schwarber to improve at the plate and in the field? And I mean even beyond the new diet and workout regimen. Maybe, but I'm very much looking forward to what he's going to do this season either way.