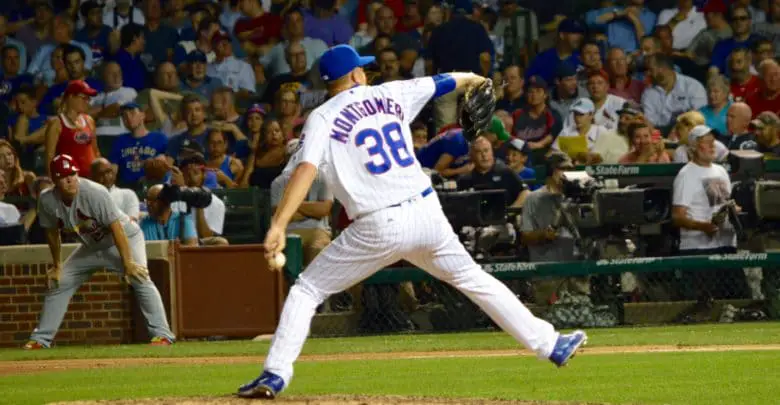 Cubs Have Gotten Calls on Montgomery, Who Has 'Never Had More Fun Playing Baseball'
Mike Montgomery's desire to start has been a near constant topic of conversation this offseason and it figures to remain so for the foreseeable future. Initially portrayed as something of a demand that could precipitate a trade, the lefty's role, and his comfort level with it, has been put in much better perspective over the past few days.
Theo Epstein and Joe Maddon praised Montgomery's talent during Tuesday's opening press conference, explaining that he will be working as a starter throughout spring training. And though he'll work mainly out of the bullpen once the regular season begins, Maddon assured the assembled media that Montgomery would get plenty of starts.
"People can take it however they want to take it," Montgomery said Wednesday of preferred role. "It's no big deal. I think it's obvious I want to [start], and I think it's just a matter of time and place and situation."
And while Ken Rosenthal's initial tweet made it sound as though Montgomery might prefer to have an opportunity to start elsewhere, the lefty made it clear that is not the case.
"I definitely want to be here," Montgomery stated. "I know I want to be a starter, but, look, being a part of this team the last couple years, it's a special group, and we not only have a good team, but I've never had more fun playing baseball."
These are more or less the same sentiments he shared prior to the start of camp, when he spoke to Patrick Mooney about prioritizing winning over starting. But what if it's not up to Montgomery?
As Gordon Wittenmyer reported, the Cubs have received several calls about trades since the Darvish signing. The Phillies, who have been mentioned several times in connection with Jake Arrieta, had "talked with the Cubs about Montgomery long before the Darvish deal looked close." And you may remember that the lefty swingman was a central figure in the Manny Machado rumors as well.
So what does this all mean? Probably nothing, at least for now. Despite the lack of a clearly defined role, Montgomery presents tremendous value to the Cubs. He's a lefty who's proven himself adept as a reliever and who can competently hold down a starting spot as well. Oh, he's also got four years remaining on a rookie contract.
That might be something another team would be willing to offer up quite a bit to acquire, so it's likely the Cubs will continue to get calls. It's unlikely, however, that they will take any action at this point. Adding Darvish may have filled out the rotation, but it didn't make Montgomery expendable by any stretch. Given their lack of dependable depth in the minors, the Cubs would be wise to hang onto him for now.
Depending on what happens with Adbert Alzolay's development — particularly if he figures out the changeup — and Drew Smyly's health, the calculus could change quite a bit come November. Until then, it's a matter of putting Montgomery in the best spot to help the Cubs win this year.
"I just want to make sure my arm is healthy, my body, because last year was definitely a tough year physically," Montgomery said. "I'm not gonna lie. During the playoffs, I could definitely feel the wear and tear of the regular season. So we'll try to even that out a little bit."