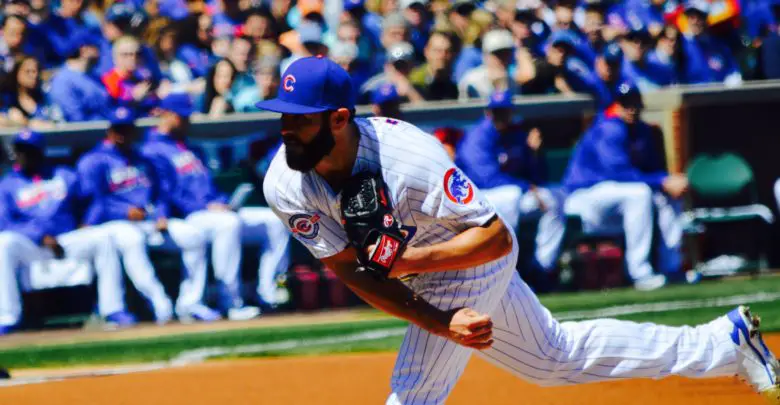 Heyman: Arrieta Getting Interest from Padres, Has 'Fortitude to Wait Things Out'
It's been a couple days since I wrote anything about former Cubs players, so I figured it was a good time to dig into the latest on Jake Arrieta's market. FanRag's Jon Heyman is reporting that the Padres may be entering the fray of teams being tied to the former Cy Young winner. How much interest is really there, however, is not known.
Heyman refers to the overall market for the top remaining pitchers as "bottom fishing," which isn't likely to be something that lures Arrieta. Even though he won't end up getting the time and money he was hoping for at the outset of free agency, the bearded righty has no plans to put himself on the clearance rack or to sign a one-year pillow deal.
"[W]ord around Arrieta has been that he isn't anxious to sign what he considered an under-market deal, and also that he has the fortitude to wait things out," Heyman wrote.
That seems like a no-brainer, but there's been a lot of hopeful speculation that the Cubs might be willing to bring their former ace back should the price drop low enough. But the same could be said for several teams when it comes to to acquiring Arrieta's services. And several of those teams surely have a greater need to add a top-flight pitcher than the Cubs do.
I'm not just talking about Yu Darvish, though bringing him into the fold more or less closed the door for good on Arrieta's return. We can't forget that Tyler Chatwood was the Cubs' first big signing this past winter, and, while this isn't to indicate that he's on the same tier as Arrieta or Darvish, the Cubs invested in Chatwood for a reason.
Having already bumped Mike Montgomery back out of the rotation, it wouldn't make sense to squeeze yet another pitcher to the bullpen (though Chatwood has served as a swingman in the past). Nor would the Cubs be big on having a permanent six-man rotation, which is what would have to happen in the (very, very unlikely) event that Arrieta found his way back to Chicago.
Of course, this is all assuming that a reunion is something the Cubs would be amenable to, which doesn't factor Arrieta's thoughts at all. I've felt for the last two-plus years that Arrieta's departure in free agency was inevitable, and it now seems as though there's a little frost on the relationship. When you get down to it, though, money talks and I can't imagine even the hardest of feelings getting in the way if the Cubs offered a bigger deal than anyone else.
I just can't see the Cubs making that offer, just as I can't imagine Arrieta having to tuck his tail between his legs to take a one-year deal anywhere, let alone Chicago. While he could still provide significant value, he just turned 32 this week and would be facing a significant amount of risk on a short-term contract. What if his performance dips or he gets hurt? There goes the big deal that he's already unable to land as it is.
Maybe the Padres are willing to pony up like they did for Eric Hosmer. Maybe the Phillies spend some money. Maybe it's the Brewers. Wherever he ends up, Arrieta is going to land a deal for more than one year and he's going to get it from someone other than the Cubs.