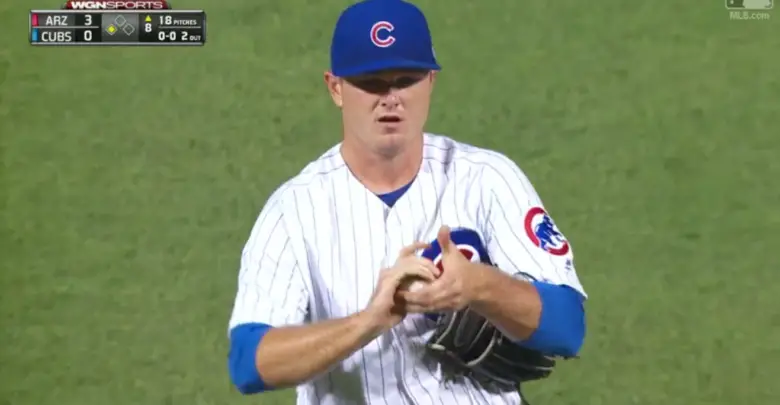 Justin Wilson Looking Good Because of What He's Not Doing
To say that the Cubs' acquisition of Justin Wilson at last year's trade deadline was disappointing would be a massive understatement. Initially expected to solidify the back end of the bullpen, Wilson pitched so poorly that he barely made the NLDS roster and was not one of the 25 men in uniform when the Cubs faced the Dodgers.
I'll spare you a redux of the gory details, but suffice to say Wilson had a very difficult time finding the plate after coming over from the Tigers. Some of the issues may have been mechanical in nature, others psychological. Driven by a desire to prove himself with his new team, Wilson pressed and pushed and ended up overpitching.
A return to form for the once-dominant lefty would be a little blue pill for a relief corps that has been reworked following its impotence in the postseason. The Cubs are stocked with high-leverage arms and figure to be well insulated against some of the issues that plagued them in 2017, but bullpens are notoriously fickle. Finally comfortable with himself and his new team, Wilson is on his way to making good on the expectations that accompanied his trade and becoming a solidifying force.
We learned at the outset of spring training that Wilson had made some changes to his delivery, among which were eliminating the double-tap of the ball in his glove and lowering his leg kick. When reviewing video of his Cubs performances last season, it appeared that he was also breaking his hands a little early, which led to him pulling pitches wide.
While it's from a very limited sample, Wilson's performance this spring indicates that the changes are working. The real key to his three outings thus far isn't the zero in the runs allowed column, it's the one associated with BB (which is baseball shorthand for base on balls, in case there and noobs here). That's right, no walks. Wilson has filthy stuff and can absolutely lock down opposing hitters…if he's throwing strikes.
Justin Wilson with another scoreless, and more importantly, walkless outing today. His updated ST line:

3.0 IP, 2 H, 0 ER, 0 BB, 2 K

— Cubs Insider (@realcubsinsider) March 8, 2018
So you could say Wilson's success is all about what he's not doing. That's not just walking batters, it's worrying and overthrowing. New pitching coach Jim Hickey is a noted proponent of pounding the zone, which should help. What's more, just being in camp with the team and feeling comfortable in the clubhouse and on the mound will allow Wilson to be himself.
Now if he can just keep doing what he isn't doing, he'll be doing just fine.