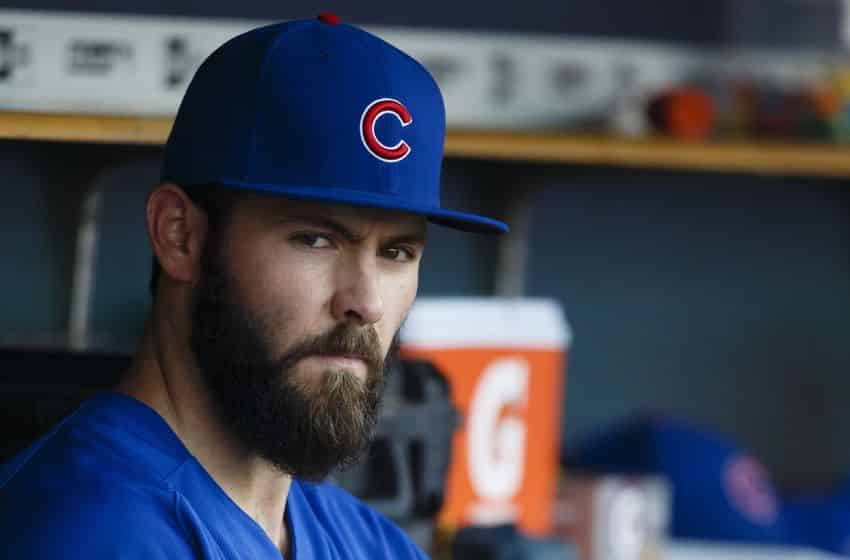 Thanks, Jake Arrieta, There Will Never Be Another Pitcher Quite Like You
I will always remember you, Jake Arrieta. No one had a better stretch run in MLB history than you did during that 2015 second half. We may never see another pitcher do that again. I say that with no hyperbole, or even mild exaggeration, either.
Seriously, we really need to appreciate what Arrieta did as a Cub. As FanGraphs pointed out, Arrieta's wOBA allowed after the All-Star Game in that Cy Young season was the best half of all time. Ever. No one was better.
Top 10 Season-Half wOBA Allowed
| | | | |
| --- | --- | --- | --- |
| Pitcher | Half | Year | wOBA |
| Jake Arrieta | 2nd Half | 2015 | 0.192 |
| Ferdie Schupp | 2nd Half | 1916 | 0.192 |
| Reb Russell | 1st Half | 1916 | 0.198 |
| Clayton Kershaw | 2nd Half | 2015 | 0.202 |
| Johan Santana | 2nd Half | 2004 | 0.202 |
| Pedro Martinez | 2nd Half | 2000 | 0.203 |
| Burt Hooton | 2nd Half | 1981 | 0.205 |
| Greg Maddux | 1st Half | 1995 | 0.208 |
| Sandy Koufax | 2nd Half | 1965 | 0.208 |
| Joe Horlen | 2nd Half | 1964 | 0.211 |
Saying Arrieta was unique doesn't even do him justice. He had a slider/cutter that broke pitch classification computers. That pitch was thrown faster than over 99 percent of right-handed sliders since 2007, and he was able to couple velocity with more horizontal movement than 68 percent of righties.
But, as we all know, Arrieta also had a wipeout curve that broke downward more than 98 percent of righties. And then he was able to dart sinkers on the outside corner of the plate at upwards to 99 MPH.
Oh, and he was able to do this with a release point that was, statistically speaking, more toward the third base side than pretty much any other over-the-top pitcher. Look through the eyes of a right-handed batter and notice just how far off Arrieta is to the hot corner.
Arrieta's pitches aren't all that made him memorable. He had impeccable posture, an intimidating presence, flat-brim hat, a lustrous beard that was the envy of everyone not named Paul Bunyan, and a no-BS mentality, all of which combined to make him seem larger than life on the mound. I mean, remember the way he squelched all trash talk on social media leading up to that wild 2015 Wild Card game in Pittsburgh?
Let me remind you:
Whatever helps keep your hope alive, just know, it doesn't matter. @Cubs https://t.co/bJDN1wP0tS

— Jake Arrieta (@JArrieta34) October 4, 2015
Jake then came out during that cold night in Pittsburgh and treated the Pirates just as he had their fans, blasting his opening two fastballs around 98 mph. When I saw those first pitches, I already knew the Pirates had no shot. Sean Rodriguez slugging the Gatorade cooler in the dugout was the only hard contact of the evening by a Pirates hitter.
Don't feel too bad for that orange jug, though, it survived to celebrate Arrieta's 11-strikeout, complete game shutout.
There are so many achievements that could be considered Arrieta's most memorable as a Cub. His no-hitter in Los Angeles; his other no-hitter in Cincy; the entire 2015 stretch run; winning the Cy Young; hitting a ball like 450 feet in Chase Field; finishing with a 90 wRC+ in 2016…as a hitter; winning two World Series games; a career 2.73 ERA and being part of a culture change in Chicago. It's impossible to just pick one.
So, Jake, I speak on behalf of all most Cubs fans when I say, "Thank you."
A fond farewell and THANK YOU to Jake Arrieta. His time with the Cubs:
– 68 wins from 2013-2017
– 2015 NL Cy Young Award
– 2-0 in 2016 WS
– 2016 World Series Champion
– 2 no hitters

A short video could never do it justice, but here's our way of saying thanks. pic.twitter.com/sG5FrUQp2T

— Cubs Insider (@realcubsinsider) March 11, 2018