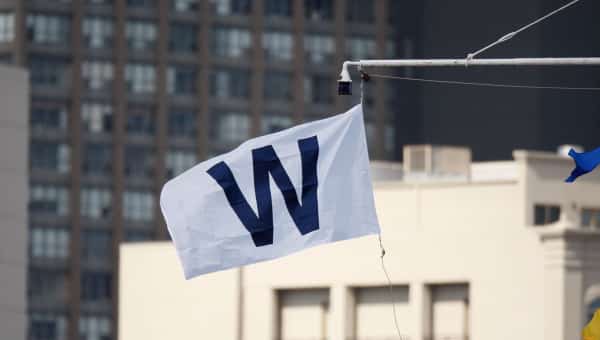 CI Recap (3/31/18) – Cubs 10, Marlines 6 (F/10): Yu Debuts, Bullpen Grinds in Extra Inning Victory
After last night's extra inning fiasco, both the Cubs and Marlins had the bats going again tonight to try and finish this one in nine innings. But alas, we went to extras yet again.
Yu Darvish made his Chicago Cubs debut this evening and only lasted 4.1 innings. He was however able to retire a solid string of Marlins hitters in the middle innings, despite beginning and ending his day on shaky notes. Both teams traded runs for most of the night and it wasn't until extras when the Cubs were able to string together enough runs to take this one. (Box Score).
Why The Cubs Won
The Cubs were able to put together a nice sequence of hits in extra innings to provide them the cushion they were seeking. In addition, the bullpen had another strong showing allowing just one run over 5.2 IP following an early exit from Yu Darvish.
Key Moment
Javier Baez led off the 10th inning with a double to left field for his first hit of the season. Addison Russell followed it up with a walk and Ben Zobrist drove in Baez with an RBI single to give the Cubs the lead. Kris Bryant would put the cherry on top with a bases clearing double to finally put the pesky Marlins away.
Stats That Matter
Kyle Schwarber crushed his second home run of the season in the top of the second inning to tie things at two.
For the second night in a row, Ben Zobrist had a long fly out that would have been gone in many ballparks. According to Statcast, it traveled 389 ft. with an exit velocity of 96.7 mph. He was, however, rewarded in extras with a go-ahead RBI single. As we mentioned last night, Zobrist is really striking the ball well in the early going.
Yu Darvish struggled overall in his Cubs debut (4.1 IP, 5 H, 5 ER, 4 K, 2 BB, 2 HBP). However, there was a span in the middle few innings where he retired nine of ten batters while also striking out the side in the third inning.
Last season, Darvish threw his fastball about 35% of the time. Tonight, he utilized that pitch 44% of the time averaging 94.1 mph. This velocity is exactly what Darvish was throwing to open up the 2017 season and not much of a dip from where he ended last season.
Anthony Rizzo delivered a big two-run single in the fifth inning. This appeared to be a turning point in the game until the Marlins put together a rally of their own in the bottom half of the inning.
Per Statcast, Schwarber's 8.23 sec. time from home to second was the fastest he has been tracked at. He's got wheels everyone!
Per ESPN's Jesse Rogers, the Cubs' bullpen has now pitched 22 innings in 2018, allowing two runs while striking out 17.
Bottom Line
The Cubs were able to score just enough runs to take this one, despite leaving eight men on base and hitting a mere 4-16 with RISP. The bullpen continued to dazzle after Darvish was pulled in the fifth, and the team will look to win the series tomorrow afternoon.
On Deck
Jose Quintana gets set to take on Dillon Peters tomorrow in the final game of this four-game series in Miami. The game can be seen on NBC Sports Chicago+ with a scheduled first pitch of 12:10 PM CDT.