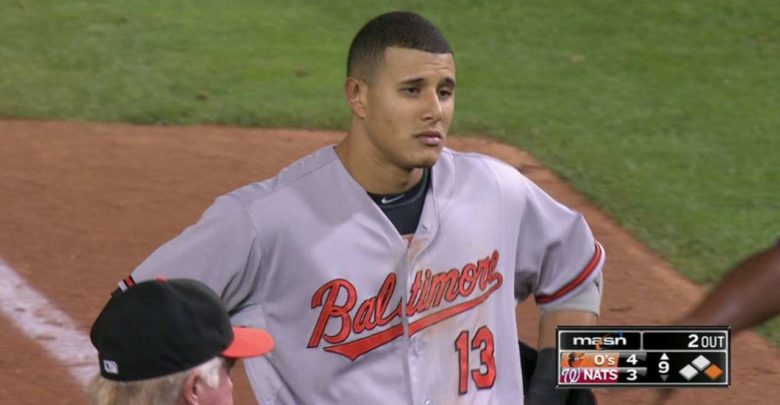 Cubs Trade Rumors: Cubs Contacted Orioles, Who 'Aren't Anywhere Close to Moving Machado'
Theo Epstein spent the lead-up to the holiday weekend denying reports of any real trade talks, but that doesn't mean nothing is happening at all. While it's true that the Manny Machado business has essentially grown wings via the media at this point, it's a near certainty that the All-Star shortstop will be moved. As such, this isn't going away until it finally goes away.
Some of the more specific reports on the Machado talks this winter came from MASN's Roch Kubatko, and he is back again with more on the progress — or lack thereof — is this spring's biggest non-story.
It makes for good copy, but I'll repeat this morning that the Orioles aren't anywhere close to moving Machado. They aren't actively shopping him. They're just taking calls, which seems like an obvious reaction to a ringing cell phone.
According to industry sources, the Phillies left open the possibility of engaging in talks while they were in Baltimore earlier this month, and the Cubs contacted Duquette to express interest with an eye toward the non-waiver deadline. It's only May 26. There's nothing hot despite the Orioles' last-place positioning in the American League East.
I'm also told that specific players haven't been discussed.
While the Cubs typically are labeled as the most aggressive suitors over the winter, the Cardinals actually surpassed them and the Diamondbacks stayed in contact. But none of the offers were deemed worthy of the three-time All-Star, two-time Gold Glove winner and Platinum Glove recipient.
So the Cubs were definitely involved in talks this winter but were not the most aggressive team in their own division and have now talked to the O's about talking to the O's later. That still holds water even when you bump it up against what Epstein has said lately, especially once you factor in the part about no specific players being discussed.
You'd think Baltimore would be a little more anxious to move the stud shortstop after what happened with Zach Britton last season and with Machado's value decreasing incrementally each day. Then again, the whole deal is pretty much out of their hands at this point as their potential suitors have now seized most of the leverage.
And while it's possible that another team — perhaps the Braves, who Kubatko calls "a sleeper pick" in the sweepstakes — could jump up and make a splash, the Cubs have little to gain at this point. With Addison Russell coming around offensively and on pace for his best season yet, they may not be too keen on setting the market.