Day Two Draft Recap: Cubs Add Some High Potential Prospects (Video, Breakdown, & More)
Eight picks.
That's all the Cubs took on the second full day of the draft. It's hard to build depth in a system with a lot of needs and, outside of catcher and starting pitcher, the Cubs need a little bit of everything. While the Cubs do pick 30 more times today, only about half of those will sign. Usually, the top 10 sign every year.
The Cubs went with four position players and four pitchers in the draft on Tuesday. That brings their two-day total to seven bats and five arms.
Here's a few things that jump out at me.
Fourth round pitcher Ethan Roberts comes across as a pitcher on the rise.
Sixth round pitcher Kohl Franklin has MLB bloodlines and he's already throwing in the low 90s with a very projectable frame.
Seventh rounder DJ Artis was ranked as a possible first rounder in January. Still, his skills did not diminish, he just got worked around a lot. His selection might be a steal along with 9th round pitcher Derek Casey from Virginia and 10th round choice Luke Reynolds of Mississippi State.
Across the board, I like the variety of players the Cubs drafted. I really like the fact that they all have unique skills and are not cookie-cutter players.
Here's a breakdown of each player drafted by the Cubs on day two of the 2018 MLB draft: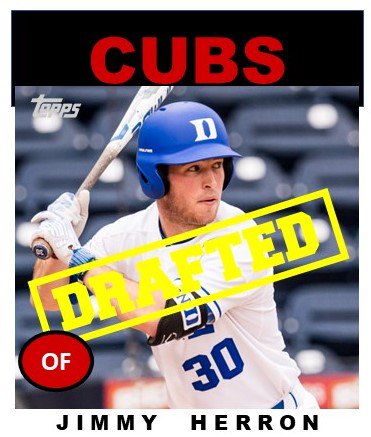 3. Jimmy Herron – OF – Duke – 6'1" 195 – Bats R, Throws L
He hit well on the Cape last summer and gained a lot of praise, but was injured most of this year at Duke. Excellent makeup and a top-of-the-order kind of guy. Should begin his career at Eugene.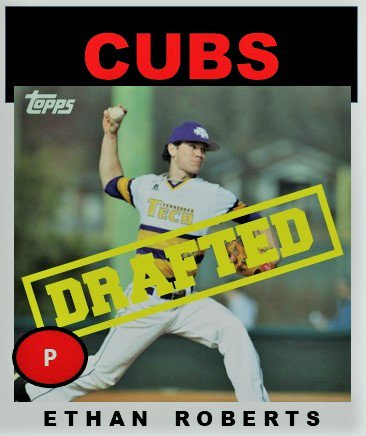 4. Ethan Roberts – RHR – Tennessee Tech – 5'11" 170 lbs. Throws Right
Misses a lot of bats with 96 Ks in 71 IP this year, including a 2.41 ERA in 26 games. He was not in BA's top 500 or MLB Top 200, as most closers usually aren't. On Monday, he started for the first time against Mississippi in the NCAA Regionals and went 7.2 IP before giving up four runs in the 8th. It didn't matter, as Tennessee Tech cruised to a 15-5 victory.
Cubs fans should get to see him in some capacity this weekend in the Super Regionals, as Tennessee Tech takes on Texas in Austin for a chance to advance to the College World Series. He has not played summer leagues, so his arm is still pretty fresh. It will interesting to see if he starts or relieves in 2019. For this year, expect to see him in Eugene.
Here's a look at his breaker:
https://twitter.com/TheArmstreet/status/1003692493593071616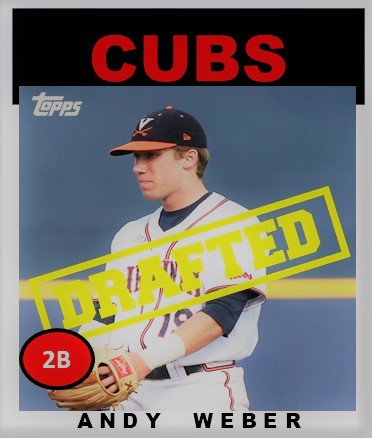 5. Andy Weber – 2B – Virginia – 6'1″ 190 – Bats Left, Throws Right
Known more for his bat but is a decent defender as a three-year starter. He was not listed on any top lists however, he hit .344 with a .415 OBP and drove in 49 in 54 games. Very impressive. His K rate this year was about 15% while he walked about 12% of the time. He did OK in the Northwoods League (a wooden bat league) over two summers hitting .280 and .309.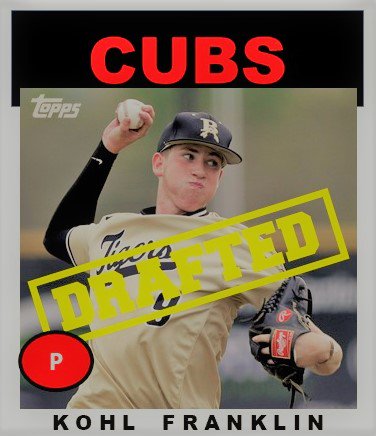 6. Kohl Franklin – RHP – Broken Arrow, Oklahoma HS – 6'4″ 190 lbs.
I love this pick. He was injured for part of the year (seems to be a theme this year) but he has big game pedigree, a nice projectable frame, has good life on his fastball up to 93, and also throws a slider and a change.
https://twitter.com/Savermetrics/status/1004100810479841280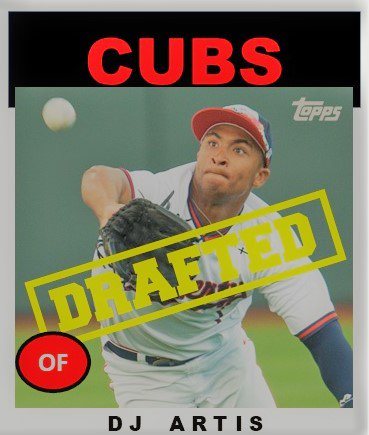 7. DJ Artis – OF – Liberty University – 5'9″ 165 lbs. Bats Left Throws Left
DJ Artis was slated as a late first round pick at the beginning of the year. He took a step back this year after being named the 2017 Conference Player of the Year. He can hit for average, he has amazing speed, and he was pitched around a bit this year. More than likely, he has second round talent. This is a bit of a steal, to be honest. He was ranked 136 by MLB Pipeline and and 145 by BA.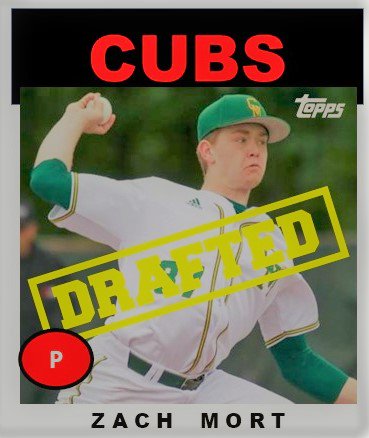 8. Zach Mort – RHP – George Mason University – 6'1″ 2015 lbs. Throws Right
Whiffed 108 in 105 IP and only walked 13. Wow! Jim Callis said he is ultra-competitive. Made 15 starts this year with three complete games. That's impressive. He had a 2.48 ERA this year.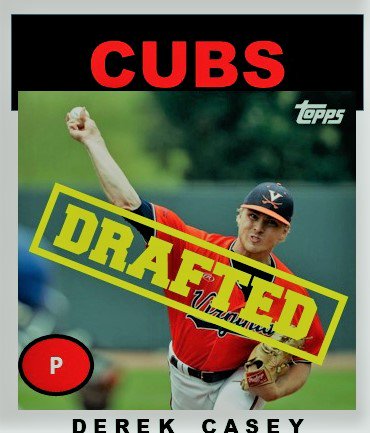 9. Derek Casey – LHP – University of Virginia – 6'2″ and 190 lbs. Throws Right
Missed all of 2016 with TJS but has rebounded well the past two years. He has a nice K/BB ratio of 4 to 1. Had a 3.79 ERA in 2017 and 3.48 this year. I like this pick because he's solid. He could relieve, he could start, but I am leaning starter first in 2019. His experience will add to his pitch-ability.
Derek Casey put on a show in his final game in a @UVABaseball uniform, throwing 7 2/3 innings with nine Ks in beating NC State.@theACC | @ACCBaseball pic.twitter.com/1OVRE1FFRZ

— Bally Sports South (@BallySportsSO) May 25, 2018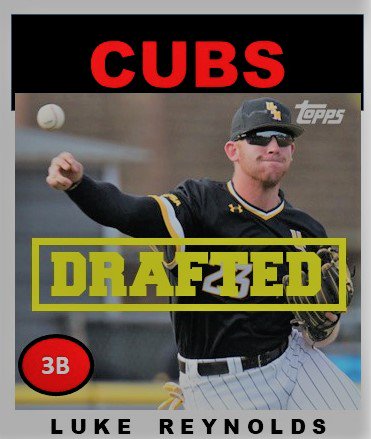 10. Luke Reynolds – 3B – Southern Mississippi – 6'1″ 195 lbs Bats Left Throws Right
He was a hitting machine this year with .551 on-base-percentage. Likely to play first base as a pro. The NCAA made him sit out two years after transferring from Mississippi State and he responded well. He is very disciplined and can hit to all fields. He is the sleeper of this class so far.