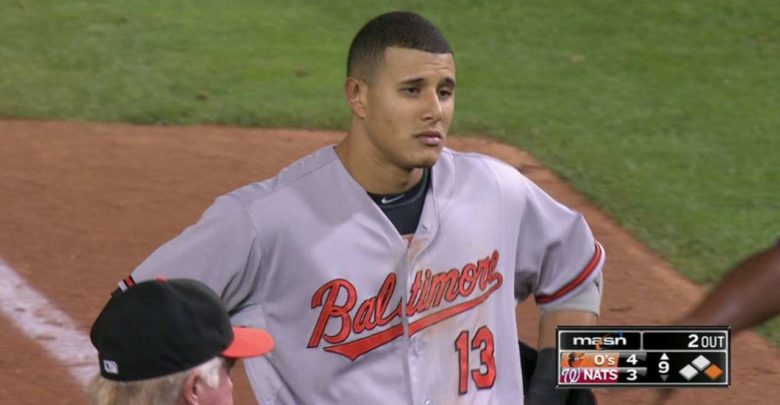 Machado Rumors Appear to Be Slowing as Cubs' Trade Needs Take Shape
They say a watched pot never boils, which is probably why the Manny Machado talk has slowed to a simmer in Cubs circles over the last few weeks. Maybe I'm just paying attention to other things, but it sure felt there for a minute or two that a deal was inevitable. But with Addison Russell and Mike Montgomery — the two key pieces mentioned in connection with Machado — performing well, a move doesn't feel quite so imminent.
Most of that is a matter of the Cubs' needs, which have shifted and will continue to do so over the next month. Jed Hoyer told us that would be the case, though several other dominoes have tumbled for them in that regard. We'll circle back around to Machado to close this out, but let's first take a look at what's actually taking place with the roster.
"I don't think right now we know exactly what we may need," Hoyer told the media earlier in June (via Patrick Mooney at The Athletic, so a subscription is required) over the weekend in St. Louis. "What we may need on July 31 may be totally different than what we know sitting here right now.
"I do think that right now the answers are here. We have enough depth offensively. We have the right position players. We have pieces internally. Now, that might not be the answer in six weeks. But I think that's the answer today."
The above statement came just two days after top pitching prospect Adbert Alzolay was ruled out for the season with a lat injury that ended up being more severe than initially thought, a setback that shifted the Cubs' course in and of itself.
'We'll be on the lookout for rotation depth and in the bullpen no matter what, but this underscores that a little bit," Hoyer admitted in the immediate wake of Alzolay's prognosis.
Last Tuesday's double-header compressed a rotation that was already running a bit thin with Yu Darvish on the DL, but even greater stress was placed on the bullpen. Brandon Morrow left the Cubs with their pants down when he hurt his back removing his trousers, and that was with fellow high-leverage reliever Carl Edwards Jr. already on the shelf.
Brian Duensing missed most of last week after leaving the team to be with his family following his grandfather's passing, and the lefty was somewhat less than effective upon his return. Fellow southpaw Randy Rosario, who had been looking like a capable bullpen arm, went from the GOAT to just a goat in Thursday's loss. One outing, sure, but it highlighted the fickle nature of relief appearances and the need for fresh arms.
We're also seeing Jon Lester pushed back a day to allow for additional rest after a 119-pitch effort against the Dodgers last week. Jose Quintana and Kyle Hendricks, the former in particular, have had some trouble navigating deep into games, and Tyler Chatwood is not what you'd call a workhorse. Even with Montgomery pitching well and Darvish expected back soon, the Cubs could use additional depth at starter.
Some of that exists in the minors and we'll see how Duane Underwood Jr. responds to getting the call for his MLB debut Monday night in LA. Jen-Ho Tseng is another who's lingered on the periphery for a while, though the Cubs aren't really counting on him to be more than a September option at this point. They've also got Alec Mills and perhaps Drew Smyly, so the cupboard isn't totally bare by any stretch.
Dillon Maples is absolutely embarrassing AAA hitters at this point and could certainly offer some support for the aforementioned back-end bullpen guys, particularly as Joe Maddon looks to monitor their respective workloads in the second half. In the month of June (9.2 IP), the hard-throwing righty has a 0.00 ERA and has allowed only three hits with 18 strikeouts to six walks.
Dakota Mekkes is another name to watch, though he's probably a guy the Cubs would prefer to bring along a little more slowly.
Okay, so what am I driving at and what's it got to do with Machado? The Cubs are confident that they already possess all the in-house options to make another deep run, which means they may be more inclined to make smaller moves to bolster the staff in case another rash of injuries and bad timing similarly depletes their available pitchers at an inopportune time.
The hitting, while frustrating in its inconsistency, isn't as much of a question mark. Which is to say that you look up and down that roster and see more than eight guys who can contribute in a big way. For as much crap as he gets from Twitter and sports-talk radio callers, Ian Happ has actually been a productive hitter this year. And he's 10th on the team in terms of plate appearances, so it's not as if he's out there too often.
Which brings us back to Machado, who would no doubt represent a big offensive upgrade through the rest of the regular season and (fingers crossed) the playoffs. But if the cost to acquire him includes some of that pitching depth they're already trying to bolster, do the scales tip too far to the other side?
That's one of the reasons we're seeing folks in the know reshuffling the odds a bit when it comes to the shortstop's eventual destination. The other is simply that more teams are getting into the mix, with the Indians perhaps even being interested.
The Cubs probably have as good a shot as any team of signing Machado to an extension, something we've looked at in the past, but that would of course require them to trade for him in the first place. Given the current state of needs and wants across the majors, however, Jon Heyman lists the Cubs sixth on the list of most likely destinations for the superstar.
Not that they're out on Machado, not by a long shot. It's entirely possible all the talk of "Fantasyland" and whatnot is all just a smokescreen, as well. The Cubs could just be controlling the rhetoric so as not to tip their hand, which wouldn't be a surprise at all.
I don't believe they'll make a run at Machado at this point, but what it comes down to is that this front office is going to continue to follow the same script they have since they got to town. Or at least since the Cubs became competitive. And by that, I mean that they're going to make the move(s) they feel put them in the best spot to win now while not giving cancer to the future.