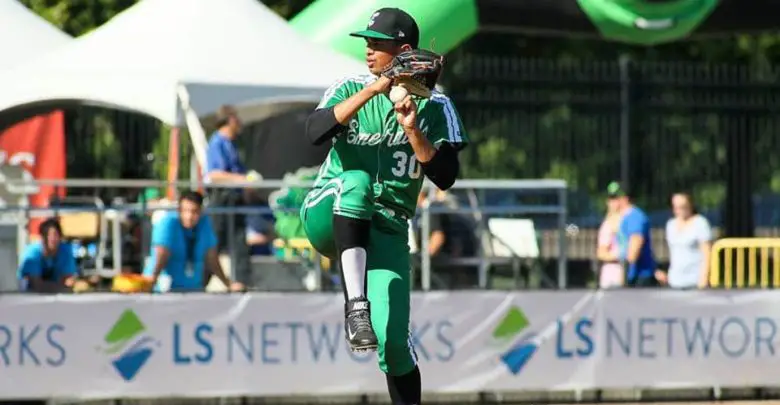 Cubs Prospect Profile: 19-Year-Old Southpaw Brailyn Marquez Lighting Up Radar Guns in Eugene
But He's Far From a Finished Product
95…96…97…
Those are some pretty high velocity numbers for a 19-year-old pitcher who disappears when he turns sideways. But Brailyn Marquez can get his has shown that he can sustain those high-90's fastball numbers, along with a curve he bends in the low-to-mid 80's. That combo makes him one of the most magnetic pitchers in the Cubs' system right now.
As impressive as he looks right now, though, Marquez has got a lot of work ahead of him if he wants to make it from short-season ball to the big leagues.
Basic Information
6-4, 185 lbs.
Throws/bats: L/L
Current Affiliate: Eugene Emeralds
Born: Santo Domingo, Dominican Republic
Signed as an IFA in 2015
ETA: 2022
Marquez began his professional career in the Dominican Summer League, where he made 12 starts back in 2016. He raised a lot of eyebrows with his performance, striking out 48 batters over 54.2 innings (7.9 K/9). He posted a 1.48 ERA that summer as a 17-year-old just learning how to pitch.
In 2017, Marquez spent the summer in Mesa playing in the Arizona Rookie League. It was quite an adjustment. He threw in 11 games, starting nine of them, but the results were not even close to the previous season. His ERA ballooned to 5.52 despite striking out 52 in 44 innings (10.64 K/9).
Marquez only walked 12 (2.45 BB/9), which is excellent, but he allowed 50 hits by working a little too much over the plate. That amounted to a 1.41 WHIP that was simply not sustainable. His fastball sat 93-95 most days, but he struggled to keep it down and to locate his curve for strikes.
The first difference you notice about Marquez this year is the bump in velocity and increased command. While the fastball speeds are eye-catching, they are not the end-all when it comes to pitching. Elite velocity, however, does give Marquez a very nice foundation to build on.
He's made three starts for Eugene so far (13.0 IP), posting  a 2.08 ERA with 20 strikeouts (13.85 K/9) and a 1.00 WHIP. All of those are very good signs. Then you look at the number of pitches per start: 65, 72, and 77. You want to see young pitchers building strength and stamina, but efficiency is really important.
What's really great about those pitch counts is seeing that Marquez only lasted 3.2 innings in his first start and 3.1 in his second. But in his third start, he lasted 6 innings and struck out eight. While he looked pretty gassed at the end of the longest game of his career, it was nice to see him stretched out.
Count 'em up! Brailyn Marquez records 8 strikeouts in 6 innings to fuel the Emeralds to a 3-1 win! pic.twitter.com/ejjLpQhFfc

— Eugene Emeralds (@EugeneEmeralds) July 2, 2018
In order to continue the growth he's show so far in his Cubs career, here are three things Marquez needs to keep working on:
1. Efficiency – He's only pitched in the 6th inning three times, and that includes his last start. It's not that he's getting beat up, he's just working deep counts. Some might call it nibbling, but it's not. Being effectively wild is one thing for a reliever, but Marquez just needs to command his arsenal better for strikes to finish batters quickly.
2. Third Pitch – He should be fine this year with his fastball/curve combo. When he starts to have even better control and command of those two, he should begin developing a third one because more advanced hitters will just sit on one of them. He will get eaten alive as a two-pitch starter in the Carolina League.
3. Aggressiveness – In watching him pitch three times, there is no doubt Marquez has potential. When he gets the ball and goes right after hitters, like he did in his last start, his promise becomes even more evident.
Because the Emeralds are one of only two teams in their league to offer television broadcasts through MiLB.tv, prospect-heads won't have too many opportunities to watch Marquez. With that in mind, keep an eye on those Ems home games to see if you can catch a glimpse.
This young man is going to fill out and gain some weight eventually, which could result in his fastball ticking up even further. As exciting as that is to imagine, he's going to need more than just that. For now, though, let's take it one start at a time and try not to get dazzled by the radar gun as we see how he able to address those three area above.