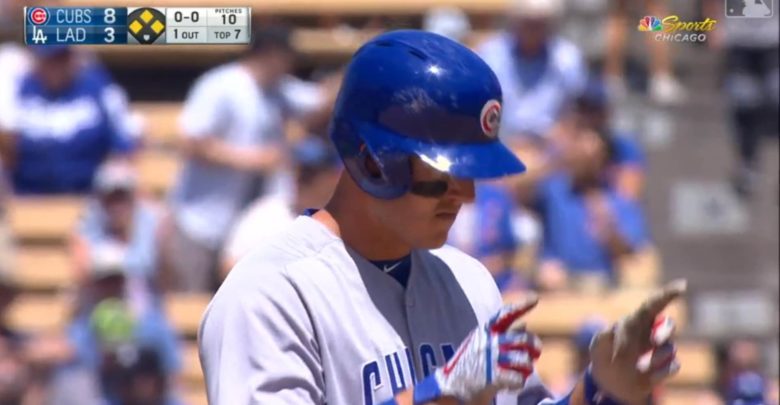 Anthony Rizzo Looks Like Slumpy Slumperton in July, Can Still Turn it Around
With the Cubs trailing 4-3 in the top of 6th Wednesday afternoon, they managed to string together a pair of two-out singles and a walk to load the bases for Anthony Rizzo. This is normally the situation in which you'd want your cleanup hitter at the plate, especially one as historically consistent as Rizzo.
The de facto team captain worked a 2-1 count before swinging away at a slider and poking it to the third-base side of the mound. When it was evident that lefty reliever Ty Blach wasn't going to be able to field the ball, most everyone watching was sure it would go for an infield single. But third baseman Chase d'Arnaud swooped and scooped to throw Rizzo out on a play that wasn't particularly close.
It's probably just that darn Baader-Meinhof phenomenon playing tricks on me, but rather than stand out as some anomaly, I chalked up Rizzo's failure to leg out the hit as another in a series of disappointing outcomes. Maybe it was a simple matter of the Bunyan-esque first baseman lumbering too slowly even at top speed and there's nothing to see here but frequency illusion.
But then you look at Rizzo biffing a throw from Javy Baez that would have been the first out of the 5th inning Monday night. And while it was significantly less egregious, some might get on him for alligator-arming a pick-off throw from Kyle Hendricks that led to Alen Hanson coming around to score from first. A lot of that was Javy jacking around and being lazy with the ball, a lot was teammates not calling out to him that Hanson was running.
I'm sure there are some other little things here and there as well, but the general idea is that Rizzo has looked at times like I feel when I'm taking cold medicine. It's as though my brain has been shifted a few inches to one side and isn't quite in sync with what's going on around me. Or maybe you could think of it like a less slapstick-y version of the NBA stars in Space Jam who had their talent stolen by the Monstars.
Please understand that this isn't me questioning Rizzo's effort or desire at all. C'mon, do I look like John Mozeliak? Rather, it's just an observation that he simply doesn't look like himself. That's why more than one person questioned whether Rizzo's back issues were hampering him. That'd be in keeping with what the eye test has been telling us.
Maddon suggested that Rizzo's struggles right now are "probably a confidence issue as much as anything." When asked if there were any injury issues he said, "Nothing injury-wise."

— Sahadev Sharma (@sahadevsharma) July 12, 2018
Joe Maddon brushed aside any talk of injury, saying that Rizzo's struggles were "probably a confidence issue as much as anything." I mean, I guess I can buy that, it's just that what we're seeing lately looks more like the dude's got a hitch in his giddy-up.
That was certainly the case at the start of the season, when a stiff back held him out of action for nearly two weeks in early April. Over 85 plate appearances through the end of that month, Rizzo was slashing only .149/.259/.189, he was striking out (17.6%) nearly four times as much as he was walking (4.7%), and he had a 31 wRC+ that said he was 69 percent worse than the average hitter. Not nice at all.
By the time the calendar had turned to May, however, Rizzo's performance shot back to very acceptable levels. A .303/.408/.576 slash resulted in a 158 wRC+ and a .408 wOBA, both of which were well above his career marks. What's more, he was back to walking (15.0%) more than he struck out (8.3%) by almost double. Not bad at all.
And while June wasn't quite as robust, the overall .270/.345/.440 line was solid and a .274 BABIP might allow us to assume that a little bad luck had dragged things down a bit. Except that doesn't really hold water. That's because even though 116 plate appearances tells a decent story, it's still a small enough sample to be impacted by a few strong games.
In Rizzo's case, that was the last three games of the month. Take away his 8-for-15 performance and his June numbers plummet to .224/.310/.400 with a wRC+ of 88. Not as bad as April, but this whole thing is starting to feel less and less like a fluke when we see what he's doing in July. Rizzo hasn't gotten a hit in his last 20 at bats and he's only drawn one walk in his last 31 plate appearances. Oof.
His groundball contact is up, his hard contact is down, and he's become one of the last batters you want at the plate with men on base. I'm wading into admittedly dangerous waters here, but let's consider Rizzo's last 14 plate appearances with runners in scoring position. He's 2-for-13 in that span, but eight of the 12 balls he's put in play have been on the ground and only one has been hit hard.
So if you're sitting there thinking, Man, Rizzo just keeps ending innings with soft grounders, you're not entirely wrong.
There is, however, some hope here. Even in this dismal July, Rizzo's only striking out at an 11.1 percent clip, lower than his career average. And his overall .236 BABIP suggests that, even with some other peripheral numbers looking gloomier than you'd like, he's due for a little good fortune.
Finally, and this isn't quantifiable, the All-Star break is going to offer Rizzo some much-needed rest and relaxation. If there's one thing we've seen from the Cubs over the last several years, its that they have the ability — for better or worse — to turn it on when they need to. And Rizzo has always been a notoriously streaky hitter whose erratic production is masked by consistent season-over-season results.
I'm not telling you not to worry about low numbers or the uncharacteristic lapses in judgment, but I am saying that we still have reason to believe Rizzo can pull out of his current skid. If we're still picking apart his performance come August, I'll reconsider and may then grant you permission to freak out.