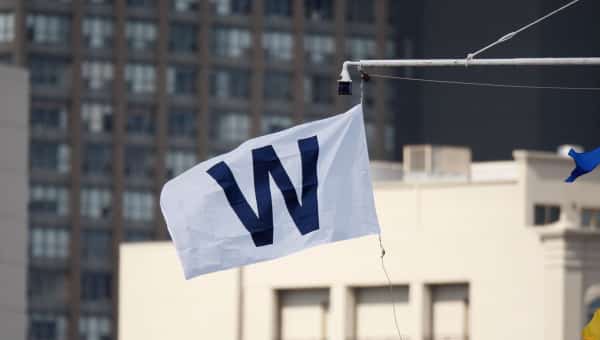 CI Recap (7/26/18) – Cubs 7, Diamondbacks 6: Bote, Rizzo Go Back-to-Back to Walk Off D-Backs
The Cubs looked as if they were about to drop their third of four games to the Diamondbacks. Arizona had built a five-run lead by the middle innings and showed little sign of letting up. But once again, the Northsiders' never-say-die spirit kicked in en route to a stunning walk-off win.
The Cubs struck first against Zack Godley in the 2nd, when Willson Contreras singled then came all the way around from first to score on a hit-and-run single by Kyle Schwarber. The D-backs took the lead when ex-Cub Alex Avila hit a two-run homer off of Tyler Chatwood in the 4th inning. Chatwood walked three men in the 5th and was removed with men on the corners and two out.
Joe Maddon tapped the shaky Brian Duensing to take over and it did not go well. Duensing walked Daniel Descalso, then allowed a grand slam to Nick Ahmed to make it 6-1 Arizona. The Cubs started chipping away at the lead when an Anthony Rizzo single and a Descalso error in the 5th cut the lead to 6-3. A Godley wild pitch strikeout of Javy Baez scored another run in the 6th to make it 6-4.
Both bullpens kept things there until the bottom of the 9th inning. Ben Zobrist pinch hit and took an extremely close pitch for ball four and a leadoff walk. After Baez flew out, rookie David Bote (up for injured Kris Bryant) stepped to the plate and quickly fell behind two strikes.
Then Boxberger made a mistake and Bote crushed it for a game-tying two-run home run to left. The crowd barely had time to calm down before Rizzo destroyed a changeup for a long walk-off bomb to right. Wrigley was up for grabs as the Cubs pulled out an improbable 7-6 win. (Box score)
Why the Cubs Won
The Cubs had been experiencing a power drought lately, so it was definitely a good time for two homers in the 9th inning. The bullpen did a nice job after Duensing, keeping the D-backs at six runs the final four innings.
Key Moment
Bote was behind in the count but showed great poise in staying focused and jumping on Boxberger's mistake. He has really provided valuable depth all year for Chicago.
Stats That Matter
Chatwood did what he always does, walked the ballpark: 4.2 IP, 4 R, 5 H, 4 K, and 6 BB. With trade rumors flying, Chatwood may be on borrowed time in the rotation. His starts aren't getting any better.
Bote also had a single and made a great diving stop with the bases loaded in the 2nd that saved two runs. All around a pretty good effort for the rookie.
Rizzo had two RBI and his homer was his first since June. With the distance it traveled, it was like four homers in one.
Schwarber had a double and a run scored in addition to his RBI single. He also made two great plays, throwing out a runner on second and running into the side wall in left on a tough catch.
Bottom Line
The Cubs continued their uncanny ability to rally back and win games. Especially amazing is their ability to win lousy Chatwood starts. They have a winning record in games he pitches, which, based on his numbers, seems impossible.
On Deck
The Cubs head to St. Louis for three with the Cardinals starting Friday at 7:15pm CT. Mike Montgomery faces off with Luke Weaver in a game found on MLB Network (out of market) and NBC Sports Chicago.