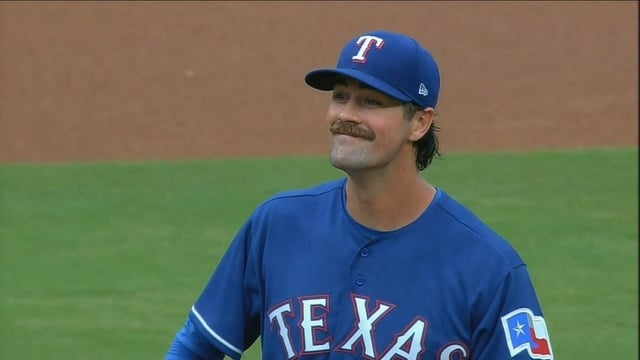 Cubs 'Making Inroads' to Acquire Cole Hamels from Rangers
***Update***
Sounds like this thong might be legit. See below for additional details.
Just got it in an even stronger way that Hamels to #Cubs has a real chance to be concluded, possibly even today. Chi does not have deep system, but #Rangers just looking to get out of any $, get some prospects. Chi would take on about $4M of $14.2M owed.

— Joel Sherman (@Joelsherman1) July 26, 2018
---
What if the man who spurred the Cubs' 2015 NLCS run somehow played a role in getting them back there this year? That could very well be the case if what the New York Post's Joel Sherman is reporting comes to pass.
According to Sherman, the Cubs are "making inroads" to acquire lefty starter Cole Hamels from the Rangers. As you no doubt recall, Hamels no-hit the Cubs on July 25, 2015 in his final start with the Phillies. It was a low point for the young Cubs, but they ended up catching fire from then on and won 97 games.
Hearing #Cubs are making inroads to try to land Cole Hamels from the #Rangers

— Joel Sherman (@Joelsherman1) July 26, 2018
No longer a dominant force, the 34-year-old Hamels is having what is almost certainly the worst season of his career. But some people thought the same of Justin Verlander, who was only about two months younger at the time of his trade to Houston last season than Hamels is right now. Of course, Verlander was actually throwing with higher average velocity (95.4) than he had since 2011 and his numbers were improving.
Hamels, on the other hand, has seen his fastball drop to its lowest velo (91.4) since 2012 and his performance has been nothing short of awful lately. The southpaw has allowed four or more runs in each of his last five starts and has allowed seven runs in three of those. And even though he gave up only three earned runs in one of those big games, it was over two-thirds of an inning.
The Cubs were at his most recent start, in which he gave up seven runs on nine hits (two homers), but that must not have scared them off. Despite the gaudy numbers (4.72 ERA, 5.20 FIP, 1.81 HR/9), Hamels is still posting an 8.97 K/9 that is higher than his career average and he's got a perfectly acceptable 3.31 BB/9.
And as Sherman reports, the financial risk might end up being really low for the Cubs. Hamels is only owed the remainder of this year's $23.5 million, $2.5 million of which is being paid by the Phillies. But that's still something in the neighborhood of $8 million for a pitcher who looks like he's fading hard. Then there's the $6 million buyout  for 2019, since there's no way no way the Cubs would pick up Hamels' $20 million club option.
If the deal goes through, the Rangers would eat around $10 million of the $14-ish million Hamels is due and the Cubs would only have to give up "secondary prospects." As Sherman emphasizes, though, the Cubs are simply more involved than other potential suitors and no deal is in place.
Between rest of salary this yr plus buyout on 2019 option, Hamels owed roughly $14.2M. Hear that if deal with #Cubs goes thru they will pick up about $4M and give up secondary prospects. But NO deal is in place yet, Cubs just more involved than other suitors.

— Joel Sherman (@Joelsherman1) July 26, 2018
While I'm decidedly meh on the idea of Cole Hamels in the Cubs' rotation, it's attractive from a couple different standpoints. Though Hamels missed some time due to injury last season, he's always been a workhorse who posted 200-inning seasons year after year. He's averaging just over 5.7 innings per game over 20 starts this season and could get a bump in performance from moving to the NL.
There's also the matter of a potential emotional boost from moving to a contender, which is something that can't be relied upon but can't be discounted out of hand. And if the Cubs are only paying $4 million and, say, two secondary prospects, it's probably worth the risk to see if the old man's got a little gas left in the tank.
Ed. note: Right after publishing this, Tyler Chatwood walked his sixth batter of the game. Even if Hamels gives up a homer or two every time out, it's got to be less nauseating than watching a dude with an 8.14 BB/9.