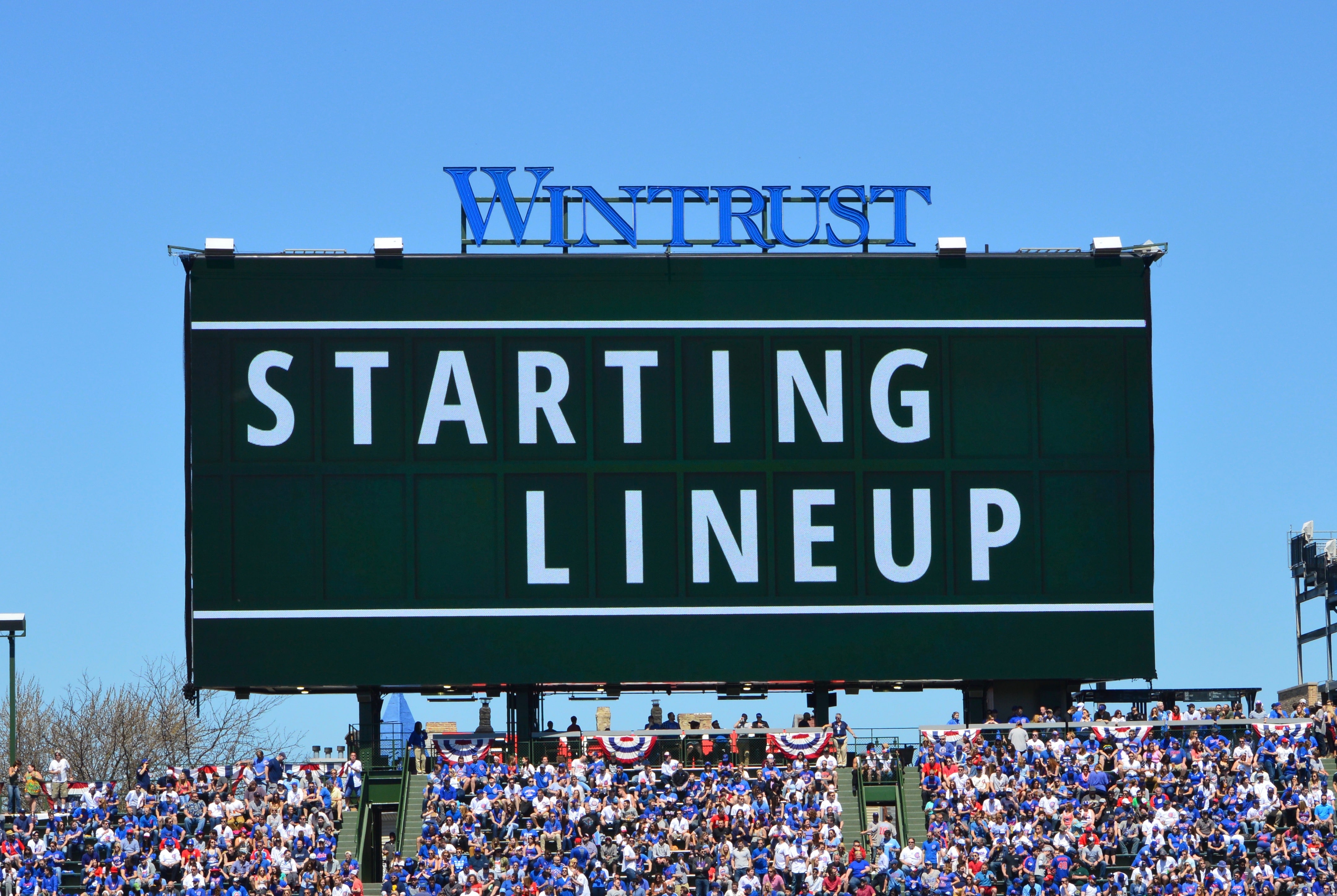 Chicago Cubs Lineup: Rizzo Leads Off, Baez 3B, Schwarber DH, Hamels Makes Second Start
The Cubs get an extra batter in this one since they're playing by rules that should be universal (don't @ me, I'm actually agnostic to the whole DH in the NL thing). Anthony Rizzo will lead off, Ben Zobrist bats and plays second, Jason Heyward is in right, and Javy Baez bats cleanup and plays third.
Kyle Schwarber haters get their wish as he fills the DH role in an American League ballpark, Willson Contreras bats sixth, and Ian Happ is seventh. Addison Russell bats in the eight-hole and Albert Almora Jr. is ninth. A few weeks ago, that would have been a really potent finish. Now? Meh.
Cole Hamels will be on the mound for the second time in a Cubs uniform and an encore performance sure would be nice to see. That first outing saw the lefty displaying his highest fastball velocity since he no-hit the Cubs three years ago and pulling the string on his changeup almost at will. And he probably would have gone deeper in the game if not for three errors behind him.
It doesn't hurt that the Royals have a .673 OPS and .127 ISO against lefties, both the 27th lowest marks in MLB. Only 26 of their 97 home runs have come against lefties and they've hit an MLB-low 35 homers at home this season. The longball has been Hamels' Kryptonite, but the Royals may be the perfect team to make him look like Superman.
Opposing the Cubs will 25-year-old Rock Falls, IL native Jake Junis, a righty who'll be making his 21st start of the season. Junis has allowed 26 homers so far, second to only Baltimore's Dylan Bundy (27), but his 2.02 HR/9 is tops among all qualified pitchers. That's because of his tendency to pipe his fastball, which should have Cubs hitters salivating.
Junis only sits about 92 with the hard stuff and actually throws his slider more than anything else, but the breaking ball doesn't work as well if the heater is being demolished. Opposing batters carry an OPS well over 1.000 against the four-seam and sinker, while the slider has generated a .504 OPS so far.
There's also the matter of stamina, which Junis doesn't seem to possess. He's pretty solid the first two times through an opposing order, but gets absolutely rawked if hitters see him a third time. And with five occasions on which he's allowed at least three homers, three of which came at Kauffman Stadium, the big flies tend to come in bunches.
Junis doesn't throw an inordinate number of first-pitch strikes, but his 62.9 percent is a few points above league average in that regard. And as you might expect from someone who gives up a lot of homers, he works in the zone more than the average pitcher. What's more, his 90.9 percent contact rate on pitches in the zone is the sixth highest in baseball among qualified pitchers.
The splits aren't super pronounced this season, with lefties having a little bit of an advantage, though righties actually hit Junis better in KC. Of the 16 homers he's allowed at home, 11 have come from righties. At the risk of getting a bunch of "And then what happened?" replies, this has all the makings of an offensive explosion by the Cubs.
We'll find out whether that's the case at 7:15pm CT on NBC Sports Chicago and 670 The Score.
Here is tonight's #Cubs starting lineup in Kansas City. #EverybodyIn

Stream on @YouTubeTV: https://t.co/t4Xvcd6DkC pic.twitter.com/2HNj5F9mlS

— Chicago Cubs (@Cubs) August 6, 2018