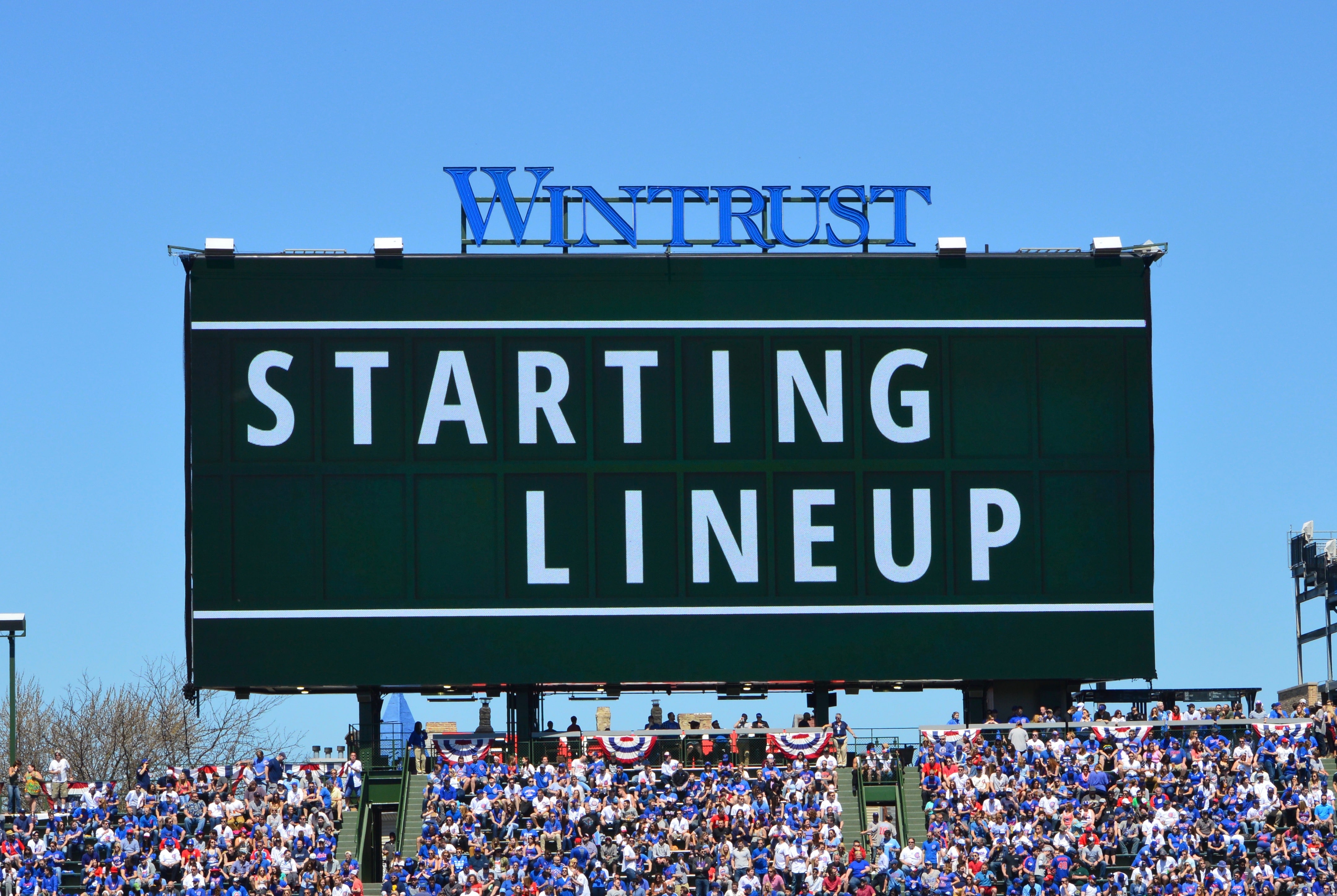 Chicago Cubs Lineup: Javy Leads Off, Rizzo Cleans Up, Hendricks Playing Stopper
Whoa, this is a new one. Not only has Anthony Rizzo moved out of the leadoff spot, but he's been replaced by Javy Baez, who's been slumping a bit over the last few games. Joe Maddon frequently puts struggling hitters in that leadoff role to spur their production, a tactic that has worked well with Rizzo over the last few weeks.
Jason Heyward is batting second in right, David Bote bats and plays third, and Rizzo is back in a run-producing spot for the first time since late in the first half. Albert Almora Jr. is batting fifth, which is pretty questionable with a righty on the mound, but perhaps his performance against Max Scherzer gave him confidence.
Kyle Schwarber hits sixth in left, Willson Contreras is catching, and Addison Russell plays short and bats ninth.
Since he really started attacking hitters, specifically by using a new curveball grip and being more comfortable throwing it to righties, Kyle Hendricks has drastically improved his walk and strikeout numbers. Through his first 20 starts, he was at 6.81 K/9 and 2.50 BB/9. In four starts since, those respective marks are at 10.65 and 0.76 with his only two walks coming in the first game of that sample.
Spare me your SSS gripes, friends, this stuff is real. Okay, you're right, there's still noise in only four games. And it's not all about the curve, as Hendricks has been much sharper with the fastball of late. It'd be nice to have the change working in this one as well, especially against a Brewers team that may sense blood in the water.
On the mound for Milwaukee is 33-year-old Junior Guerra, a righty who has held the Cubs to two total runs over 12 innings in two previous starts this season. Guerra isn't a workhorse and has exceeded six innings only once in 2018, some of which is due to Milwaukee's excellent bullpen.
Guerra is a big-time fastball pitcher, using the four-seam and sinker for roughly 71 percent of his offerings. He'll sprinkle the slider in there early in counts, mainly to righties, but the splitter is his out pitch. Lefties will see that one about 40 percent of the time in two-strike counts while righties get it about a quarter of the time.
Rather than generating tons of whiffs, that splitter is more about getting grounders and generally limiting hard contact. It has remained effective throughout the season, but Guerra has faltered mightily with the slider lately and has allowed home runs in each of his last five games.
He's also been much worse on the road, allowing a .342 wOBA that is 42 points higher than what he gives up at home. Most of that comes from lefties, who have OPS'ed a mere .680 against Guerra at Miller Park but have put up an .854 when he's pitching away from Milwaukee. Boy, it sure would be nice for the Cubs to maintain that trend and then some.
First pitch is at 1:20pm CT on both WGN and MLB Network (out of market only) with 670 The Score on the radio call.
Here is today's #Cubs starting lineup for your consideration. #EverybodyIn

Stream live on Twitter: https://t.co/jtwOK0raMS pic.twitter.com/xxyPFB8U0O

— Chicago Cubs (@Cubs) August 15, 2018