Third Quarter Grades: Cubs Score High on NL Curve
After Los Angeles dispatched the Chicago Cubs in the 2017 NLCS, Theo Epstein flagged three areas for improving the Cubs' title chances. They were to replace two starting pitchers, improve the bullpen's league-worst walk rate, and make the young lineup more competitive against elite playoff pitching.
Epstein's winter moves attempted to check the first two boxes, but he added only hitting coach Chili Davis to the offense. Blame the lack of hitting changes partly on the team's limited prospect depth for trades, as well as Epstein's reluctance to trade low on any of his young major-league bats.
All fair rationale. But three-quarters into the regular season, now's a good time to evaluate those decisions and, as done after the first quarter, grade each main team facet.
Winter Moves
Last winter, the front office put all eggs in the pitching basket, but its two most expensive signings (Yu Darvish and Tyler Chatwood) have had little impact. They have combined to post -0.1 WAR so far. Little more is expected from Chatwood this year, but the hope/need is for Darvish to come back healed and well-rested for a – knock on wood – deep playoff run in October.
So how critically should we view those signings? Aside from Darvish and Jake Arrieta, the rest of the pitching free agent market was pretty much a crap shoot. For instance, who knew Jeremy Hellickson would be so much better than Alex Cobb?
Still, the front office can be faulted for letting the Cardinals get Miles Mikolas for just two years at $13.5 million while it happily gambled nearly triple that on three years of Chatwood.
In the bullpen, they stand taller. Steve Cishek (1.78 ERA, 59 appearances) has been a star workhorse, even if highly overused (for a historical perspective, click here). When healthy, Brandon Morrow has been even better. Sadly, his durability has matched its reputation, leaving questions about his postseason effectiveness. But overall, no buyer's remorse not re-signing Wade Davis.
On the offensive side, credit the front office for looking in on trading Addison Russell for Manny Machado. They also talked a Javier Baez trade with the Padres, but ultimately could not extract the right combination of Brad Hand and a quality young starter.
In both cases, the Cubs were right to kick the tires and not pull the trigger. But by not changing a single high-K bat in their lineup, they do risk a repeat of how easily the Mets' big horse starters in 2015 and the Dodgers' elite rotation last year bounced the Cubs from the playoffs.
Three-Quarters Grade: B-
Hitting
The offense got out of the gate slowly this spring, but has proven as strong as in past years. Plus they've done it a little differently. Their home run rate has dropped by half but with nearly no decline in runs scored per game (around 5.0 both this and last year). The latter is a credit to Chili Davis.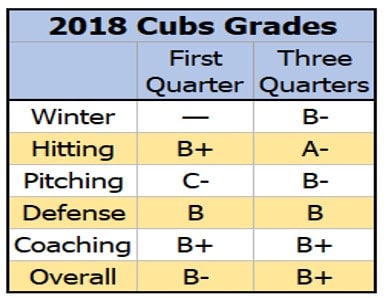 A "strong" offense doesn't mean "consistent," and opposing power arms have been the lineup's biggest challenge. But it says something to lead the National League in runs per game without banner years from the heart of your order coming into the season (Kris Bryant, Anthony Rizzo, Willson Contreras).
Several have picked up the slack. This includes Ben Zobrist, Jason Heyward and Albert Almora, but top of the list is Baez, who leads the NL in RBI and total bases. The big exception for Baez has come versus power arms (.174/.209/.279); against the elite arms of Max Scherzer, Jason deGrom, Zach Wheeler, Stephen Strasburg, and Mike Foltynewicz, he has all of one career hit.
Taken as a whole, the offense is not on the same level as the Red Sox, Yankees and Indians in the AL, but they're still the envy of the NL. The team's playoff fortunes could very well rest on avoiding the more elite staffs of Philadelphia, Los Angeles and Arizona, and instead facing Milwaukee and Atlanta.
Three-Quarters Grade: A-
Pitching
It's a well-reported tale of two staffs here. The starting rotation ranks ninth in the NL in ERA and innings per start. On the flip side, the Cubs bullpen boasts the second-lowest ERA despite the fifth highest workload.
I, for one, never thought the bullpen could sustain this performance this long. But now this far into the season, one must give proper due. Beyond Morrow and Cishek, Pedro Strop should get extra credit for a very good season despite how little faith Maddon has placed in him the last two postseasons.
Further, the organization's Iowa Shuttle has been far more effective than anyone would expect from a squadron of mostly emergency AAAA arms. Collectively, these nine minor-league relievers have posted a 3.64 ERA over 96 appearances and 116 innings (or 26 percent of all bullpen innings).
Moving forward, it's hard to predict how this plays out come playoffs. Last year, the starting staff ranked eighth in innings per start, and their short playoffs starts resulted in Maddon employing two starters as emergency relievers against the Nationals. This then caused giving away the first game of the NLCS, a deficit the Cubs never overcame.
So can Darvish come back and be effective? Can Hamels continue his strong start to his Cubs career and replace Quintana as No. 3 or 4 starter? And will Maddon adapt his playoff managerial style and employ more of his bullpen?
Three-Quarters Grade: B-
Defense
The Cubs get by a lot here on reputation and their demonstrated athleticism. Their supporters love pointing to defensive runs saved (DRS), but it's a curious and complex stat. Consider that since 2016, the Cubs have basically changed starters in only CF (Albert Almora Jr. for Dexter Fowler) and LF (Kyle Schwarber for Chris Coghlan/Jorge Soler). However today the team's DRS is half what it was in 2016.
To be sure, it is an overall solid defense with the glaring exception of pitch framing. However, the lapses on routine plays have increased for most players this year. Baez and Rizzo are well known for this, but Russell has probably most disappointed here. Even Gold Glove contenders Heyward and Almora have not proven immune.
Again, the rudiments of excellent team defense remain there. But when it comes to baseball tasks rooted in repetitive fundamentals, one should always be worried about a team's ability to just "flip the switch" come the playoffs.
Three-Quarters Grade: B
Coaching
Give Joe Maddon credit for piloting his team to the best record in the NL despite rotation issues and three key players on the DL (Bryant, Darvish and Morrow). One can always quibble about in-game decisions and lineups, but overall the Cubs active roster remains the best rested in baseball. Thus they are best positioned to weather the vicissitudes of the remaining schedule and post-season.
On the negative side, Maddon clearly over-pitched Morrow in the first half. Just 60 games into the season, Maddon threw His closer once on three consecutive days and had on track for 66 regular-season appearances (Morrow's career high is 45).
And just as Maddon did last year with Mike Montgomery's swingman innings, the manager is now testing Steve Cishek's rubber arm to its max. Friday's appearance represented the third time Cishek has thrown three consecutive days. Plus he's thrown both ends of a doubleheader three times. Consequently, we are in unknown territory as to what to expect from Cishek in the playoffs.
Baserunning has been good all year, with the Cubs leading the league in going first to third. Yes, the young players have sometimes been too aggressive, but just as often this has forced the other team into bed errors.
On the pitching front, it's hard to point to any improvements under new pitching coach Jim Hickey. The switch in voice from Chris Bosio has not lowered the bullpen's unintentional walk rate as hoped, going from 4.0 to just 3.9. Even lower-walk pitchers like Morrow and Cishek have seen their walk rates increase with the Cubs. A headscratcher to be sure.
Three-Quarters Grade: B+
Overall
It's hard to argue the standings. The Cubs are tops in the NL by 3 games and the NL Central by 4½. Of course, the NL isn't near as strong as the AL or even as strong as the NL last year. But the Cubs have grinded through more pitching and injury hurdles than ever before.
But none of this should make the team more confident about their playoff prospects. We've seen seven-game "coin-flip" World Series each of the last two years, and this year, the entire NL playoff bracket could feature coin-flip serieses. But if Bryant, Morrow and Darvish all come back as healthy, productive performers, then that could be the decisive edge for the Cubs.
So strap on those C-flap helmets. It should be an exciting final quarter of the season, and let's hope with more answers than new questions.
Three-Quarters Grade: B+