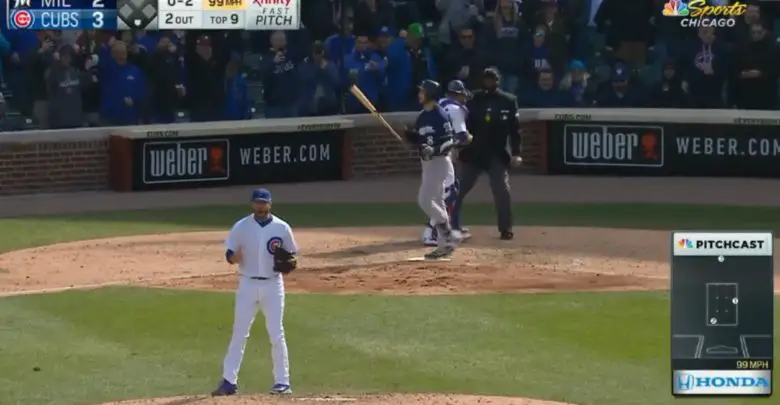 Morrow 'Pleasantly Surprised' By Bullpen Session, Planning to Return Late Next Week
Brandon Morrow threw another bullpen session Wednesday at Wrigley, stepping up the pitch count and intensity from a Sunday session described as "touch-and-feel." After a 35-pitch workout, Bruce Levine of 670 The Score tweeted that Morrow is still feeling discomfort and was still well below max velocity.
Brandon Morrow threw 35 pitches today . There is still discomfort but he said it doesn't feel bad. Recovery mode has improved .told me a sim game should be next. He hit 90 MPH at one point .

— Bruce Levine (@MLBBruceLevine) September 12, 2018
There's reason for some hope, though, as it appears Morrow is still following the timeline pitching coach Jim Hickey had previously laid out, which was two bullpens and a simulated game prior to activation. Morrow confirmed Wednesday that was indeed still the case, but his return will come a little later than the Cubs had been hoping.
As for the lower velocity numbers, Morrow said he felt a little stronger as the session progressed.
"I wouldn't say I really unleashed, but I definitely gave it a little bit more extra," he told the media scrum in the Cubs clubhouse. "I was pleasantly surprised with some of the velocities toward the end of it, even though I wasn't putting too much behind [the pitches]. I felt like I had a lot more, to be honest, but I was happy with it."
This is still a little bittersweet, since Morrow's really walking a fine line at this point. He doesn't want to completely cut it loose because there's still some residual pain, but he won't know how the arm will react to going full throttle if he doesn't reach that point.
"I won't know how close I can get to 100 percent stuff-wise, but hopefully those games allow me to get closer back toward that and every time out feel better and stronger," Morrow said. "I didn't think this weekend. Possibly by the end of next week."
The best option would have been for Morrow to have gotten into some minor league games, which would have allowed for a pressure-free setting with scripted appearances. Alas, that's out of the question. Now it's a matter of the Cubs finding ways to incorporate him, probably in low-leverage situations where he just needs to get an out or two.
And he doesn't figure to factor in the 9th inning, at least not during the regular season at probably not at all in 2018. That's fine with Morrow, who'll just be happy with getting back on the mound again.
"I'm hoping to be back and contribute in any way, it doesn't matter what inning it is for me," he said. "I'm just looking forward to coming back and contributing at all."