Javy Baez, Kyle Hendricks Top Nearly $20 Million in Projected Arbitration Raises for Cubs
We're still about three months from that wonderful time of the year during which teams must exchange salary figures with their arbitration-eligible players, but the folks over at MLB Trade Rumors have already posted their 2019 salary projections. You can check out the explanation of their model if you like, but suffice to say they're pretty accurate with this stuff. And according to this round of figures, the Cubs could see about an $18.5 million increase in payroll from eight players for next year.
The Cubs have largely avoided the worst of the arbitration process in the past, with Justin Grimm standing as the lone player during the Epstoyer era to have his pay determined by a third party. That relatively sterling track record may be harder to maintain as more of their young, core players enter and move through the process.
Consider that the Cubs have five arbitration-eligible players who earned less than $1 million in 2018, four of whom earned under $700,000. That'd be perfectly fine for you and me, but we don't work in an industry in which the average opening-day salary was $4.52 million. So when Javy Baez puts up an MVP-caliber performance while making 14.5 percent of the MLB average take-home, well, you can see where things might get tenuous.
Then again, the Cubs have done pretty well when it comes to doing right by their players. Kris Bryant received a record $1.05 million for a second-year player and then set another record for a player in his first year of arbitration when he got $10.85 million for 2018. That was after being named Rookie of the Year and MVP in his first two seasons, though, so Javy's going to fall well short of that latter figure.
Kyle Hendricks has been through this process before and won't see as big a percentage increase as El Mago, but his performance will certainly net him a big raise. Kyle Schwarber and Mike Montgomery figure to earn sizable jumps as well, with Carl Edwards Jr. and Tommy La Stella receiving more modest increases.
Addison Russell is an interesting case to say the least, since his second arbitration year comes after a campaign that saw him struggle at the plate prior to being suspended under the league's domestic violence policy. How the Cubs decide to move forward with Russell will inevitably involve what could be a sizable bump in his $3.2 million salary.
The chart below lists MLBTR's projections for each eligible Cub, along with their 2018 salaries and the resultant difference. If accurate, these raises could cost the Cubs an additional $18.46 million, which is incredibly reasonable when you consider that the qualifying offer for 2019 is $17.9 million.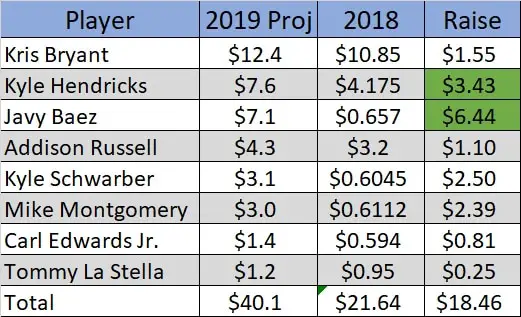 There's also the matter of saving a ton on Bryant's raise, which will be stifled by the decreased playing time and production stemming from his shoulder injury. And just look at the value from the three pitchers on this list, whose $12 million combined salary projection is less than Tyler Chatwood will earn.
Keep that in mind when lamenting Edwards' inability to throw strikes. Not that such failures are acceptable, but it's certainly more bearable when he's only pulling down $1.4 million. Again, we're talking relative to league average so these figures shouldn't be compared to what regular folks list on their tax returns.
Javy and Hendricks ($9.87M) figure to account for over half of the total increases, deservedly so, with Bryant's $1.55 million raise standing as the fifth-highest of the group. And KB is the only one of them who figures to earn more than $8 million, thereby giving the Cubs a ton of overall value.
That's what this really comes down to, since players who are able to put up decent numbers at a relatively low cost are highly coveted. The trick for the Cubs, then, is determining whether they can best extract that value from a direct contribution or from what those players bring back in a trade. Theo Epstein noted that it has to be more about production than potential, and the rubber is going to start meeting the road as salaries increase.
Before I close, let's address the matter of exceeding the competitive balance tax threshold, which nearly everyone expects the Cubs to do. While $18-19 million represents less than 10 percent of the $206 million cap for 2019, it puts a serious cramp in the wiggle room a team would have to add players. With precious little leeway as it is, the Cubs don't figure to be able to remain under the cap unless they make no moves in free agency.
Even if you're not big on the idea of pursuing a monster target like Manny Machado or Bryce Harper, mid-tier guys could still push the Cubs over the limit. Now, it's entirely possible they'll come up with some additional space by moving Russell and/or Schwarber, maybe others, but we're only talking $7-8 million in savings there.
Anyway, the moral of the story is that the Cubs will be paying out more money through what appears to be a very reasonable set of arbitration raises. That money will be well worth it, whether it comes from the production of the players involved or from what they bring back in trade. Also, the increasing salaries likely put the Cubs in a position to go over the cap, which means they may as well just blow way past it.
Okay, that last part is more personal opinion, but it doesn't really do any good to be over by a small amount. And with the current window remaining open for probably two more years, now is not the time to play it safe.