Erick Leal Looks Like Real Deal in Arizona Fall League
It's hard to know exactly how different players will respond in the Arizona Fall League, but Cubs pitching prospect Erick Leal has made the most of his extended season. Now 23, Leal is more advanced than many of his teammates and competitors and he's been pitching like it over 17.1 innings. Pitching like he's got nothing to lose, he has turned his AFL experience into a win-win situation. The righty has yet to allow an earned run this fall and has received praise for his command and ability to miss bats with his 12-to-6 curveball.
Leal burst onto the scene this year after Tommy John surgery robbed him of all of 2017. He served in a swingman role with Myrtle Beach in 2018, posting a 1.41 ERA over 21 games. Something was different about him, though. He was leaner, his curve was a little sharper, his command was a little better, and his attitude was more focused.
In less than a week, the Cubs will have to decide whether to put Leal on the 40-man roster or risk losing him in the Rule 5 Draft on December 13. How they answer that question will depend on two other questions raised by his performance this fall. One, has the AFL shown the Cubs who Leal truly is? Second, did Tommy John surgery really change him and his career arc?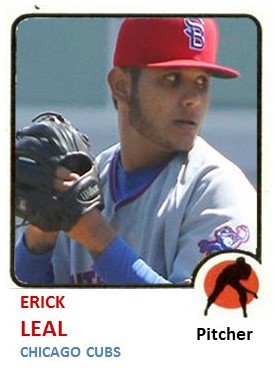 The 6-foot-3 right-hander originally came to the Cubs in the Tony Campana trade in 2013 and I became aware of Leal in 2014 when he was pitching for the Boise Hawks. There was no MiLB.tv back then, so it wasn't until Leal was promoted to South Bend in 2015 that fans got to see a lot of him. He had good size, good command of his pitches, and a fastball that sat 89-91 while touching 93 at times. The only concern was that he did not seem to have a real put-away pitch.
Leal's command improved when he got to Myrtle Beach in 2016 and he was better able to spot his fastball down in the zone. He was still missing that one pitch, but his previous season ERA of 3.85 dropped to 3.23 while his K/9, BB/9, HR/9, and K/BB ratios were improving as well. Then came elbow surgery, after which it was impossible to know how he'd come back.
The Cubs took the more cautious route by keeping Leal at high-A and it appears to have paid off. It's impossible to say exactly what was different about his performance, but it was probably some combination of mental, physical, and emotional. Whatever the case, Leal looked like a born-again pitcher in 2018.
"Erick came back considerably more mature from the surgery," said former Pelicans broadcaster Scott Kornberg. "He was incredibly cerebral about the lost 2017 season and he recognized how he quickly needed to catch up. The other big thing was, he and his wife had a baby over the winter, and that was also huge in his maturation.
"He is an incredibly smart person and he's very aware of what is going on in his home country of Venezuela, where his wife and son live, and what that means for him to provide for them. Between the injury and the birth of his son, I just think those were the added pushes he needed to go to the next level.
"Honestly, he was like a different person in 2018 and 2016, and that's how he should be as you get older. He lost about 30 pounds to prepare for this season, and the results in Myrtle Beach and also in the Arizona Fall League have showed."
The one difference we can really put a finger on is that curveball, which has really stood out this year. It has become the out-pitch he had been lacking in the past, almost as though his rebuilt elbow — or the strength he gained while rehabbing it — now seems to be able to get a sharper bite that has hitters swing over the top.
As for whether Leal is for real, that certainly looks to be the case. You can often use AA as a litmus test for prospects, pitchers in particular. Well, the Arizona Fall League is at least equivalent to AA talent and Leal has flat-out dominated.
His final start will come here very soon, after which we could see Leal moving quickly through the last couple steps of the system.