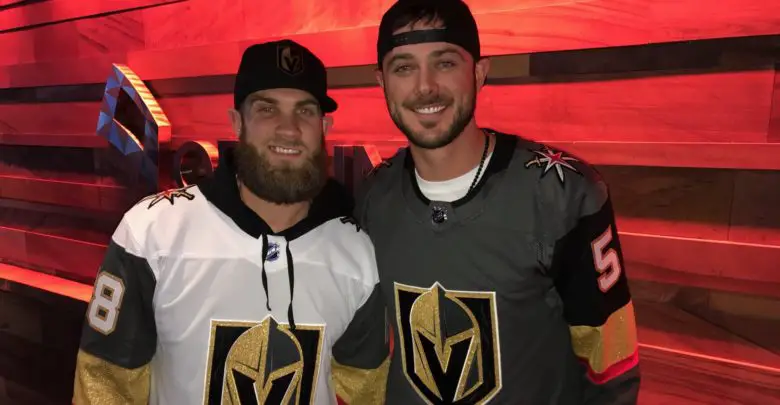 Report: Bryce Harper Discussions Beginning in Earnest, Cubs Are "In"
Despite their oft-discussed plans to limit spending this winter, you knew the Cubs were at least going to check in on Bryce Harper. And according to 670 The Score's Dan Bernstein, that is exactly what's starting to happen. Taking a break from college football talk for a few moments Friday afternoon, Bernstein shared a little information on the Harper situation, which may be gaining a little steam at this point.
"I've been told that the discussions regarding Bryce Harper's future are beginning in earnest, where it isn't just sort of the kabuki theater of the meetings," Bernstein relayed. "The dance is starting. And I am told that, at this point, the Cubs are in.
"I don't want to overplay this, and there's no real indication of the seriousness of any of the teams involved, but I do get the sense that for the moment…it hasn't gotten too rich for their blood yet. There's a lot of showmanship that goes on with (Scott) Boras clients."
While it's a tantalizing topic in general, the nature of Bernstein's report is quite a bit more objective than some of the recent Cubs news we've gotten. He tempered everything by admitting that little is know about the situation as far as any of the teams are concerned and he presented it all very plainly and without unnecessary fanfare.
"I think the proper response to that is, 'Of course they are,' Bernstein continued. "They should be. It's their job to be, because they are the Cubs and it would be dumb if they are not involved at this point. But they are indeed one of the teams that has declared their interest and is going to be part of the discussions going forward until they don't want to be part of it anymore."
I mean, yeah, that's pretty much what anyone should have expected, even those of us who totally buy the veracity of the reports that the Cubs won't spend what it'll take to land Harper. After all, this could simply be a matter of the Cubs doing their due diligence and playing ball with Boras, who also represents some of their current players.
Given what has gone on and is yet to unfold with Kris Bryant and Addison Russell, it's never a bad idea to buy a ticket to Boras's annual dog and pony show. Of course, there's also the notion that the Cubs are hoping Harper is so inclined to play in Chicago that they can somehow land him at a discount.
That's far from unprecedented, as several of their current players signed free-agent deals for less money to play in Chicago. Harper is still going to command a massive contract no matter what, but perhaps it could be structured in such a way that it's more palatable to ownership. Or maybe the realization of additional revenue from new broadcast and streaming deals, not to mention the recent ticket increase, will grease the wheels just enough to keep them from squeaking.
I'm not sure that last mixed metaphor made any sense, but the bigger point is that things can change and nothing is really known for sure. Harper hinted that he loves Chicago cuisine and he's been dropping teasers via social media for the last year or more, so there's that. But recent odds favor the Phillies, who team owner John Middleton says might be "a little stupid" when it comes to spending this winter.
And this whole thing is really just getting started, so expect to keep hearing more reports like this over the next few weeks. You can listen to the entire discussion, which starts at the 15:20 mark, via the embedded player below.