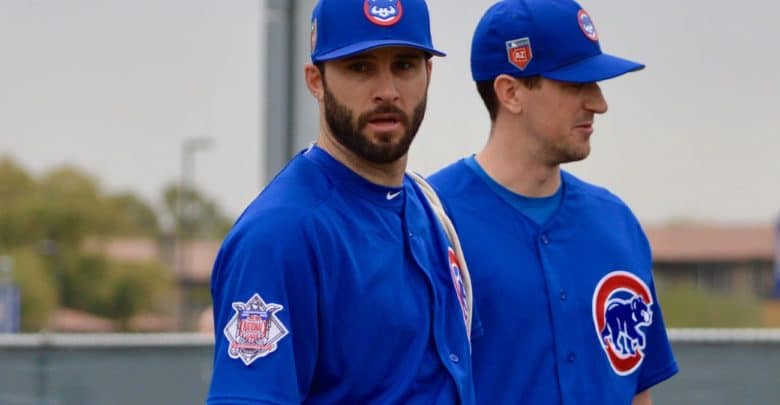 Brandon Morrow Likely to Miss Start of Season Following Elbow Surgery
In news that feels like it's coming a couple months too late, Theo Epstein announced Thursday afternoon that Brandon Morrow underwent arthroscopic elbow surgery in early November. Epstein described the debridement procedure as a "cleanup of cartilage" and said the closer's availability for the start of the season is in question.
Morrow and the Cubs had obviously hoped to avoid surgery, but the writing was sort of on the wall when Yu Darvish underwent an elbow cleanup of his own back in September. You'll recall that after months of mysterious pain despite clean MRI results, Darvish was eventually diagnosed with a stress reaction once better imaging techniques were employed.
So it raised some alarm bells when Morrow described his own issue as a stress reaction, even though he continued to try to push through it until mid-September. While such injuries can often be treated with nothing more than rest and anti-inflammatories, the rigors of major league pitching take more of a toll on the elbow and thus may require more extreme corrective measures.
The exact date of Morrow's procedure was November 6, so the Cubs are targeting February 6 for him to begin a throwing program. As you can imagine, having him ready for the season in less than two months is highly unlikely. On the positive side, this should alleviate his elbow issues and have him fully healthy once he does return.
But the Cubs can't count on anything at this point with Morrow, whether it's timing or effectiveness. Which means their already-pressing bullpen needs just got even pressinger. No, that's not a word. And since the Cubs have known about the surgery for a month, their strategy hasn't changed recently.
In any case, you can bet on Epstein and Jed Hoyer beating the bushes for relievers at the Winter Meetings and beyond. They've already reportedly met with Andrew Miller's camp, but they'll be sure to pursue some less pricey options as well. With losses to attrition already piling up, acquiring depth is more important than ever. Stay tuned, things are about to get interesting.