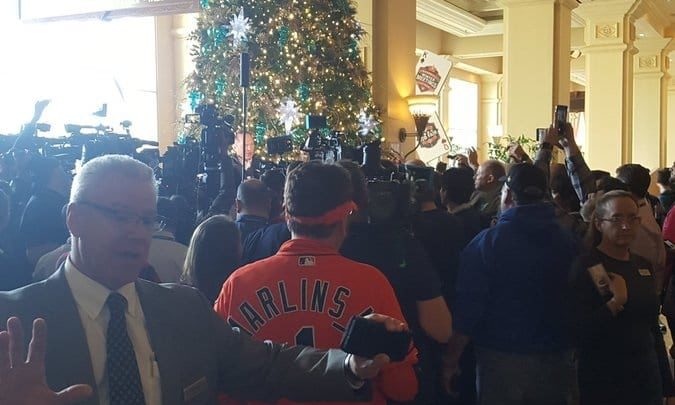 Scott Boras Denies Rumors of Cubs Listening to Offers on Kris Bryant
Among the other notable moments in a press scrum laced with his trademark convoluted analogies, Scott Boras managed to drop a few non-Bryce Harper nuggets. Contrary to what Cubs Insider and other outlets would have you believe, the bombastic agent does actually represent more than one client. I know, right? I was surprised to find out too.
One such player is Kris Bryant, who has seen his name churning in the rumor mill for turning down a big extension and being a potential trade target. And that can't be easy for Bryant, particularly when he's coming off of an injury-dampened campaign that has people questioning his talent and drive. Even though MLB is a business and these guys all understand as much and try to ignore the noise, this stuff can suck the fun out of a game they grew up playing because they loved it.
So it was particularly refreshing when Boras, whose bluster is usually a lot of hot air, provided a cool breeze of common sense to quell some of the hot takes. For the moment, anyway.
Boras said he's heard a rumor about the Cubs possibly listening for trade offers on Kris Bryant but assured everybody it's not true.

— Tony Andracki (@TonyAndracki23) December 12, 2018
The Cubs may have shared the same with Bryant personally when they met Wednesday afternoon in the team's hotel suite. Perhaps Theo Epstein cleared the air a little bit and reassured Bryant that he's a part of the plan moving forward. And maybe the execs picked Bryant's brain about his buddy Bryce Harper, though Boras said the friendship won't impact negotiations.
And speaking of negotiations, it's notable that Boras isn't, uh, speaking of negotiations. Not that he'd be expected to divulge any specifics involving Harper, mind you, since that's in keeping with his whole strategy. But for a guy who's known for excoriating teams — or the league in general — for a failure to spend big on his clients, he's been awfully quiet about the Cubs' reported budget constraints.
In fact, he said Wednesday he doesn't care to talk about any individual team's finances. Is he turning over a new leaf? Well, maybe not so much, since he turned right around and mentioned how the Cardinals — who are reportedly not in on Harper — "sit on the big bank of St. Louis." Silly Boras, the city actually sits on the western bank of the Mississippi River.
Anyway, we've now reached our recommended daily allowance of Harper talk, so we'll sew that part up. Let's hope we can put a bow on any silliness regarding Bryant for at least another year as well. The speculation won't disappear completely until he signs an extension, if he ever chooses to at all, but at least it'll recede for a while. Or so we can hope.