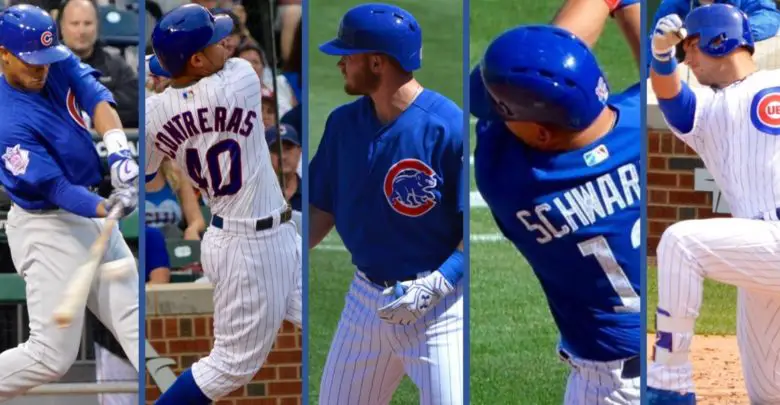 Cubs Keep Doubling Down on Young Bats Despite Diminishing Returns
Cubs president Theo Epstein is smarter than the rest of us when it comes to leading a baseball organization. His three World Series rings and two broken curses prove that. But he is not infallible.
His final three years in Boston testify to that. He and manager Terry Francona failed to win a playoff game and lost control of the clubhouse. In Chicago, Epstein's patient tanking strategy proved effective, but two weaknesses may be boxing him in this offseason. These are over-attachment to his young major-league bats and an over-flexing of the Cubs' (once) big-market budget advantage.
Think about it. The 2018 Winter Meetings ended with the Cubs in on no notable trade rumors or free-agent signings. But on the "positive" side, one front office streak remained firmly intact: two and a half consecutive offseasons without moving any of their prized surplus of young bats for other critical needs.
Thus the team's sole option now appears to be cheerleading that "all answers are internal" and praying for a great developmental leap forward from a majority of those hitters. This doesn't address the bullpen, but hey, that's what mid-season trades are for.
Of course, Epstein doesn't see gambling on those young bats as a bad bet. He reassures us with platitudes like "Development isn't always linear." But isn't this is just a fancy misdirection to avoid saying the obvious: development isn't predictable?
After all, "linearity" is hardly the prime concern here, right? Far more important is – whether a line or curve – the direction of the development slope. Unfortunately, the following chart shows a collective downward trend for the team's core of seven pre-free agency position players.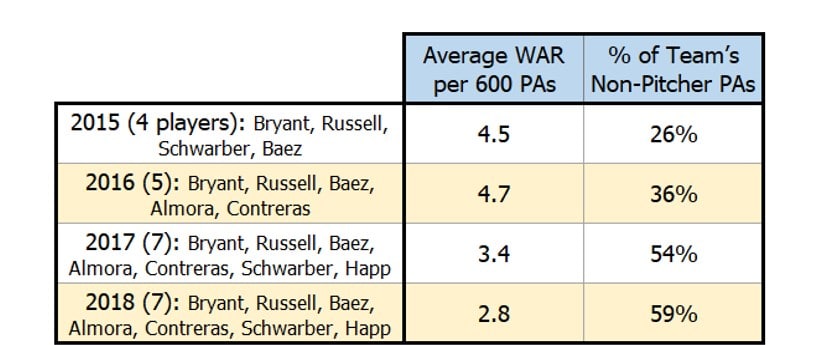 As this core group's percentage has grown to a majority of the team's total plate appearances, their average value has declined 40 percent since 2016. Many possible explanations exist: injuries, too much platooning, personal challenges, lack of urgency, a lack of strong veteran leadership. Whatever the causes, the combined drop has contributed to the bind in which the Cubs brain trust now finds itself.
Given Epstein's reluctance to "trade low" on any asset, and assuming he isn't rope-a-doping about budget constraints, that leaves praying for a big collective leap forward. This could happen, but for several years now the front office has valued this core higher than their potential trade partners. And for at least the last two years, the league has been correct – with one exception.
That would be Javier Baez, who last year finally made that long hoped-for jump. It was a truly amazing leap. His WAR more than doubled, from 2.9 to 6.3, and he achieved it without changing anything about his plate approach. His walk rate actually dropped from 5.9 to 4.5 percent, while his 26 percent K rate is higher than in 2016. He just pounded pitches far more effectively in 2018 when opposing pitchers threw them in the zone.
Is that sustainable? Maybe, maybe not. However the point isn't to predict Baez's production curve from here, but to note the possible effect of intermittent reinforcement his growth may have on the front office. So if their faith and patience with Baez finally paid off in 2018, maybe the same can happen in 2019 with many of their other young hitters not named Kris Bryant. After all, what a shame to trade one of them and let another team reap the benefits.
On the other hand, might this be just another version of bad money chasing good? We've already seen Epstein back off his bad-cop "production over talent" pronouncement from his year-end presser and switch to the new good-cop party line of "all answers are internal."
This cycle of doubling down on patience is what prevented the Cubs from trading Kyle Schwarber at his small-sample peak value after the 2016 World Series. He could have returned a young starter or proper leadoff hitter to diversify the high swing-and-miss offense. Then the reluctance to part with any young outfielders was at least one consideration in the team's decision not to pursue a productive, playoff-proven leader like Lorenzo Cain.
In addition, the front office parlaying at least one young bat into fifth starter would have spared them from the payroll-draining mistake of $38 million for Tyler Chatwood, which in turn led to $20 million this year for Cole Hamels. That's a lot of bad money chasing worse money to avoid trading low or doing something truly game-changing.
The Red Sox after Epstein left were similarly stymied by a huge amount of under-performing contracts. But they changed that in one season by sending a quarter-billion in payroll to the Dodgers in 2012. The cost included a-still prime Adrian Gonzalez. But unsaddled of free agent bust Carl Crawford and a fading Josh Beckett, Boston retooled in just one year to win the 2013 World Series with mid-size free agent signings like Mike Napoli, Stephen Drew, and David Ross.
Sadly, we've seen no such boldness yet from the Cubs. We heard about some tire-kicking on a Willson Contreras trade involving J.T. Realmuto, but swapping Contreras for another subpar defensive catcher hardly ranks as transformative. Real creativity would have been outbidding Seattle in trading for Tampa's leadoff catalyst Mallex Smith. After all, Seattle gave up just catcher Mike Zunino, who in six major league seasons has produced less WAR (6.9) than Contreras (8.4).
What about packaging Ian Happ with Chatwood and an A-ball prospect for perhaps only a quality young reliever? This may have freed up enough salary to have procured Andrew McCutchen's leadership and proven skill against power pitching (.292/.395/.446 last year).
Many pray for extra flexibility by trading Ben Zobrist in the final contract year or eating part of Jason Heyward's remaining money. But moving one or both of those players only to free up budget space for Bryce Harper would actually reduce the team's playoff-win probability against power pitchers. This is because Zobrist and Heyward were the team's only .300 hitters last year against those big arms, while Harper hit just .202.
But wouldn't it be a very Epstein move to dump salary only to take on an even more burdening amount?
This is partly why I always felt it was preordained the Cubs would not release or even trade low on Addison Russell. They desperately need Russell to right his ship. They need all their young bats to outperform their low contracts. To trade Russell now would probably just net them a redux of the Starlin Castro-for-Adam Warren deal.
But there are two months left before pitchers and catchers report to Mesa. A chance always exists that once a few more free agents sign and a few more trades happen, the field clears for Epstein and Hoyer to pull off deals. Perhaps they could yet land Whit Merrifield from the Royals or a couple high-quality young relievers.
Yet an equal chance exists that ownership panics in the next month and settles on Harper as their best insurance to secure a succession of deep playoff runs. The goal there would be to extend the franchise's revenue generation for a glorious extra month of concessions, hotel stays, and postseason MLB revenue sharing.
But that scenario also has a foreboding alternate name: The Ghost of Carl Crawford.