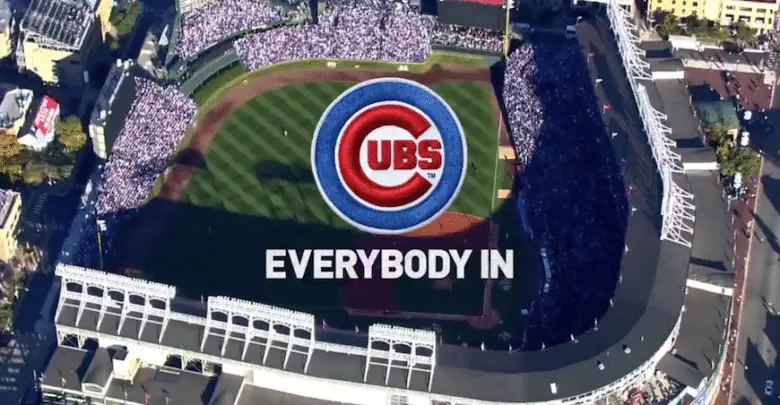 Cubs Reportedly Partnering with Sinclair on New Network Named Marquee (Updated: Cubs Deny Report)
Update: Per Bruce Levine, the Cubs have denied the report that they have partnered with Sinclair, though the broadcast company is considered a frontrunner.
Breaking news -The Chicago Cubs are denying they have a deal in place for a new regional network with Sinclair broadcasting . Industry sources say Sinclair is certainly a front runner to become a partner .

— Bruce Levine (@MLBBruceLevine) December 19, 2018
---
We've been hearing about a new Cubs broadcast network for years now, but virtually no details are known about it at this point. Bruce Levine of 670 The Score reported back in August that the Cubs had hired former MSG Network president Mike McCarthy to head up the new network, which would be wholly separate from the cities other major sports teams. Sources confirmed with Levine Tuesday that the White Sox, Bulls, and Blackhawks would remain partnered with NBC Sports Chicago on their own venture in 2020.
The Cubs have been searching for a partner on their network, with speculation ranging from a return to their NBCSN deal to ESPN to even Amazon. Further conjecture held that the lack of partner or reduced revenue projections for the new deal have contributed to the Cubs' oft-discussed budget constraints this offseason. Levine's most recent report contained no information about a prospective partner or dollar figures, but Jeff Agrest of the Sun-Times reported Tuesday that the Cubs are joining with Sinclair Broadcast Group on a new regional sports network to be called Marquee.
Ed. note: The initial Sun-Times report listed the name as Marquis, but has been amended.
Is that a play on the world-famous red marquee highlighting Wrigley Field's front gate? A nod to former Cubs great Jason Marquis? Erroneous on all counts? No idea.
As the largest TV station owner in the country, Sinclair has obvious clout in the industry and would give the Cubs a solid foothold with providers throughout the Midwest and the rest of the country. But the media conglomerate's political leanings and propensity for meddling in the content of its various television stations are going to raise more than a few questions.
Given the brevity of the report and dearth of details, we'll put a pin in this one and revisit when more is known.