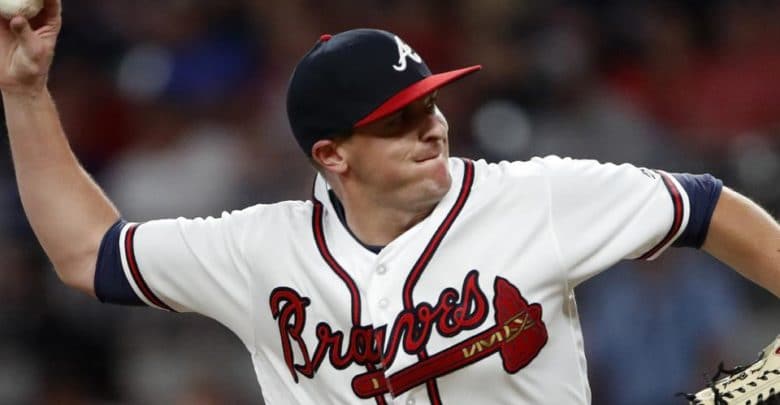 Change in Release Point Revived Brad Brach's Velocity Last Season
Brad Brach is going to be a vital part of the Cubs bullpen this season, but many worried during the early part of last season when he wasn't looking like his usual self. His velocity was down and he wasn't missing as many bats. Yet as the 2018 season progressed, Brach started to throw harder after changing his release point.
One of the most dominant relievers in baseball between 2015 and 2016 when he was chucking fastballs nearly 96 mph consistently, Brach lost a couple ticks these last two seasons. The 6-foot-6 righty was throwing nearly 2 mph below his average to open last season, finishing with an average more than 1 mph below his normal mark. Should we be concerned? Probably not.
Around the '18 All-Star break, Brach started to fire his fastballs with a lower release point (first figure below). Guess what happened? Yup. His velocity picked up, as you can see illustrated in the second figure.
Not only was Brach's release point about three inches lower in July than in April, it more closely resembled his pre-2018 release point.
I'd be lying if I told you that I wasn't at least a little concerned about Brach, though. I admit that I'm greedy and would absolutely love it if the Cubs got that 2015-16 version, but those days, unfortunately, might be behind him.
Even though Brach revived his velocity at the mid-point last season, he never showed the same burst he had in prior years. Look at his maximum velocity per game in the chart below. There were so many games in past years when Brach would blow by 98 mph, but he never did that last season.
If you're hoping for Brach's 2016 season, when he had a 2.05 ERA and earned a trip to the All-Star game, you may as well throw a quarter in the wishing well. But if he keeps that release point down like he did late last season and in earlier campaigns, he'll be every bit worth his contract. And unless something crazy happens or age hits him like a truck, Brach should a reliable arm out of the 'pen throughout the year.