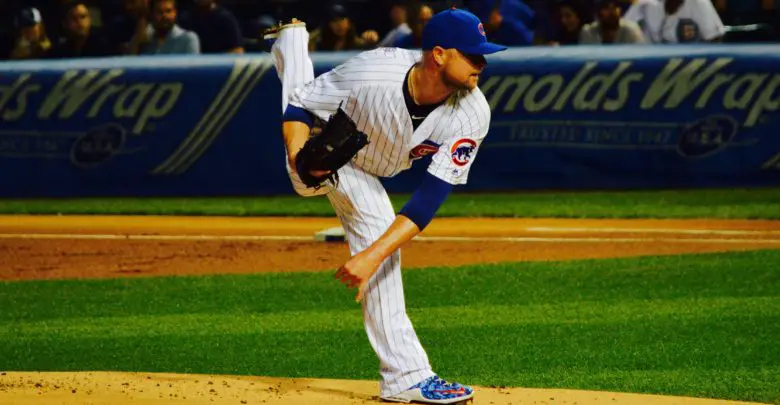 Jon Lester Feels, Knows He's No Longer a 'Stuff Guy'
Jon Lester will go down as a Chicago Cubs legend. With all due respect to Kerry Wood, they may as well just hang Lester's No. 34 jersey from the foul pole already. But he isn't the same pitcher he was at the start of his Cubs tenure and he readily admits that his mid-90's fastball days are behind him.
Going into his 14th season, Jon Lester knows he's not clocking 95 or the "stuff guy" anymore.

How do you expect him to evolve in 2019? pic.twitter.com/2yoiJfiNCb

— Cubs Talk (@NBCSCubs) February 14, 2019
Normally, I'd be pretty freaked out if a Cubs pitcher started to throw a lot slower. Take Kyle Hendricks in early 2017, when I was having a panic attack watching him give up homer after homer while throwing 83-84 mph. Lester has already handled the velocity loss really well, though, so my fingernails are safe when he's pitching.
And when he averaged 1.5 mph less on his four-seam in 2017, he finished the season with the best whiff rate in his career. Let me repeat that just for emphasis: Jon Lester whiffed more batters after experiencing a 1.5 MPH velocity dip.
Why did Lester whiff more batters even though he was throwing slower? Maybe because he was throwing fewer four-seamers. 
But in 2018, Lester threw four-seamers with a frequency similar to his 2015 and 2016 days. More fastballs mean fewer secondary pitches that move more out of the zone. Guess what? Hitters didn't chase as many pitches against Lester last year. And predictably, his whiff rate plummeted to 19.5 percent, which was his lowest since 2013.
| | | |
| --- | --- | --- |
| Season | Pitches | Chase % |
| 2015 | 3185 | 30.1 |
| 2016 | 3161 | 28.6 |
| 2017 | 3131 | 28.6 |
| 2018 | 3121 | 22.3 |
So, even though Lester is throwing slower these days, he's already shown an ability to adapt and whiff more batters, as evident by his stellar 2017 peripherals. He knows this and is confident that he can continue to adapt based on scouting reports, which might mean changing his pitch sequencing in 2019.