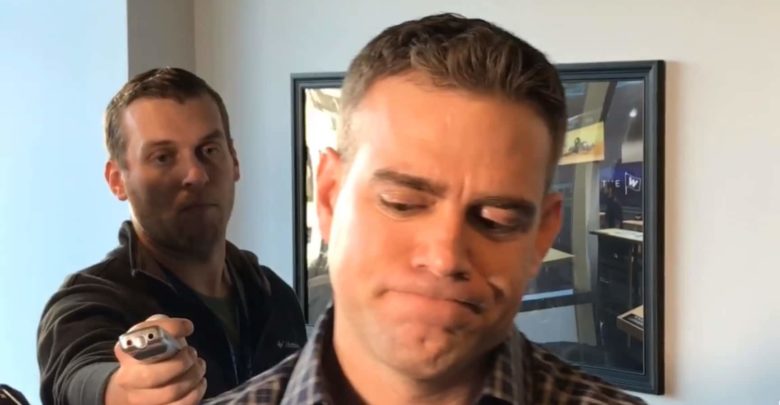 Cubs' Season of Reckoning Could Mean 'Open-Mindedness to Significant Transactions'
Theo Epstein's typical candor hasn't been blunted by the lotus leaves everyone tends to indulge in come spring training. Nor is he walking back back his postmortem comments to quite the same degree as the Cubs' general inaction this winter may have made it seem. The talk of a broken offense may have been tempered, sure, but he's pulling no punches when it comes to the reality that 2019 is a season of reckoning ($).
Epstein said during that 70-minute end-of-season presser that he was going to spend all of his energy fixing what went wrong. He followed that up a couple months later by saying he has never worked harder in an offseason, though it had already become painfully apparent by then that the hard work had nothing to do with pushing around wheelbarrows full of ownership's money.
So the hard work, as he told 670 The Score in early January, was largely about pursuing "a lot of deals we've conceived of that move some money and bring back some money." But even more important than any potential deals, he said, was making sure the Cubs put the right structure in place to turn the potential of their young players into actual production.
The failure to do that to a greater degree in 2017 and '18 is a big part of why the aforementioned moves never panned out, so now we're talking all kinds of chickens and eggs. Which means 2019 is all about either making a helluva lot of omelettes or spending the entire season picking shells out of yolks because things were once again broken in haphazard fashion.
And that comes down to being intentional each and every day, not simply rolling the ball out and hoping that being more talented than the other teams means you'll win. It's why the Cubs are being more focused with their coaching, whether it's Joe Maddon busting out hitting drills from the 80's or Tommy Hottovy using a Pitch Lab that Chris Bosio probably would just as soon have peed on as walked into.
"[W]e have to show up instead of relying on our talent to get us where we want to go in the end as we heard a lot last year, that we'll be fine in the end, we're the Cubs, it's a long season, relax, we always get there in the end," Epstein told the McNeil and Parkins Show Wednesday (player below). "These days, that doesn't get it done. We saw what happened last year with that type of attitude."
That's why he said the mental side of the game would play a big role, but that's only going to help if it's part and parcel with physical adjustments and improvements. Kyle Schwarber getting back into his squattier batting stance could make him more confident. Kris Bryant drawing motivation from idiots who slander him on Twitter could spark a repeat MVP performance. Carl Edwards Jr. implementing a Kenley Jansen pause could allow him to better center his thoughts.
But what if those things don't all come to fruition, or if the growth curves of Albert Almora Jr. and Ian Happ more closely resemble wheelchair ramps than, I don't know, something with a steeper incline? Such stagnation could finally cause the Cubs to make the kinds of hard decisions a lot of us thought would be coming months ago.
"That could be a crossroads time where if our core hasn't developed the way we certainly expect them to or hasn't bounced back the way we certainly expect them to, that could be a time where we ask and answer some hard questions about do we have what we believe we have," Epstein admitted. "And if we don't, then there would certainly be an open-mindedness to some significant transactions at that time."
The idea that the Cubs could move on from some of their young core isn't really anything new, certainly not if you've been paying attention. If PECOTA is somehow right and the Cubs end up tied for 12th in the National League with 79 wins, then hell yeah they need to strip some things down and sell them for parts. That doesn't mean trading Kris Bryant and going full rebuild, though, so don't get too far over your skis with such thoughts.
More likely would be a dismissal of the undying devotion the front office has shown to the next tier of would-be stars, though therein lies a whole 'nother quandary. Or, to be more accurate, it means more time spent soaking in the same brine that put Epstein in this pickle in the first place. The players need to develop in order to propel the team, but a lack of development means their value is diminished all the way around.
Of course, we've thus far remained silent on a very obvious factor in the Cubs' success this season: pitching. A staff that performs up to potential — there's that word again — alleviates pressure for the offense to hang crooked numbers more than 122 times this season and increases the overall margin for error. That might be asking a lot of a rotation whose aggregate prime is more easily seen through the rearview mirror than the windshield. And a bullpen that has question marks even before you consider injuries.
Hell, the biggest addition to the relief corps saw his contract reworked because he was diagnosed with mono during his physical. If I were Brad Brach's agent, I'd have asked for a second opinion to determine whether it was just lingering symptoms of pitching for the Orioles over the past two seasons. Or maybe Brach visited St. Louis recently and was just extra bored.
Regardless, the 'pen has a chance to be even better than the unit that allowed the lowest slugging percentage in baseball (.336) and led the NL in ERA (3.35), batting average against (.225), and OPS against (.658). An especially saucy Maddon let the Hazleton come out a little more than usual when he spoke about that underrated group Tuesday.
"I'm looking at this saying, 'Damn, we're doing pretty good,'" Maddon told Patrick Mooney ($) "And people are getting on these guys. From the dugout, it felt like a pretty good job. And you don't win 95 with a horseshit bullpen. You just don't. It's impossible."
I'm not exactly sure why you'd have horseshit in a bullpen, but I guess Maddon's mixed metaphor is no more egregious that whatever it was I wrote about eggs earlier. The point, if I even manage to either find or make one, is that the Cubs don't have a talent issue. What they've got is a loss of fidelity as that talent is being translated into production on a regular basis.
So Maddon can take steps to be more transparent with his lineups and to avoid sending the B-team out on getaway day. Bryant can stay healthy, Yu Darvish can shove, Tyler Chatwood can become the pitcher the Cubs thought they were signing away from Denver. Any number of other things can improve or break the right way to save the Cubs from sucking despite their best attempts not to.
In other words, they need to own it now so they don't have to sell it off later.