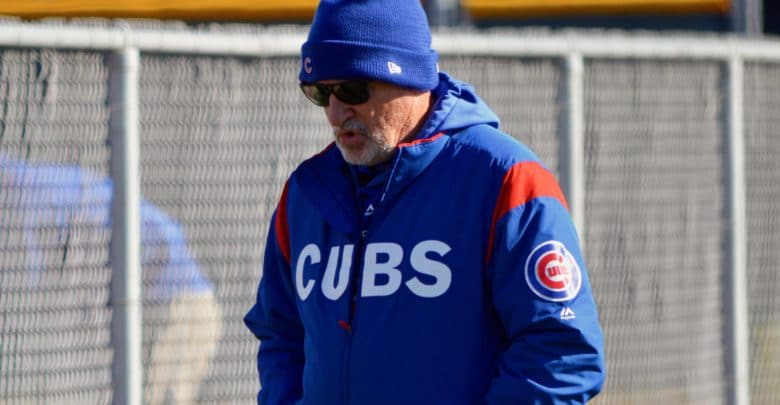 Still Chance Last Member of Cubs Roster Isn't in Camp Yet
With the news that Ian Happ had been optioned to Triple-A, most assumed it meant the Cubs would roll with Mark Zagunis and/or Cristhian Adames for that roster spot. Daniel Descalso's health will factor in that as well, since the utilityman is still on the mend from a sore shoulder. But as Joe Maddon said prior to Saturday's game, the front office may be looking for outside help to fill out the 25-man.
https://twitter.com/MLBastian/status/1109611561868419073
The Cubs will be combing the waiver wire to see if there are any players who present better depth than the team currently possesses, specifically in center field. But wait, didn't they just option their backup center fielder? Why yes, they did, though Maddon said the decision to cull Happ from the roster was unanimous, which tells you how obvious his issues were.
Cubs looking for CF help via trade or Waivers . Joe Maddon talked about OF options like Descalso . That is fine on a corner but not in CF .

— Bruce Levine (@MLBBruceLevine) March 24, 2019
That isn't meant as a dig at Happ, just pointing out that his anemic offensive performance this spring was the result of an approach the Cubs weren't confident he could correct in Chicago. So they must have fear the possibility of his funk continuing enough that they saw an option to Triple-A now as better than a demotion later.
It's not just additional outfield depth the Cubs are looking for, either, as Bruce Levine tweeted. They've been seeking another catcher to help carry the load at the big league level, even pursuing the crusty Brian McCann for the job until he spurned them for the Braves. As for any specific targets to watch, the Red Sox are actively shopping Sandy Leon, who could be a DFA candidate, and former Cub Rene Rivera was recently released by the Giants.
And of course this comes at a time when Victor Caratini is hitting well and earning tempered praise from Jon Lester. What the Cubs are really looking for is a glove-first backstop who can help work with a staff that may need a little massaging when it comes to getting those borderline strikes. Given their small margin for error, Lester and Kyle Hendricks can ill afford to have to work in the heart of the zone every game.
With the season less than a week away, it feels like there will be several more moves coming over the next few days. But cheap moves since, you know, there isn't any more money.