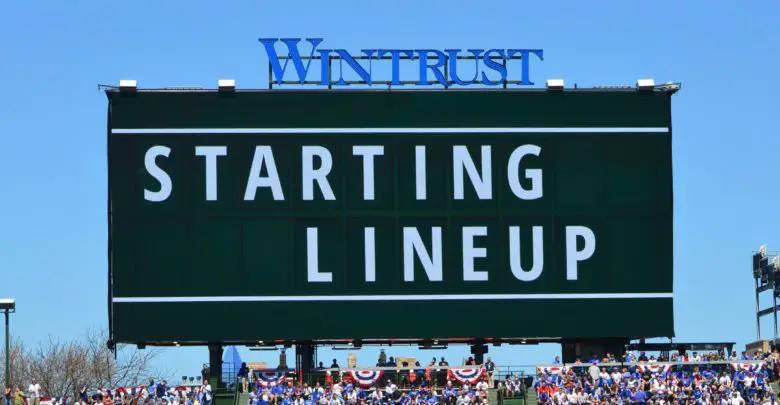 Chicago Cubs Lineup (4/16/19): Descalso Leads Off, KB in LF, Bote at 3B, Quintana Pitching
Daniel Descalso looks like a regular in that leadoff spot when Ben Zobrist gets a day off, and he'll be manning second base as well. Kris Bryant is back in left and trying to continue his improved mechanics, while Anthony Rizzo and Javy Báez assume their usual spots.
Jason Heyward bats fifth in right, Willson Contreras is catching, David Bote is at third, and Albert Almora Jr. is in center. Last night's phenomenal play on the track justified his spot in the lineup even if his bat doesn't, but the rest of the thunder up and down makes up for his current struggles.
That lineup will attempt to make the life of Pablo López miserable as the Cubs face the 23-year-old righty for the first time. It's only the 14th start of his career and he hasn't gotten outstanding results to this point, but there is one thing he does as well as any pitcher in the game: throw strikes.
López has walked only two batters in 15 innings this season after putting up a 2.76 BB/9 that, while good on its own, is the only time in his professional career that he was above 1.93 BB/9. That's elite, and it's something the Cubs need to take advantage of by jumping on strikes.
It isn't just as simple as that, though, since López isn't just piping meatballs. He'll spot his 94 mph fastball to set up the curve, change, and sinker for swinging strikes and grounders. As we saw last night, the cavernous confines of Marlins Park can limit a lot of hard contact to the warning track, and López has generally been able to limit both fly balls and solid hits.
A reverse-split pitcher last season for the first time as a pro, the young Marlin allowed an .809 OPS to righties and just a .680 to lefties. That has shifted a little this year, with righties at .777 and lefties at .724, but lefties are batting .357 against him. Most of that is due to an otherworldly .476 OPS by lefties  that you figure has to come down hard at some point. Let's just hope it's not tonight.
The overall results sort of explain why Kyle Schwarber isn't in the lineup, though it's still at least a little odd to see him on the bench again with a righty on the mound. But perhaps Joe Maddon just wanted to give him that much more breathing room. We'll probably hear about it at some point tonight.
Jose Quintana is on the mound after twirling a gem against the Pirates his last time out. Q's changeup was fantastic in that outing and he'll need it to keep working like that if he wants to get back to his White Sox-level production. He can be perfectly adequate with just the fastball and curve, but the change really stifles righties and can make him much more than a No. 5 starter.
First pitch from Miami is set for 6:10pm CT and is being carried by NBC Sports Chicago and 670 The Score.
Here is tonight's #Cubs starting lineup. #EverybodyIn

Stream on @NBCSChicago: https://t.co/rGCuW1XI7C pic.twitter.com/Pivy3Ivxs3

— Chicago Cubs (@Cubs) April 16, 2019