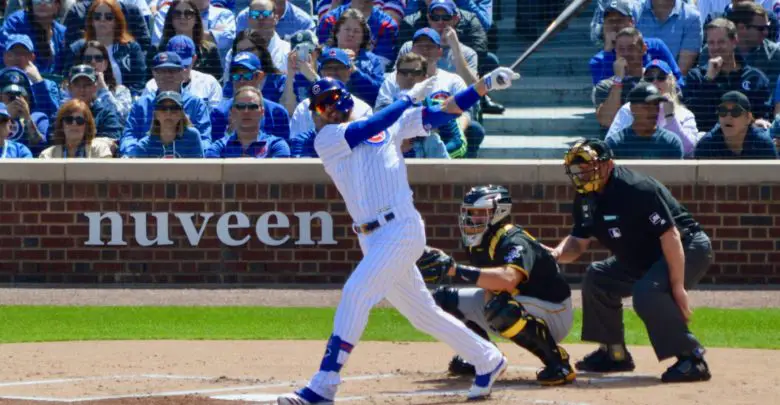 This Simple Adjustment Could Key Kris Bryant's Improvement
Kris Bryant has not looked like himself this season, nor has he looked like what we saw last year when a shoulder injury hampered his performance. Something was clearly off mechanically as he lunged into his swing and waved right through the types of pitches he should have punished. It wasn't that the power was gone, he just wasn't swinging like himself.
Some of the issues are clear to casual observers, but a lot of what was going wrong with Bryant had to do with the kind of nuance you can only discern with a keen eye and either still images or slo-mo. But before we get to what he's doing to correct his early-season flaws, we should establish a little context for it looks like when he's right.
For more on that, we turn to a conversation he had with ESPN's Alex Rodriguez prior to a Sunday Night Baseball game.
This is nothing new to those who've followed along with Cubs Insider as we've detailed Bryant's offseason work with his father, Mike Bryant. It's all about getting the bat into the hitting zone early and keeping it there by putting elbow to ribcage and preventing the barrel from getting too far below the hands.
Too steep a vertical angle creates a big hole in which a hitter is getting under the ball, something that is exacerbated by all the high stuff Bryant's being thrown. This is the lament of all those who scoff at the practitioners of launch angle, but getting too steep is actually a mechanical error and not an intentional practice.
Bryant has help within the clubhouse and he works with hitting coaches Anthony Iapoce and Terrmel Sledge to put changes into practice, but he's always going to turn back to the man who knows him best. So he asked his old man what he was seeing in a swing that the two have worked tirelessly over the last two decades to craft.
"We had a lengthy discussion over several videos he sent me," the elder Bryant told CI. "Made some adjustments.
It was all hand path stuff, keeping them level at the top of the zone which reduced his vertical angle across the plate. This will minimize swing and miss going forward."
With a scheduled day off Saturday and a Sunday postponement, Bryant had more time than usual to contemplate and incorporate the adjustments. And when you think about it, any changes from what he's been doing are really just shifting back to what he has done in the past.
Sure enough, he looked more confident in the box Monday night and appeared to be staying tall rather than dipping into his swing. And though he had only one hit, it was an excellent sign that the alterations could be taking hold.
After spitting on a curve to open his second at-bat, Bryant waited back on another bender that stayed high in the zone, ripping it down the third base line with a 104 mph exit velocity for an easy double. That's the Kris Bryant we're used to, taking bad pitches and punishing mistakes.
Between the brief respite and a few games against an inferior opponent, Bryant may well be able to get right and make his first couple weeks a thing of the past.