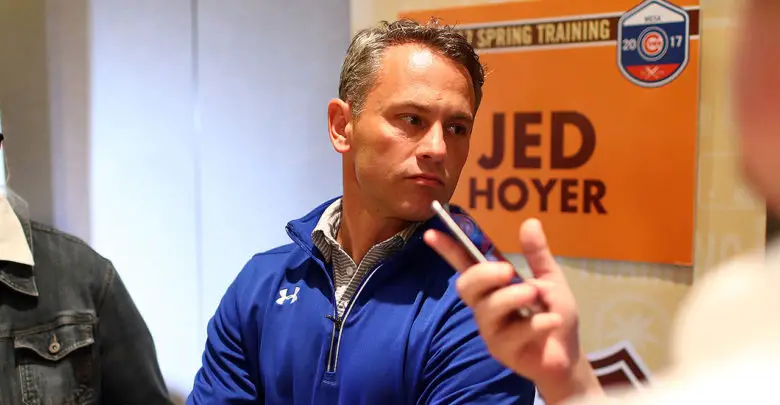 Jed Hoyer Talks Veteran Catching Options, Bryzzo Struggles, Racist IG Messages, Addison Russell's Compliance and 'Conditional' Return
Fresh off their first sweep of the season and heading back to Chicago, things look pretty good for the Cubs on the surface. There's a lot of stuff burbling, though, and Jed Hoyer joined Mully & Haugh on 670 The Score Thursday morning to discuss all of it.
Descalso's impact
No one was setting off fireworks when the Cubs made Daniel Descalso their biggest offseason addition, but he's proven them right so far. Basically a stunt double for Ben Zobrist, DD has been a standout in the lineup and has done nothing to tarnish his legacy as one of best clutch hitters in the history of the game.
In fact, at least one person thinks Descalso will make the kind of impression normally reserved for Hall of Fame-level players.
"He's a pro," Hoyer said. "He's a guy that plays the game the right way, is really clear-headed…I feel like he's a guy that we're gonna be talking about in the game for decades after he's done playing.
Search for veteran catcher
The subject of catching depth has been a frequent offseason topic that gained a great deal of momentum when Victor Caratini broke the hamate bone in his left hand last week. The Cubs called Taylor Davis up and believe they could have Caratini back in 4-6 weeks, but they are also very cognizant of the need to rest Willson Contreras.
"We've certainly been looking," Hoyer admitted. "There's no question. Catching is just a position where you're going to have injuries. Like pitching, you know you have to have depth.
"We like Taylor Davis a lot. He's a guy who has really worked his way, grinded his way through the minor-league system. He's a really good framer, a good offensive player. We're totally comfortable hang him up at the big leagues. But we know we need depth"
Bryzzo no-go
Neither Kris Bryant nor Anthony Rizzo has been able to really get going yet this season, which may have you either struggling with doubt or bursting with hope. After all, both getting hot means having maybe the scariest offense in at least the NL. Having them both swing through hittable pitches means being even more careful than usual to avoid the comments.
"Right now, our two big guys are struggling, and I think that's kind of a good thing," Hoyer opined. "We've won seven out of 10 while those guys have struggled, and we know those guys will carry us at some point. With Rizzo, he's a slow starter. We know that about him, we've seen it before. And I do think he's hitting some hard luck.
"With Kris, I just think he's searching a little bit now. I have no doubt that he'll find it. He's totally healthy, so it's just a matter of finding his timing, finding his swing. Once he does, he'll hit some homers."
Edwards receives racist Instagram messages
Among all the stupid things people do, spouting vitriol at players through social media when their performance doesn't meet expectations. Even a very modest public profile means that people think you're fair game for ridicule based on intellect, appearance, etc. They'll say things in tweets or comments they'd never dream of saying in person.
But sending racist hate-speech of any type to anyone is another matter entirely. I'm sure there's a word that better encapsulates it than just "cowardly" or "ignorant," but it's all that and then some. Carl Edwards Jr. was the target of racist messages ($) on his Instagram account earlier this month and MLB is investigating the matter.
"It's a really sad statement on society when people feel like they can post stuff like that with some sense of anonymity on social media," Hoyer lamented. "Especially when we find out about it in the week of the Jackie Robinson stuff.
"It is sad, but I think that is something that, sadly, players deal with. Carl has talked about in the past he's dealt with it. I think this crossed the line and he reported it. And hopefully we can find the person who sent it and hopefully we can, whatever ways we can punish them, hopefully we can do that."
But how do you punish such idiocy, outside of public shaming that probably doesn't have an impact on someone who clearly lacks a conscience? There's at least one small step the Cubs can take.
"To me, at the very least, making sure that person can never watch a game at Wrigley Field again," Hoyer said, later referencing the Jazz fans who were issued lifetime bans from the team's facility. "If you're going to say things like that about our players, I don't think you should have the privilege of watching the game there"
Addison Russell "compliant"
Amid all the other questions the Cubs have prompted so far in the regular season, one topic that has remained largely quiet is the future of Addison Russell. But with the shortstop set to complete his 40-game suspension for violating MLB's joint domestic violence policy on May 3, the Cubs have a decision looming. Namely, who gets sent down when Russell is activated?
Unless someone comes up with some sort of injury between now and then, a procedural move that would offer only temporary reprieve anyway, someone will have to head to Iowa. Is that David Bote, who they just signed to an extension and who's been playing really well in addition to being a model citizen? Mark Zagunis is a likely candidate, but then you've got some balance issues between infield and outfield.
And what about Ian Happ, where does he fit in when he's eventually ready to return? Maybe he and Albert Almora Jr. swap spots. In any case, the pressing issue is that Russell is going to displace someone and will ostensibly step right back into his role as the everyday shortstop if and when he rejoins the Cubs.
Even if we set aside the very real and legitimate concerns about Russell's presence on the roster at all due to his actions, there's the matter of him possibly representing a step down from a performance standpoint. From the sounds of it, the Cubs are prepared to see if that's the case.
"As far as Addison, he has been on track and really compliant and really eager to do everything that we have set out for him," Hoyer explained. "We always say it's conditional, and it is very conditional, but he's working in the right direction. Right now he's playing in extended spring training games in Arizona, staying in shape.
"A week before he can come off, he's allowed to go on a rehab assignment. And we'll kinda take it week to week with him, as we've said all along, but certainly he's put in all the work and done all the things that he's been asked of and then some, which has been a good sign."
Morrow's return
Hoyer also addressed Brandon Morrow's status, which really hasn't changed much to this point. As expected, the Cubs are being very patient with their would-be closer so they can make sure he comes back strong.
"Given his injury history in the past, I think we've tried to take it really slow with him," Hoyer said. "Our goal is to get him back, and once we get him back to know that he'll be healthy and pitching for us for a while. So we probably have taken things on a pretty conservative route, and we'll continue to do that."
Kyles' struggles
On the hitter:
"Certainly nothing that's on our radar at all," Hoyer said when asked about the possibility of demoting Kyle Schwarber again. "He looked great at the beginning of the season and then…it's been a struggle.
"Joe gave him those two days off, even though we were facing righties on Monday and Tuesday. And I thought he took good swings last night against guys with really good stuff…I think Kyle's gonna get through this. We're definitely a different offense when he's swinging the way he can."
On the pitcher:
"One thing with Kyle, he's really…I don't want to say 'mechanical,'" Hoyer explained about Kyle Hendricks' rough stretch. "But when he gets off of his mechanics, sometimes it takes him a little bit of time to figure out exactly what's going on and to correct it. And usually once he corrects it, he keeps that correction for months and months and can have these dominant stretches that we've seen from him."
Listen to the full interview, including talk about the bullpen as a unit and Jon Lester's return to the rotation via the player below.
Ed. note: It should be pointed out that Russell does still have three options remaining, so the Cubs could activate him onto the 40-man roster on May 3 and then immediately option him to Triple-A Iowa to continue working on himself and his game.