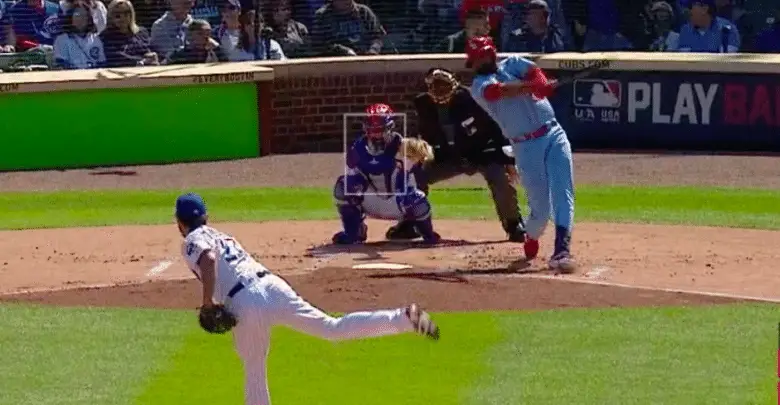 After Another Rough Outing, Are There Still Positive Signs for Yu Darvish?
Yu Darvish got roughed up by the Cardinals on Saturday afternoon, when he failed to record an out in the 5th inning before giving up six hits, five walks, and five earned runs. While the Cubs went on to win in thrilling fashion, the outing continued what has been a frustrating second season in the Second City for Darvish.
Darvish's surface statistics are ugly: an unsightly 5.79 ERA with a 1.71 WHIP. For context, Tyler Chatwood's ERA and WHIP last season were 5.30 and 1.80, respectively. Even the most pessimistic prognosticators of Darvish probably did not call for him to essentially replicate Chatwood's nightmare 2018.
That's a lot of bad, that much you know even if you're not one of his many vocal detractors. But is there anything to be encouraged by from what Darvish has done this season? Actually, yes.
For one, his last three starts coming into Saturday represented a step in the right direction. In 16.2 innings pitched over those starts, Darvish gave up only six runs, good for a 3.24 ERA. He gave up too many walks in the process (11), but was able to record more than twice as many strikeouts (23). Saturday's dud against the Cardinals seemingly brought that progress to a screeching halt, or did it?
If you look at the performance objectively, maybe with rose-colored cheaters, it's possible to see how it wasn't actually too bad. A lucky hit and some grounders don't bleed through and it's a whole 'nother story.
But while it'd be nice to say the results are fluky, underlying peripherals don't exactly support the idea that bad luck is playing a significant role in Darvish's struggles. His 7.44 BB/9 and 2.20 HR/9 represent career worsts by a significant margin. He hasn't been scorned by the BABIP gods either, as his .273 BABIP against is somewhat better than his career averages. If Darvish were at his career average BABIP of .290, you can only assume that his surface statistics would look even worse than they do now.
If there's one number that's worth focusing on as a potential positive, it's the 33.3% home run to fly ball ratio. That number is terrible, so it's not a positive in and of itself. Still, at nearly double his career HR/FB ratio, it also doesn't feel particularly sustainable. If Darvish were to bring those anywhere close to being in line with his career averages, his overall results would be better even if there was still significant room for improvement in several areas.
There's ample reason to think it will improve. Darvish's hard-contact percentage of 30.6% is just about in line with his 30.1% career average. His groundball totals are encouraging, too, as Darvish is currently inducing them at a 53% rate. That number exceeds his career average of 41.5% by a significant margin. If fly balls stop leaving the yard at such an accelerated rate, somewhat better results could be in store for Darvish.
Darvish is also still missing bats at a solid clip, with a 10.19 K/9 rate that is impressive if still a tick below his career averages. He's also averaging just under 94 mph with his fastball, which is right where you'd hope he'd be.
Still, there are serious concerns about Darvish's performance so far. Normalization of his HR/FB rate might be the difference between the horrible season he's having and a run-of-the-mill bad one, but it's not the difference between what we've seen and the pitcher Darvish was before putting on a Cubs uniform.
There are a couple of things to be encouraged about in Darvish's peripherals, but there's also plenty of reason for doubt. A lot needs to change before we're likely to see the version of Darvish the Cubs hoped they were signing.