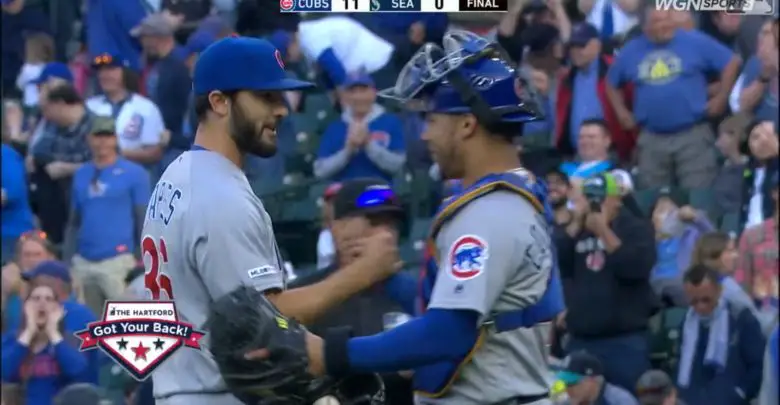 Here's Your Obligatory 'Dillon Maples Is Nasty' Post
When Dillon Maples is on, he's so right he's wrong. That was the case Monday afternoon, when he struck out three Astros with no walks over 1.1 innings of work. He threw 29 pitches in the effort, only two of which were put in play.
Eight of his offerings were fouled off and three drew whiffs, but the seven called strikes — five on the slider — were perhaps most indicative of how good he was. The slider looks like it's going to hit righties in the hip before somehow defying physics to split the plate. As it that wasn't enough, Maples also dropped in a few wicked curveballs.
The book on Dillon Maples: slider, slider, slider, slider, slider and slider. But perhaps the best curve of his major league career to whiff Derek Fisher. pic.twitter.com/Z3oPvXZ8DU

— Nick Pollack (@PitcherList) May 28, 2019
Oh, and he did that all with a fastball that sat nearly 97 mph. His hardest pitch on the afternoon was a 98.2 mph four-seamer that ran arm-side while dropping away from Robinson Chirinos for a swinging strike three to end the 6th inning. You can see it below as the red dot on the lower left of the graphic below.
That picture displays all of Maples' pitches to the Astros Monday, and you'll note how well he was able to keep things down in the zone for the most part. I know it's something we've all said aloud a thousand times by now, but being able to do this with any sort of consistency would make Maples a lights-out reliever. Like, closer material.
There's a lot to take from this next image, which, along with the one above, comes via Baseball Savant. A quick visual scan shows just how hard Maples throws, relatively speaking. You can also see how he's sequencing his pitches and not falling just falling back on the slider. But what I really love is how he threw consecutive balls only once.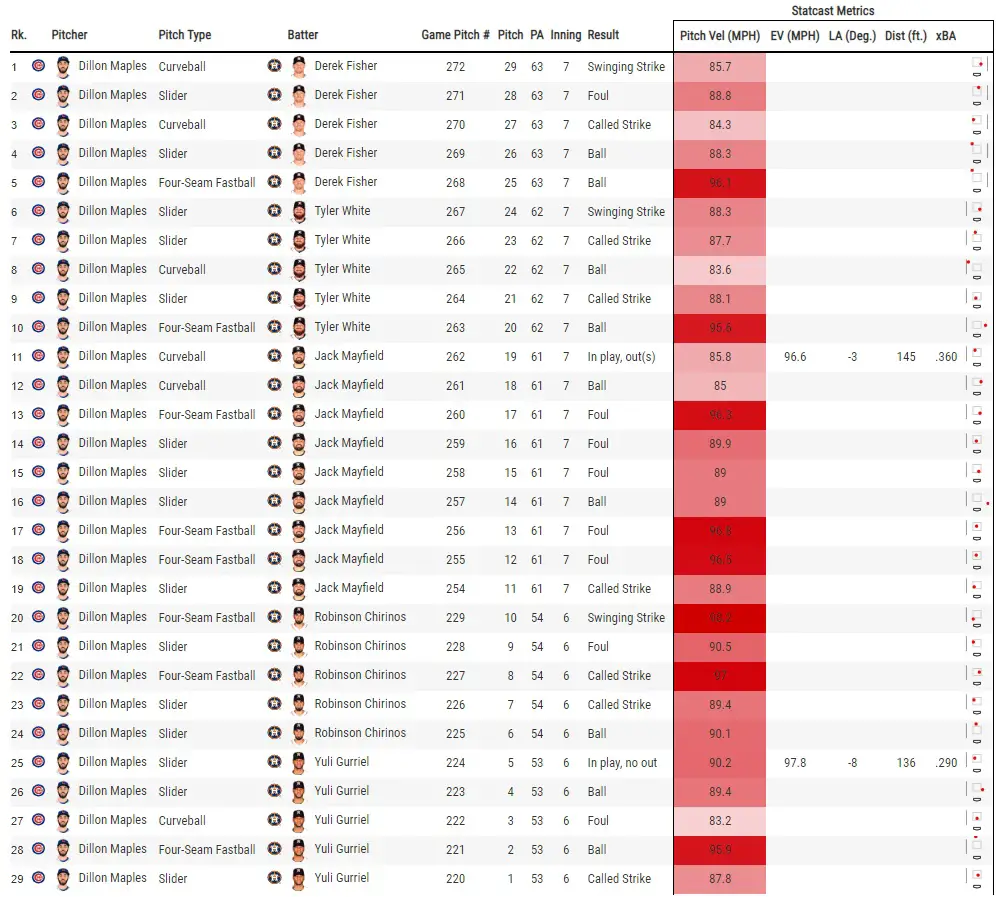 Maples has the stuff that very literally scares even the most seasoned veteran hitters. Guys like Adam Jones and Edwin Encarnación jump out of the box after seeing that slider and don't even stand a chance afterwards. As such, I will continue to hold out hope that Maples can realize his potential and become a mainstay in the Cubs' bullpen.