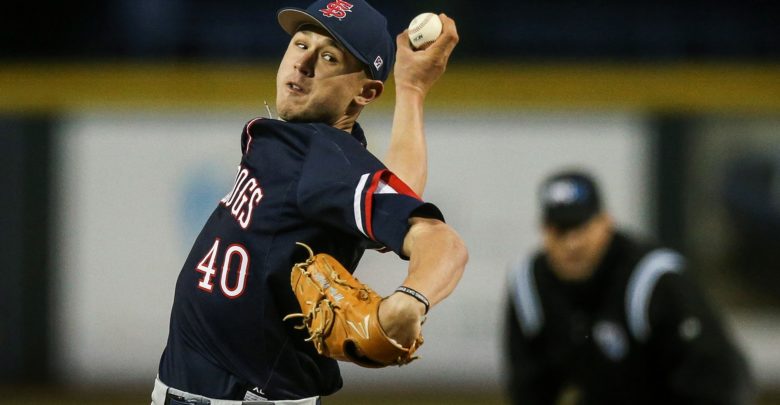 Cubs Draft Strategy Comes into Sharper Focus as Picks Begin to Sign
The MLB draft is significantly different from those in other sports, both in scope and purpose. Whereas basketball and football teams are looking for 2-10 players who can have an immediate impact, baseball teams are looking for several dozen players, the best of whom might make the active roster within a year.
And that's before you even consider that an MLB roster has 25 spots, not to mention the hundreds of other positions throughout the minor league system. Front offices have to project and address needs years into the future while gambling with slot values, recommended bonus amounts assigned to each pick in the draft.
Many teams, including the Cubs, will try to go "under slot" with an early pick in order to save money for later in the draft. That might seem a little strange to those not familiar with the process, but it's very common when trying to essentially buy a prep player out of his college commitment. While many high school players would jump at the opportunity to pocket a $500,000 bonus, some covet the college experience and believe they'll be able to make that money three years later.
That's where things get really wild, since teams must have not only an idea of who they'd want on an over-slot deal a little deeper in the draft, but which "reach" fits their target profile early on. After all, a guy who'll sign for way less than slot value doesn't always figure to have the impact potential of someone who'll command a big bonus.
Unless, of course, one team has recognized something in that player that other teams haven't. The Cubs really loved Kyle Schwarber in 2014, enough to take him No. 4 overall despite a lower first-round profile. That's worked out pretty well so far. Though they weren't picking nearly as high this time around, it was believed they'd attempt to get a bargain with the No. 27 pick.
Enter Ryan Jensen, a hard-throwing righty out of Fresno State who could become one of the new standard-bearers for a more aggressive organizational development philosophy. Cubs senior VP of scouting and development Jason McLeod acknowledged as much ($) in a conference call, saying he knew experts would wonder what they saw in a player rated around No. 100 on most boards.
"Ryan Jensen certainly hit the nail on the head in terms of things I talked about that we probably avoided, especially in those early years," McLeod said. "First and foremost, it is a big velocity guy, a big, lively fastball. He's not 6-5. He's not the Jon Lester-looking frame.
"He's just a 6-foot guy, but he's strong, athletic. I'd say his mechanics aren't what people would call typical, just because he's a little bit deeper in the back with his arm stroke, so this is that player that I've talked about in past years that we probably wouldn't have taken."
Of course, it's not as though the Cubs had a laser focus on Jensen and were just biding their time until their time on the clock came up. Based on what sources shared with Cubs Insider, they had prioritized a different college pitcher but couldn't get him to sign for what they were looking to pay.
According to source, Cubs initially wanted to go in different direction with #27 pick but opted for Ryan Jensen due to underslot bonus considerations. They were looking to pay pick 43-45 money there, which wasn't going to work for top choice.

— Evan Altman (@DEvanAltman) June 4, 2019
ESPN's Jeff Passan had previously reported that the Cubs were close to signing prep pitcher Matthew Allan, who likewise passed on an under-slot offer.
The Chicago Cubs were indeed extremely close to taking HS right-hander Matthew Allan, but signability concerns pushed them to Fresno State right-hander Ryan Jensen, sources tell ESPN.

Horse shoes and hand grenades, etc.

— Jeff Passan (@JeffPassan) June 4, 2019
So it appears as though the Cubs were working with at least three different players' camps prior to selecting Jensen, who signed on June 8 for $2 million. That's nearly $600,000 under the $2.57 million value assigned to the No. 27 pick, money they needed to pay for the over-slot deal given to sixth round pick Ethan Hearn.
A prep catcher, Hearn was committed to Mississippi State and would need more than the $247,000 assigned to the 191st pick to bypass college. The 67th rated draft prospect heading in, Hearn dropped due to that commitment and may have needed something closer to the $977,000 associated with his ranking. Jensen's deal covers nearly all of that.
The #Cubs have reached an agreement with Mobile Christian catcher Ethan Hearn who will receive 2nd round money to forgo a scholarship to Miss. State. He is considered the best high school catcher in the draft. They took him in the 6th round.

— David Kaplan (@thekapman) June 5, 2019
That's the number I had guessed, based on @DEvanAltman's reporting the day after the draft. Saved 570K on the deal, all of which went to finance Ethan Hearn's over-slot deal.

Very excited to see Jensen and his two-seam in Eugene this summer. https://t.co/dmFjux8snc

— Cubs Prospects – Bryan Smith (@cubprospects) June 8, 2019
And word came out Monday that the Cubs had saved further on seventh-rounder Brad Depperman, who signed for only $50,000 as the No. 222 overall pick. That's $144,400 below slot value, which gets the team around $715,000 in savings, more than the difference between Hearn's slot and the bottom of the second round (Pick 69 – $929.8K).
7th-rd @MLBDraft pick Brad Depperman signs w/@Cubs for $50K (pick 222 value = $194.4K). 5th-yr senior has had injuries at @OspreyBSB, but missed bats with sinker-slider combo, up to 95 mph. Cubs draft: https://t.co/UHoETkKaud

— Jonathan Mayo (@JonathanMayo) June 11, 2019
Depperman and several of the other pitchers the Cubs drafted battled injuries throughout their amateur tenures and several have already had Tommy John surgery. That may feel a little like letting the pendulum swing too far when it comes to embracing risk, and that may end up being true, but TJS is almost akin to an oil change these days.
And on the flip side of the injury coin is lower mileage on those arms, which mitigates some of the inherent fears associated with pitchers. Taking all these factors into consideration, we're left with a pretty clear picture of what the Cubs were trying to do in the draft, even though they've still got several picks left to sign.
They got away from their old comfort zone of drafting high-floor/low-ceiling pitchers, but they offset that risk by saving a little money for safer picks later. And what they took on in injury history they balanced with hard throwers who should still have plenty of life in their respective arms. Not revolutionary by any means, though it is a departure from more staid strategies of the past.
Now we just need to wait another two or three years to see if it pays off.