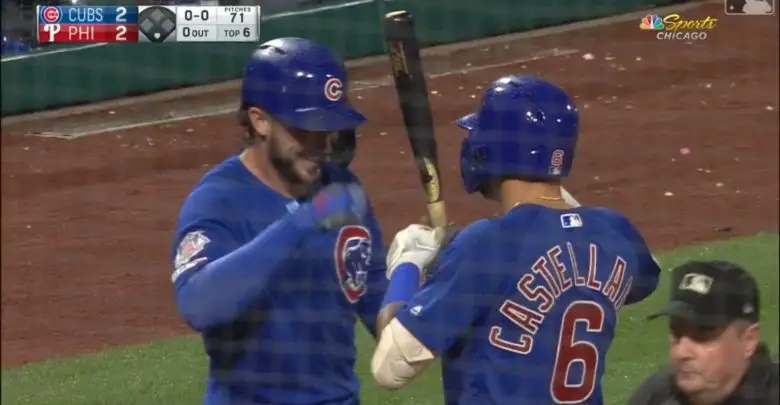 If Cubs Are Really Hungry, They May Want to Stop Letting Nicholas Castellanos Do All the Eating
In 12 games since the trade deadline, the Cubs have scored 60 runs on 116 hits (21 home runs) and have accumulated 3.0 fWAR. In 12 games as a Cub, Nicholas Castellanos has scored 13 runs (7 RBI) on 19 hits (5 home runs and has accumulated 0.8 fWAR. In other words, he's accounted for an inordinate amount of offense on a team that was only supposed to need a complementary piece.
The Cubs are batting .284 as a team since Castellanos arrived, 33 points higher than the .251 average they'd posted through July 31. Take away their new corner outfielder's production, however, and that average drops to .270. Mind you, that lower mark also features 30% fewer doubles and 24% fewer home runs.
A rising tide may indeed lift all ships, and it's clear Castellanos is having a tremendous impact on the team, but their overall 7-5 record since his arrival includes a 2-4 road mark that says things still need to improve further. Wasn't the example set by the "hungry" newcomer supposed to fix some of that? Well, maybe, though it sounds like some of his more tenured teammates aren't too keen on that notion.
"When I hear that, I throw that out the window," Anthony Rizzo told Jesse Rogers of ESPN. "We're all hungry in here. His appreciation of coming from a last-place team to a first-place team is how I look at it. He's very appreciative of this, but as far as hunger? We're all hungry in here. When I read that, it's not necessarily that I love seeing, 'Oh, he's hungry,' because we all are."
Rizzo's dismissal of the hunger narrative is to be expected, since the whole thing is largely born of the bigger story about the Cubs' poor play on the road. Thunderclouds aren't the only thing looming in Philly and spirits have no doubt been dampened by questions raining down from the media. But even more than that, no athlete wants to have his own fire called into question.
So when Cubs players hear Theo Epstein or Joe Maddon praising Castellanos for adding a new dimension of passion, it could be perceived as a slight of their own talents and contributions. Without coming right out and saying that's indeed the case, Maddon admitted that an outside spark might be something of a wake-up call.
"We have a pretty big target working on us right now, so when you get a guy like Nicholas coming in right now, he's demonstrating, 'I have not done this in a while, and I want to,'" Maddon explained. "Maybe it is a reminder. It serves as a reminder, but I would never accuse my guys of not being hungry, motivated or whatever."
Even if the extent to which he's excelled for his new team is a bit surprising, we knew Castellanos would post better numbers with the Cubs than he had for the Tigers. In addition to getting the chance to play in front of more than 5,000 fans at a time while having a chance to compete for the postseason, the more forgiving dimensions of his new home park set Castellanos up for success.
But if the Cubs are to make the most of that success, they're going to need to prove that they're just as hungry as their new teammate by going out there and proving it. Whether that's getting back to doing simple better or realizing that they can't just sashay into the playoffs, as Maddon put it, someone else is going to need to step up.
Because unless Castellanos can somehow maintain this torrid pace for another several weeks, it's going to take a much more concerted effort to stave off the Cardinals. The Brewers should continue hang around too, provided Christian Yelich manages to hit more home runs than Josh Hader allows down the stretch.
Hunger, fire, urgency. Call it whatever you want, the point is that the Cubs need to find it here soon if for no other reason than it'll get us to stop talking about it.