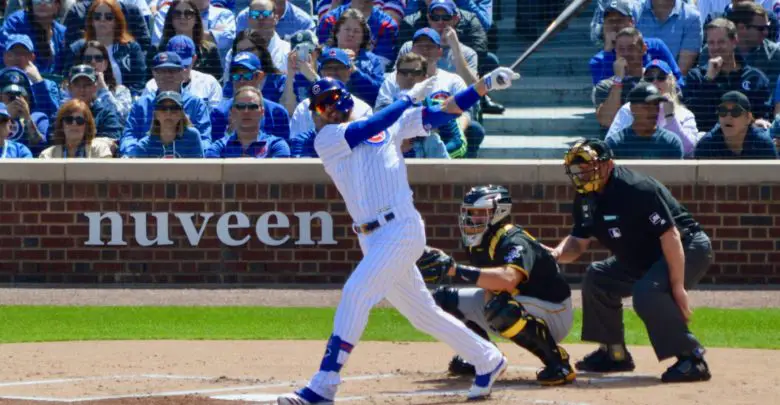 Kris Bryant's Similarity to George Springer Speaks to Potential for Leadoff Success
Jason Heyward has been serving as the everyday leadoff hitter lately, but the Cubs might still want to consider what kind of impact having an elite bat and top baserunner at the top of the order would have. Putting pressure on opposing pitchers early and keeping the line moving for Javier Báez and Anthony Rizzo could help to smooth out the Cubs' notoriously inconsistent offensive output.
While Jason Heyward has rapped two leadoff homers and is no slouch as a baserunner, his splits so far atop of the Cubs' order are not very impressive. He has hit .169 with a .611 OPS on the season from the top spot and is at .217 and .756, respectively, over the last two weeks since being installed as the everyday option there. Compare that to what Houston is getting from the top of their order.
George Springer is a three-time All-Star outfielder and 2017 World Series MVP for the Astros. He also won a Silver Slugger the year he led Houston to that title while serving primarily as the team's leadoff hitter. Although Springer's power (team-leading .588 slugging) is atypical of a leadoff batter, it combines with his ability to get on base (.383 OBP in 2019, .360 career) to make him a huge threat to opposing pitchers right out of the gate.
"Some of the stereotypes that come with 'Is the leadoff hitter a small, scrappy, on-base machine?' versus me sending up a 6-foot-3, 225-pound George Springer, it might look different," Astros manager A.J. Hinch told The Ringer. "But what we're after is scoring the most runs and putting your most dangerous hitters to get the most at-bats is an effective way to do that."
This approach has been successful, as the Astros currently have MLB's top offense in 2019 with 28 fWAR (that's wins above replacement as expressed by FanGraphs). They also led baseball with 34.2 fWAR in their 2017 championship season. Meanwhile, the Cubs sit eighth in MLB with 19.4 fWAR and have lacked a traditional leadoff hitter since Dexter Fowler's departure for St. Louis.
If the Cubs want to improve their offensive production and give their sluggers more chances to drive in runs, they may want to take a look at what has been successful for Houston. While not every team is lucky enough to have a player like Springer on their roster, the Cubs do have someone similar: Bryant, who Baseball Reference says shares a similarity score of 906.3 to Springer (that's pretty high).
The idea of moving Bryant to the leadoff spot isn't a new concept by any means and it's something you may have even seen on these very pages over the past two seasons. Though it's tough to remove his bat from the heart of the order, his career .386 OBP and strong platoon splits (.373 vs. RHP, .462 vs. LHP) make him an excellent option for the leadoff role. And when you see what the Astros have done, it starts to make even more sense.
Despite being younger and having fewer plate appearances than Springer, Bryant has already accumulated more fWAR (27.5 to 22.6) with better overall career numbers. The 2016 MVP is also one of the best in the game at going first-to-third on singles, putting himself in position to score more runs even on grounders or pop flies.
Heyward appears to be entrenched at the top of the order for the time being, but if Joe Maddon has to look elsewhere for a spark at some point, he could do far worse than batting Bryant there.