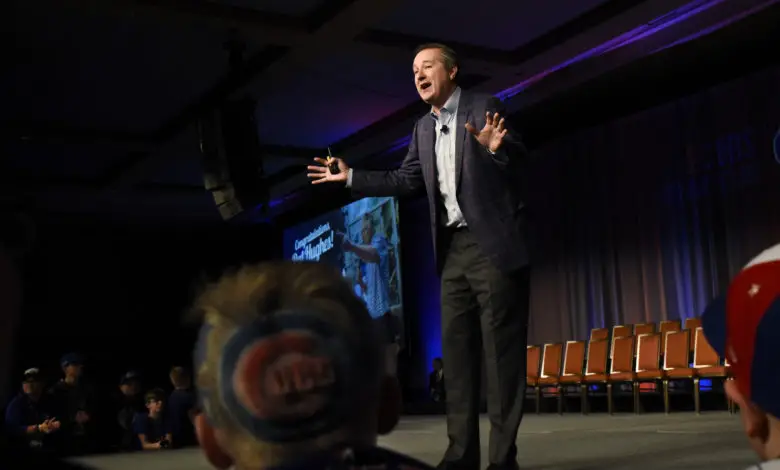 The Rundown: Baseball's Problems Small in Comparison, Boras Uses Cubs as Example of Owners' Greed, Sweeping MiLB Cuts, 64 Hours of Jeter
"Never let a good crisis go to waste." – Winston Churchill
The world is an inferno right now, yet baseball's labor negotiations remain at the forefront of my news feed every morning and I just don't get it. At a time when we are witnessing devastating racial divide, police brutality, political effrontery, and the ravages of a continuing pandemic — in real time, mind you — the impasse between owners and players seems hardly worth choosing a side.
On this Friday morning, as I scroll through seemingly endless emails from newspaper and magazine subscriptions while looking for pertinent baseball news, I can't help but feel that the ratio of tragic to heartwarming headlines sits at something like 90:10. It would seem that things can't be more fucked up than they are right now, yet I fear each day will be worse than the last.
When you deal in the politics of hate and greed rather than the politics of compassion and understanding, a society becomes one of division rather than unity. America, at this moment, is the walking embodiment of this.

— Brad Robinson (@bradrobinson8) May 29, 2020
This is the byproduct of instant news, the realization of the vision that Ted Turner had when he launched CNN in 1976. Social media serves as its accelerant, putting all the ugliness of the world right in front of our faces, whether we like it or not. Panic, fear, hatred, divide…all of that sells and its value skyrockets as tensions escalate.
There is a reason why The Weather Channel dedicates so much of its programming to hurricane season; we know the world is eventually going to end and we carry a secret desire to watch it play out on live television. Havoc is currency, Rupert Murdoch be damned. Meanwhile, we sit back and armchair quarterback the entire disgusting mess.
Baseball's owners seem to be following a similar script. They have no problem negotiating through the media, yet as a private enterprise exempt from antitrust laws, they cling to the sentiment that they are not obligated to open up their books to the players. It's not the owners who should be crying poor as they dismember their organizations from the bottom up, but rather the players. I completely understand the avoidance of setting precedent in these types of matters, though. No army is going to supply weapons to its enemy as it wages battle, and transparency only serves to weaken the stronger opponent. That doesn't make it right in this instance, however.
A Roman military maxim states "to distress the enemy more by famine than by the sword is the mark of consummate skill." A strike or a lockout almost always favors the syndicate, which is why the threat of a work stoppage never seems quite as devastating to baseball's land owners as it does to those who plow their fields. The league is banking on the fact that 30 million-plus unemployed Americans won't sympathize with young men, who earn millions of dollars "just to play baseball," having to accept pay cuts in order to remain employed. They may be winning in the court of public opinion, too, despite their cavalier attitude toward the bad optics of exercising autocratic frugality.
The players have refused to resort to similar tactics, though Scott Boras may be coordinating the battle strategy the union needs. Boras would rather see the players attack the valuations of the league's franchises than try to pickpocket a few dollars here and there through negotiations. If the players buy in to the super agent's ideas, an extended break from baseball looms. That will only serve to fuel the increasing public backlash against the union.
Meanwhile, America is burning, and though baseball is inherently important to all of us, I don't agree with the sentiment that resuming play will somehow heal this nation. What baseball could do, however, is stop the nonsense. And though the league's ownership group should be making concessions, I fear it will fall on the players to once again give in.
Cubs News & Notes
Find Your Inner Hero
An effort to make rivers that feed into the Great Lakes safe for beach development, swimming, and sport fishing could be the next stage in the Midwest's revival, and a nice gift to the planet's fragile ecosystem.
Odds & Sods
It's not a good time to selfishly showcase your white privilege.
YouTuber Myka Stauffer slammed for 'rehoming' adopted autistic son Huxley https://t.co/RyxW3h9g9r pic.twitter.com/fPZkz46nvx

— New York Post (@nypost) May 29, 2020
MLB News & Notes
MLB owners seem to be embracing their fight with the players, enough so that a number of fans may be siding with them.
Here's what sweeping cuts across the minor leagues mean for its players.
MiLB umpires are feeling the financial squeeze as a potential lost season looms.
A shortened season may share some similarities with 1981, the last time MLB resorted to a truncated schedule.
Mets minor league pitcher Andrew Church is mad and he took a delightful swipe at (assuming) Tim Tebow while venting about the organization on social media.
Mets starter Marcus Stroman believes that efforts to restart this season aren't looking very promising.
MLB Network will broadcast 64 consecutive hours of Derek Jeter content in a tribute to the Yankees Hall of Fame shortstop.
At least 10 MLB teams are pledging continuing stipends to minor league players, including the White Sox, who will continue the payments to 25 players that were recently released.
A New Jersey brewery has thrown some shade at the Astros sign-stealing scandal.
Former White Sox starter Esteban Loaiza blew $66 million before being arrested for selling cocaine.
Extra Innings
New respect for David Price.
David Price, an employee of Major League Baseball, is pulling out his own wallet to pay other employees of Major League Baseball.

Meanwhile, billionaire A's owner John Fisher refuses to pay his own employees.

This seems backwards. Bravo @DAVIDprice24 ?? https://t.co/rMfXczzwWr

— Danny Vietti (@DannyVietti) May 29, 2020
They Said It
"Throughout this process, they will be able to claim that they never had any profits because those profits went to pay off their loans. However, the end result is that the Ricketts[es] will own improved assets that significantly increases the value of the Cubs — value that is not shared with the players." – Scott Boras
"The Ricketts family invested $750 million to save iconic Wrigley Field for fans today and for future generations. At every level they've built the best player facilities in the game. In 2019, the Cubs had one of the top baseball payrolls in the game. The fact of the matter is 70 percent of the team's revenues which support the baseball operations come from having fans at the ballpark. Nevertheless, we thank Mr. Boras for weighing in." – Dennis Culloton, on behalf of the Ricketts' family.
Friday Walk Up Song
Killing in the Name by Rage Against the Machine. If you don't know why, I can't help you.