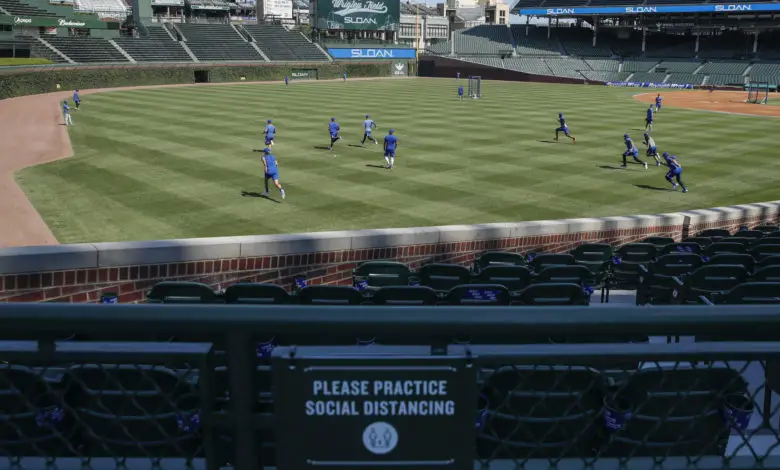 No Amount of Fake Crowd Noise Can Completely Drown Voices of Doubt in Players' Heads
The already surreal scene of an empty Wrigley Field playing host to summer camp became even more so Tuesday night as the Cubs tested out walk-up music and fake crowd noise during their abbreviated intrasquad scrimmage. The PA system thrummed with manufactured excitement, including a chant of "Javy, Javy" that exhorted the swaggy shortstop to pump his fist to the beat before smacking a double.
Combined with Craig Kimbrel allowing a two-run homer and Dillon Maples walking two batters before getting out of the jam by striking out two more, you could almost fool yourself into thinking it was a normal game. Except that the Cubs were playing against each other, hence the "intra" before the "squad," and the real sounds of the game were far more evident than they would have been with fans in the stands.
But no matter how much crowd noise they pipe in or how sharp the crack of the bat when a Cubs player hits a tank that rattles around in bleachers not even the seagulls are populating, it probably won't be enough to drown out the voices of doubt.
"[It's an uneasy feeling. Every time I go home – as clean as we are here – you take a second before you say hi and you disinfect," Albert Almora Jr. told Patrick Mooney and other reporters ($). "I don't think we're ever going to be comfortable with this. This is a dangerous thing. We're doing our best."
Far from a solo, Almora's voice is part of an entire chorus that has gained significant volume over the past several days as flaws in MLB's testing protocols grow more evident. This may be hard for some folks to understand, but it's not a matter of millionaire prima donnas trying to protect their ability to accumulate wealth. Believe it or not, those automatons you believe are competing for the sole purpose of your entertainment have families of their own.
I know that may come as a shock to some readers, so I'll pause for a moment to let the realization sink in.
Similar to the financial disagreement that threatened to prevent the season from restarting at all, the gulf between plans and reality in COVID testing has once again put players at odds with the league. Though he said Monday that he has no plans to opt out, Kris Bryant admitted that the the MLB hasn't even been able to maintain the illusion of safety.
"What we agreed to was testing every other day, and we've had guys who showed up on Sunday and hadn't got tested again [until] seven days later," Bryant said earlier in the week. "And you don't get the results until two days later. That's nine days without knowing.
"If we want this to succeed, we have to figure this out. I wanted to play this year because I thought it would be safe. Honestly, I don't really feel that."
Rookie manager David Ross has an entirely different task before him than what he ever could have imagined when he accepted the job, but that's where his existing relationships with former teammates serves him best. Can you imagine trying to establish trust and rapport with a bunch of relative strangers at a time like this?
With trust in alarmingly short supply these days, being able to speak openly and honestly with the men in his charge might be Ross's greatest asset. Even if that alone isn't enough to put players at ease, it's good for them to hear the same things from him publicly that he's no doubt sharing privately.
"It's extremely daunting mentally for the players," Ross admitted. "They have to perform and get work in on top of the extras that you're seeing. All of our guys are excited to play baseball. All of our guys are excited to be here.
"Do I have any concerns about them opting out? No. But that could change within a day. That's where we're at in the world, and in the world of baseball."
No whining, no blaming, just stating the facts of the matter as they exist right now.
Those facts may be as plain as the nose your face, but they also limit any foresight to about that same distance. There's simply no way to accurately predict what's going to happen, so it's just a matter of taking it every other day at a time — the frequency of testing — and hoping everything works out in the end. Who knows, maybe it all will.
In the meantime, simulated chants and the monotony of baserunning drills will have to suffice when it comes to taking the edge off the worst of players' apprehensions.