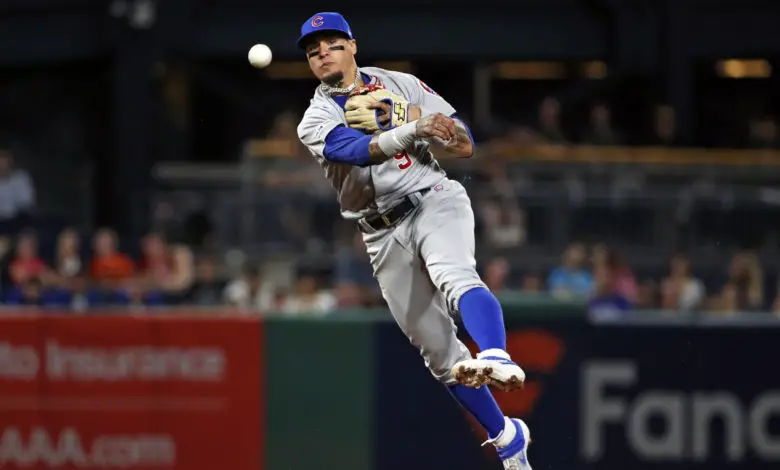 Javy Báez Says No Rush on Extension Talks, Waiting for Right Time
Of all the players the Cubs can and will look to extend, Javy Báez has long seemed like the priority due to both his popularity and potential for a reasonably club-friendly deal. Kyle Schwarber, Anthony Rizzo, and Willson Contreras will eventually need new pacts as well, and Kris Bryant indicated that recent developments might have made him even more amenable to an extension than he already was.
However, only Javy has been discussed publicly as being actively engaged with the organization on an extension. And not like a report about turning down what might seem to some like a huge salary. No, Javy himself acknowledged that talks were "progressing" back in March.
That progress was put on hold soon thereafter and remains on the back burner in light of the bigger issues surrounding the game, but Javy sounded optimistic when he spoke to reporters via Zoom Thursday.
"It's been really difficult with all that's happening right now," the shortstop said. "We have a really good communication, relationship between me and the owners, and obviously my agent. I think when this goes past, I think we're going to talk. We're going to obviously stay in touch."
With just one more year of arbitration eligibility left, time isn't exactly on the Cubs' side in this matter. Then again, time is but a construct and its passage hardly registers anymore. That'll change soon enough, or at least we have to hope it will, so Javy is in no hurry to push for something to get done.
"Obviously, everybody wants to get paid, but we've got to wait for the right time," Báez explained. "We're going to know what's going to be right for each other. I'm not in a rush. Obviously, right now I'm worried about getting back to the field and playing regular games, and obviously [trying] to win this season."
Javy also acknowledged that the ongoing pandemic and baseball's shutdown will be felt for at least the next two years after this one, something that could factor in a number of players' plans. While working out an extension relatively soon might mean getting less money than initially expected, the protection against an uncertain future might seem like a worthwhile tradeoff. This coming winter is looking even more bleak for free agents than the last two, and who knows what happens after 2021 with the CBA expiring.
The Cubs have some big contracts falling off the books at the conclusion of this season, though their luxury tax status and Marquee Sports Network's halting maiden voyage are almost certain to have them pinching pennies again. At the same time, they'll need talented players and good PR to help boost Marquee and maintain a solid product on the field. The wisest move would be to keep their current stars in the fold, but wisdom and reality aren't always the same thing.
A new deal for Javy certainly seems like a no-brainer given how much he's been talking about it, just don't hold your breath on anything happening in the next few weeks.