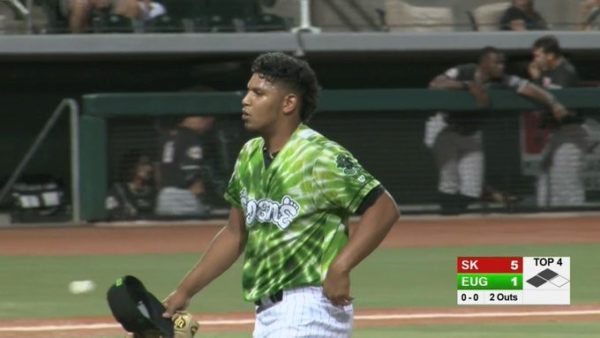 No Minor Leagues Means Missing These 7 Young Cubs Prospects in Short-Season Ball This Summer
I was really looking forward to the first half of the minor league season in 2020, particularly seeing how last year's draft class of mostly pitchers started fresh and showed what they could do with no restrictions. Then there was the promise of Brennen Davis, Cole Roederer, and Chris Morel lighting it up at Myrtle Beach. Those are some of the more obvious storylines in the early going, but the second half of the season is when we see another wave of prospects coming on the scene.
July and August typically bring us short-season ball in Mesa and Eugene, which allows several young players to showcase their games for the first time. Below are seven prospects I had really been looking forward to following at the lower levels of the system this summer.
Big right-hander Richard Gallardo was signed in 2018 at the age of 16 was ready to take the next step in his development. He actually made a couple of starts at the end of last season in Eugene and was slated to possibly start there this year. He's put on some weight since the Cubs signed him two years ago and his stuff ticked up from 89-93 to the mid 90's. Armed with excellent offspeed stuff, Gallardo could be the kind of top-line starter the Cubs have been dreaming of for years.
Richard Gallardo's curveball. pic.twitter.com/WwLVBygjlw

— No — I'm still Rael (@thats_so_cub) August 29, 2019
DJ Herz is a 19-year-old left-handed pitcher taken by the Cubs in the 2019 draft and is a pretty fun follow on Twitter the past year. He posts lots of videos of his personal development process, including pitching sessions and his training regimen. Herz threw just 10.1 innings with a 2.61 ERA at Mesa last season, so I was really looking forward to seeing him take the bump every six days in Eugene and to see just exactly how his improved stuff played against some pretty good competition.
A few clips from my Live BP pic.twitter.com/bQAOkCt7xA

— Dj® (@DavidjohnHerz) June 18, 2020
Ronnier Quintero was the Cubs' top international signing in 2019 and probably would've been assigned to the Arizona Rookie League to start out this year. He's only 17 years old, but his hands are fluid through the zone as his swing generates easy power. The games in Mesa aren't broadcast, so you have to rely on word of mouth or personal experience, so we're not really missing much in terms of actually watching Quintero play.
Some scouts love new Cubs catcher Ronnier Quintero, a 17-year-old out of Venezuela.

He's got an advanced ability to drive the ball and PLENTY of strength.

Details: https://t.co/381PLmdR20 pic.twitter.com/gdRPIN1E37

— Baseball America (@BaseballAmerica) December 5, 2019
Manuel Espinoza had to sit out all of 2018 while his contract was investigated as part of the scandal involving kickbacks for Mexican teams, then put up a 2.49 ERA last season at Mesa. Playing at Eugene would have given more of us a look at how he's able to achieve success, so missing out on that is certainly a loss for prospect-heads.
Yohendrick Pinango tore up the Dominican Summer League last year and would have been making his first foray into Stateside competition. While everyone was focusing on Jose Lopez, the 17-year-old Pinango stole the show by hitting .358 with a .427 OBP with a wRC+ of 145 in 62 games. Now 18, he has a lot of physical projection left and that is exciting.
???? w/ Yohendrick Pinango pic.twitter.com/cXn3Q67jTA

— REP1 Baseball (@REP1Baseball) June 12, 2020
Luis Verdugo is a young shortstop who snuck into a spring training game this year with the big league club. The 19-year-old tore it up in August last year, hitting .395 and earning the Cubs' MiLB Hitter of the Month. Verdugo likely would have been at extended spring training with a chance to get to South Bend when the second half began.
Luis Verdugo — 19-year-old who hasn't played above Rookie ball — made his Spring Training debut today. 1-for-1, 1 RBI, 2 runs, BB.

Here was his single, which Theo Epstein was pretty excited about. pic.twitter.com/68wStfGfAu

— Matt Clapp (@TheBlogfines) March 2, 2020
Benjamin Rodriguez is a hard-throwing righty who has done well the past two summers in the Dominican and Mesa. He throws mid-90's heat and spent some time last fall working out with fellow prospects Kohl Franklin and Ryan Jensen.
Working with my guy kohl?? pic.twitter.com/XltdM48SiJ

— Benjamin Rodriguez (@brodriguez227) October 28, 2019
Any number of middle infielders could have been added to this list, from Rony Simon to Rafael Morel to Fabian Pertuz to Kevin Made. Recent first round pick Ed Howard would've been in Mesa to begin his pro career and fifth round pick Koen Moreno could have gotten a lot of work on the mound there, too.
Now we will have to wait until next year and see how much these prospects have developed on their own. With the Cubs losing two affiliates as part of the bigger minor league purge, they'll have a whole new system next spring. Still, the aforementioned prospects should be ones to keep your eyes on next year when baseball does resume.