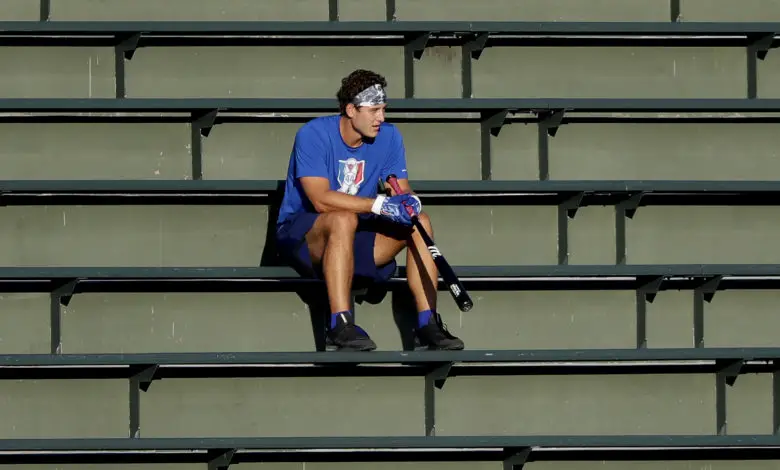 Anthony Rizzo 'Very Optimistic' for Wednesday Return, Opening Day Start
Anthony Rizzo wasn't back for the Cubs' first intersquad scrimmage with the White Sox Sunday night, but his ailing back might allow him to suit up by Wednesday when the Twins come to town for a final preseason tuneup. The slugger has been missing from action for nearly two weeks as he recovers from back spasms, which have nagged him off and on since 2014.
Sunday afternoon saw Rizzo going through more rigorous activities than he'd managed on Saturday, including several rounds of BP and different situational defensive drills. As good as it is that he was able to taking part in strenuous activity, the real litmus test is how the back feels afterwards.
"I knew it was going to be a big day," Rizzo said via Zoom prior to Sunday's scrimmage. "I was really pushing it. It was great. I was hitting today with, really, no pain at all, which is good. I feel like today was a really big deal. I feel great and we'll see how I feel."
Monday will be a planned recovery day for Rizzo, which just means that he won't be participating in baseball activities as the Cubs assess his readiness for Friday's season opener. They'll want to get him a look at live pitching from someone who's not wearing the same uniform before then, though, which means getting him into the lineup in a couple days.
"I definitely would love to play Wednesday to get live at-bats off a different team," Rizzo said. "But I've just got to keep it day to day. I'm very optimistic that I will be in there."
Pessimists will look at the current situation as a reason to be bearish on Rizzo's health and production this season, but he's done just fine over the past six seasons. Besides, there's no reason to push something during practice and risk being unable to go once the games count. So barring any flareups, it sounds like he's going to be ready to play by Friday.
"Opening Day does mean a lot to me, to be the Opening Day starter for the Chicago Cubs," Rizzo told reporters. "And that's the goal. I feel like, with how I felt today and how I was moving today, it's definitely in the right direction to being reality."