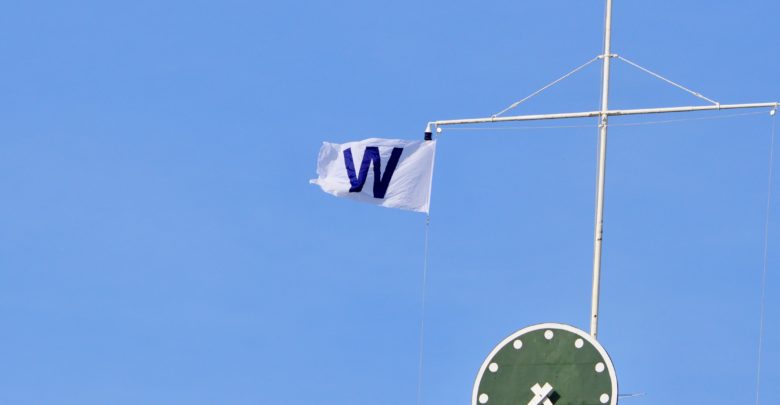 Chicago Cubs Score and Recap (7/27/20): Cubs 8, Reds 7- Lester Allows No Hits, Jeffress Slam Door After Kimbrel Implodes
For most of the game, this one kinda felt like a laugher that made all the empty seats at Great American Ball Park seem almost normal. The non-existent fans who left early would have been kicking themselves as the Cubs bullpen almost coughed up a 7-0 lead, lowlighted by an implosion after earlier miscues prompted a save situation. Jeremy Jeffress finally locked down a nervous 9th inning as the Cubs took the opener 8-7.
Jon Lester showed no signs decline in the first start of his age-36 season, no-hitting the Reds through five innings before handing the ball over to his bullpen to finish things off. Without several regulars in the lineup, the Reds looked anemic against the big southpaw, making very little hard contact and leaving little doubt that the Cubs were in control. Until they weren't, of course. More on that later.
The Cubs gifted Lester a cushion right off the bat, as just about everyone hit the ball hard against familiar foe Wade Miley. The lefty wasn't fooling anyone as he recorded just five outs before getting the hook. Kris Bryant led off the game by getting hit, followed by a walk to Anthony Rizzo. After Javy Báez and Kyle Schwarber took turns flying out, Willson Contreras and Steven Souza Jr. both cranked two-out doubles. David Bote then smacked a line-drive single to plate Souza Jr. to put the Cubs up 4-0.
In the 2nd inning, Bryant and Rizzo flip-flopped their walk and HBP before Báez joined the doubles parade to plate Bryant. Rizzo scored on a passed ball to make the score 6-0 Cubs.
Nothing happened for either team until the 6th inning, when the Cubs added another run on Rizzo's third home run of the season to make things 7-0. After Jesse Winker knocked in Joey Votto to give the Reds their first run in the bottom half of the 6th, Bote got it right back when he plated Contreras on an RBI double in the top of the 7th to make it 8-1 Cubs.
The easy win turned a bit dicey in the 7th and 8th as the Reds scored twice in each inning, including Tyler Stephenson's first career home run, a Nicholas Castellanos RBI knock, and a two-RBI single for Votto.
Then, things got really dicey when now-beardless Cubs closer Craig Kimbrel took the rubber for what should have been a fairly routine save. Kimbrel had zero command and looked like he had a case of the yips as he threw curveballs and fastballs all over the place en route to giving up two runs on four walks and a hit batter. He turned the ball over to Jeffress with a one-run lead and the bases loaded with just one out recorded.
After running the count full, Jeffress struck out Phillip Ervin on a riding fastball that got a swing despite being ball four. Jeffress then went full against Joey Votto, eventually coaxing a liner to center to end the game. Deep breath. All that matters is the W (box score).
Why the Cubs Won
Lester gave up no hits through five innings and the offense gave him what looked like more than enough before the bullpen nearly gave it away. A big hand goes to Jeffress for sneaking out of a situation in which he had zero margin for error.
Key Moment
It looked like it was going to be Souza delivering in his first Cubs at-bat with a double that scored Contreras and Rizzo to put the Cubs up 3-0. That changed when Jeffress got Votto to line out to Almora to preserve the victory.
Stats That Matter
Rizzo already has three bombs through four games, proving the slimmed down physique certainly isn't hurting his hitting.
Despite only one hit between the two, Bryzzo showed why they're 1-2 in the lineup for David Ross as they scored five runs on the night.
Bote made the most of his first start of the season, going 2-4 with a double and 2 RBI.
Lester threw 76 pitches to get through 5 no-hit innings in his first start of the summer.
Cubs starters so far this season: 3-1, 24 IP, 12 H, 4 ER, 23 Ks, 3 BB.
Kimbrel threw 13 strikes out of 34 pitches to record one out. Woof. He's gotta get better.
Bottom Line
We knew the Cubs would probably score some runs in Cincinnati, but if they can get starting pitching like this to go along with their offensive production, look out. Now they just need to find a couple guys in the pen who aren't named Ryan or Wick.
On Deck
The Cubs continue their series against the Reds Tuesday as Alec Mills takes the bump for his first start of the season. Cincinnati will counter with right-hander Tyler Mahle in a game that starts at 5:40pm CT. Tune in on Marquee or listen to the game on 670 The Score.