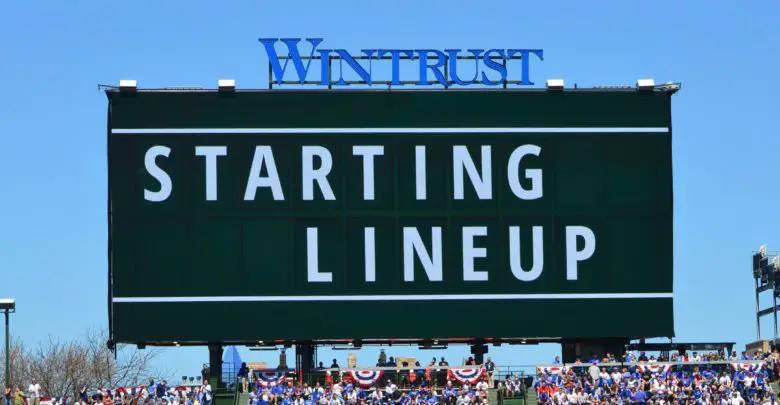 Chicago Cubs Lineup (8/12/20) – Same Batting Order, Kyle Hendricks Starts on Wednesday Night in Cleveland (Updated w/ Schwarber Scratched)
Update: Here is the new lineup after Kyle Schwarber was scratched with a knee contusion. He was hit by a pitch in that area last night, so likely just a cautionary move on the Cubs part.
Kyle Schwarber was scratched due to a right knee contusion.

New #Cubs lineup: pic.twitter.com/kdosfBlKFl

— Chicago Cubs (@Cubs) August 12, 2020
Kyle Hendricks is starting a baseball game on a Wednesday night in Cleveland, which seems like it might bear some significance. He was less than great in his previous road start, also in Ohio, but it's hard to see him making a mistake by the lake tonight.
Tonight's lineup is the same as the one that scored more than four runs against Cleveland pitching for the first time all season last night. Kris Bryant, who's carrying a .400 OBP since the third game of the season, will lead off at third. Anthony Rizzo is at first, Javy Báez plays short, and Kyle Schwarber is in left.
Willson Contreras is behind the plate, Ian Happ is in center, and Jason Heyward is in right following a big performance. Then it's Victor Caratini at DH and Jason Kipnis at second base.
Here is tonight's #Cubs lineup in Cleveland! pic.twitter.com/zTiiN4TrLZ

— Chicago Cubs (@Cubs) August 12, 2020
Opposing them will be 33-year-old righty Carlos Carrasco, reigning AL Comeback Player of the Year. Carrasco revealed a leukemia diagnosis last July following a month on the IL, then returned in September to make 11 relief appearances. Kinda makes the irresponsible actions of two of his fellow pitchers seem even dumber when you realize they've got a recent cancer survivor in their midst.
This is Carrasco's fourth start of 2020, the previous three of which have gone six innings with a max of 24 batters faced. His most recent effort against the Reds was a one-hitter in which he bowled his opponents over despite allowing four walks, a very high total. It helped that he struck out eight batters, bringing his total to 23 on the season.
Much of his success comes from a very balanced attack that features four pitches he'll use 20% or more of the time. Some of that can vary by pitch tracking, since his slider and curve can appear very similar, but the key is that his fastball sets up a trio of very effective secondaries.
The changeup is Carrasco's best pitch, largely because it mimics his fastball so closely. Coming in just 5-6 ticks slower, the movement can really throw hitters off. Between that and the breaking balls, he's maintained similar splits over the course of his career. They're actually very lopsided this year, though, as lefties are hitting just .147 with a .250 wOBA, both at least 70 points lower than their right-handed counterparts. Sure would be nice to even that out a little tonight.
First pitch from Cleveland is set for 5:10pm CT on Marquee Sports Network and 670 The Score.