Tuesday Trends: Shades of Normalcy for Craig Kimbrel, Struggling Sluggers, Taste of Adversity
Well, that escalated quickly.
The Cubs tried as hard as they could in the last four days to erase the effects of their scorching hot start, but David Bote steered his club away from the iceberg of what would have been five straight losses to the teams immediately trailing them in the division. It's a race again to be sure, but it's hard to overstate the value of not getting swept in Monday's doubleheader.
The team performance? While it's been unambiguously maddening, it's not as bad as it could have been thanks to some middle late-inning heroics on Monday evening. As for individual trends? Let's take a look.
Trending up
Craig Kimbrel's whiffs: It's hard to overstate how much it would mean for the Cubs to have their future Hall of Fame closer revert back from having turned into a pumpkin. He's not there yet and he's not close, if you ask me. However, he's taking steps in the right direction.
Those whiffs Kimbrel wasn't getting in his early season struggles? They're coming along now. Believe it or not, he's suddenly at the 90th percentile league wide in terms of whiff rate. The fact that he's only pitched a total of 4.1 innings coming into Tuesday's action undoubtedly has a lot to do with it, but you can also see reasons that he's been a bit more successful lately.
The most evident of those is that he is finally locating his curveball. Hitters can no longer bail the instant they see the curve and Kimbrel's ability to make batters believe that he's capable of getting this pitch in the zone is a prerequisite to continued success. So far, so good.
Jason Kipnis' hometown credentials: In watching Kipnis success so far in 2020, you can get at least some idea of what the Cubs were probably hoping for in signing Daniel Descalso last year. Unlike Descalso, Kipnis' clubhouse presence and veteran leadership has been coupled with production on the field to the tune of a .344/.432/.688 slash line in the last 15 games.
He's also been one of the team leaders in Vibes Above Replacement.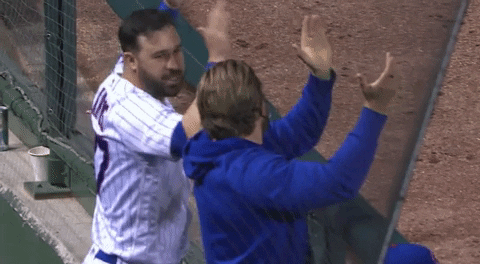 His success has gone a long way toward offsetting some early struggles by rookie Nico Hoerner, which we'll get into a bit later.
Our collective blood pressure: I've always had pretty great blood pressure, but four straight losses to Milwaukee and St. Louis that included a near-miss attempt at a fifth can certainly change that in a hurry. Remember to cut down on the read meat and sodium and get some exercise, because relying on the Cubs to keep your vitals in line probably isn't a winning strategy.
Holding steady
The Jeremy Jeffress Revenge Tour: Despite giving up the eventual winning run in Saturday's extra innings loss to his former team, it's hard not to be impressed with what Jeffress has done so far as a Cub.
The results have been there, but the stuff is trending up. From an average fastball velocity of 91.5 in early August, he's been close to 94 over the last several games. Jeffress could have become the first Cub ever to give up a walk-off home run at Wrigley Field on Monday evening's game, in which the Cubs were technically the road team. That he was able to avoid that fate is a major tally in the win column for the veteran reliever.
Anthony Rizzo's predictability: In the second edition of this feature, the Cubs' unofficial captain holds down his place in this section of the column and his status as the club's steadiest hitter.
Has Tony been good this week? Sure, he's been great! He's hitting .240/.367/.520 with a couple of home runs coming into Monday. He's not "trending up," however, because those numbers are roughly in line with his .246/.410/.492 line for the season as a whole.
Put another way: If you stay steady, you ain't got to get steady.
Trending down
Contact rates from key hitters: Cubs hitters sure have been striking out a lot lately. The Cubs' Nos. 3 and 4 hitters, Javier Báez and Willson Contreras, stand out in that regard.
Contreras in particular has struggled, with a K% that is worse than 98% of the league's hitters. The results have still been okay thanks in large part to a hard hit percentage that's better than 98% of hitters, but a 27/4 K/BB ratio isn't likely a recipe for continued success.
Nico Hoerner's Rookie of the Year odds: The results simply haven't been there the Cubs' 2019 first round pick, who is batting .100/.182/.150 over his last seven games coming into Monday's action against the Cardinals. His 0-2 effort in the first game of that double header won't help those results.
So results haven't been there, but what about the young infielder's process? There's better news to report there, courtesy of Cubs Insider's Brendan Miller.
Nico Hoerner has been getting screwed lately…

– Hard hit rate better than 83% of hitters
– O-swing rate improved from ~45% in '19 to ~30% (league average)
– Difference between actual wOBA and expected wOBA is almost 50 points

— Brendan Miller (@brendan_cubs) August 17, 2020
Over the course of the season, Hoerner has been better than league average in both hard hit percentage, strikeout percentage, expected batting average, and exit velocity. The expected wOBA is still a tick below league average, but he definitely deserves better results than he's gotten.
Sooner or later, most hitters tend to get what they deserve. Hopefully Hoerner will too, because the Cubs could certainly use the help.