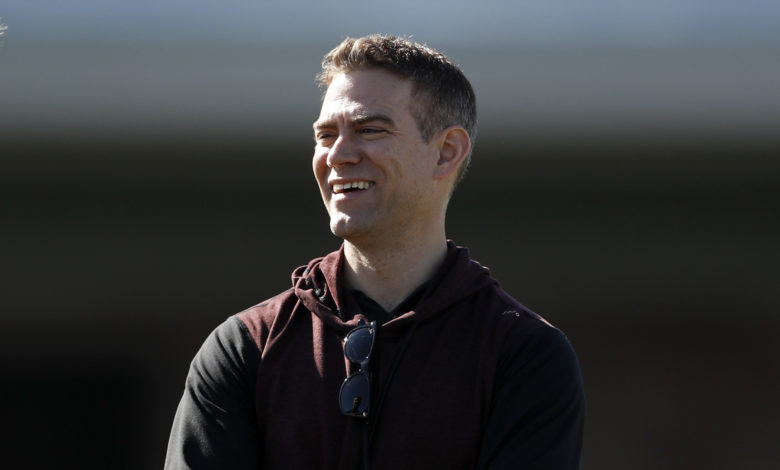 Theo Epstein Says 'Not Great' Financial Situation Dictating Trade Deadline Decisions
Even when you know something to be true based on overwhelming evidence, it can be a little jarring to hear the party in question admit to it. Anyone who's been following the Cubs' moves closely over the last two years or so knows they've been scaling back on their payroll expenditures, almost certainly in an effort to avoid another competitive balance tax overage and the ensuing financial losses that come along with it.
Their biggest moves in free agency over the past two winters have been Daniel Descalso, Brad Brach, Steven Souza Jr., and Jeremy Jeffress. That's a total of $8.5 million in guaranteed money for four players, only one of whom is currently active. Descalso's two-year deal represents $5 million of that tally and he's going to languish on the IL all season after costing the Cubs -0.8 fWAR last season.
Then there's the Craig Kimbrel deal, which came at a time of desperation for both the Cubs and the closer and accounts for roughly five times the guaranteed amount above. What was see as a bargain at the time has turned out to be anything but over the last year, though there's a chance he can still regain his form.
Setting aside how brutally awful some of these deals look, the bigger point is that the Cubs are clearly not spending much new money. They added just over $18 million in AAV last year and less than $2 million this year, not exactly what you'd expect from such a major market with a brand-new TV network and all kinds of money-making enterprises around the ballpark.
Except that all the Ricketts family's investments in rooftop buildings, bars, restaurants, and a high-end hotel mean little when there are no fans at the ballpark. Rather than selling their broadcast rights for a mint, Marquee Sports Network is a joint venture between the Cubs and Sinclair that required significant capital investment from both parties and isn't expected to impact payroll in a meaningful way for years to come.
That means those wheelbarrows of cash the business operations team promised have turned into buckets of IOUs, which puts the baseball ops team in a precarious spot. Again, many saw this coming months ago and were surprised when no trades were made over the winter or spring to shed salary and avoid the CBT threshold.
Then came the shutdown and a transaction freeze, after which the implementation of a short season and new safety protocols took precedence. There were even some thoughts that the "biblical" revenue losses being suffered by Tom Ricketts and his fellow billionaires might reduce the potential overage penalties enough to make it a moot point.
As Theo Epstein made quite clear prior to Friday's ugly loss to the White Sox, however, the Cubs are going to have a very difficult time adding any more salary via trade.
"The financial picture's not great," Epstein told the media via Zoom. "Any time revenues are slashed to the extent they are, that means there are losses. That means, unfortunately, we're having to potentially cut in other areas that also hit very close to home and are painful. How we weigh all those things is not easy.
"It's not something that I can give a blanket answer to. And not something that I can share. It'll involve conversations right up to the point of when we have to decide on a transaction, and probably right up to the deadline itself."
I'm sure some fans out there will point to this as Epstein being the chess master, setting up a smokescreen to obscure his true intentions. Except he doesn't actually work that way and his transparency has been a hallmark throughout his Cubs tenure. Rather than saying the Cubs will have to sell in order to save money, it's likely he's talking about having very limited funds to work with when it comes to adding players from outside the organization.
"There are a lot of years when we know we have an impactful move or two in us. It's just a matter of finding it and executing on it," Epstein added. "This year, the moves might be more complimentary and there might be more internal solutions."
So you're saying we shouldn't hold our breath on another Nick Castellanos-type deal? It's more likely the Cubs will target another lefty for the bullpen, or just another reliever who can retire left-handed batters, since Kyle Ryan has been disappointing so far and Brad Wieck is still on the IL. As we saw with the Brandon Workman/Heath Hembree deal, the cost might not be too great from a player perspective.
For the Cubs, though, it's more about how much money they'd have to take on and whether the player(s) they acquire have been and will be compliant with protocols. Imagine trading for someone and then finding out a few days later that they'd pulled a Zach Plesac and risked the safety of a group that has been a shining example of how to take safety measures seriously.
"Every team is going to be cognizant of who they're bringing in and how responsible they would be and how much you can count on them," Epstein explained. "Also, if acquiring the player puts them in an untenable situation, it might be hard to acquire somebody who's got a great setup with their family in a certain spot geographically."
Comfort and acclimation to a new situation are always paramount to success, but they're even more important now in light of everything that's going on. That's why trades might be harder to pull off and could be more limited to the 10-team pseudo-bubbles MLB has established. Conversations will still be had across divisions, of course, it's just that keeping players closer to home might grease the wheels a bit more.
One move I had previously thought made too much sense was trading José Quintana to a team in need of starting pitching in return for either middle relief help or just a mid-level prospect. The Cubs could shed salary while potentially upgrading the bullpen or the farm. But with Tyler Chatwood still on the IL and so many other uncertainties, moving Q might not be an option. And hey, maybe Quintana's activation serves as a de facto deadline addition.
Further complicating matters is the fact that only players from the 60-man pool can be traded, so most teams may be less willing to part with those players. All things considered, the Cubs would probably be better off promoting some of their young guys from South Bend to bolster the 'pen and get a little experience. It'd cost a lot less, they already understand the protocols, and it would prove that all their talk about more aggressive pitching development isn't just lip service.
With just over a week to go prior to the deadline, expect to hear all kinds of general rumblings with the Cubs involved on some more peripheral arms. The expanded playoff field could mean fewer teams looking to sell, though perhaps the standings will be a little more solidified over the next few days.