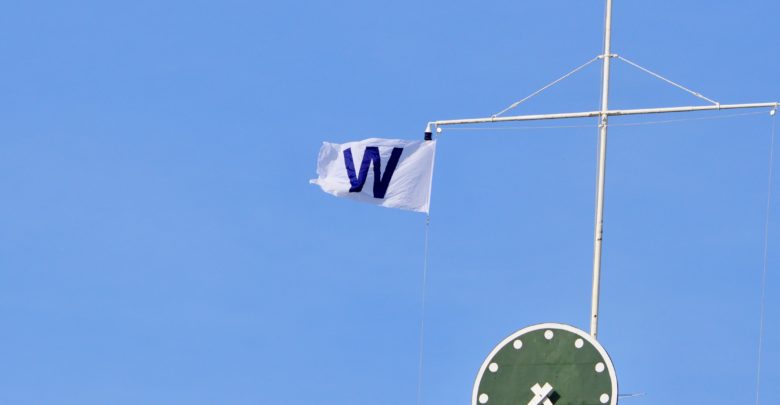 Chicago Cubs Score and Recap (9/10/20): Cubs 8, Reds 5 – Contreras Leads Way in Comeback Hit Attack
There was a sinking feeling of déjà vu after Cubs starter Adbert Alzolay gave up multiple runs in the 1st inning, but the Cubs were able to overcome a terrible start to knock out the Reds Sonny Gray early en route to an 8-5 win.
In a long (4:07) and soggy game that featured an hour-plus rain delay before commencing, the first two at-bats seemed just a tad inauspicious for the home team. Joey Votto and Nicholas Castellanos opened the game with hits that forced slips and slides by Cubs outfielders before both came around to score and put the Reds up 2-0 immediately. The Reds tacked on one more in the 2nd on a Brian Goodwin double and things were looking bleak in Muddy Wrigleyville with the Reds up 3-0 and Gray on the mound.
Everything turned to joy in the bottom of the 4th when mighty Nico came to bat however, and maybe there's reason to believe that the Cubs bats were woken out of their season-long slumber. Between three hits, three walks, five runs, and an actual hit with the bases loaded, the Cubs turned a 3-0 deficit into a 5-3 lead just like that.
Nico Hoerner was able to drive in two with a bases-loaded double, immediately followed by a two-run single from Ian Happ. Anthony Rizzo drove in the last run on a ground out as he plated Happ to end the big inning. The Cubs added two more in the 5th when Cameron Maybin tripled to score Willson Contreras and Hoerner knocked in Maybin with a forceout to make it 7-3 Cubs.
The Reds got two in the 8th off Dan Winkler, but Contreras was able to get one right back with his fourth hit of the night to score Kris Bryant. Jeremy Jeffress came in once again in the 9th and shut things down. (Box score)
Why the Cubs Won
They knocked out Gray and then continued knocking with 13 hits on the night.
Key Moment
In successive at-bats in the 4th, Hoerner and Happ knocked in two apiece to give the Cubs a 4-3 lead they would not relinquish. In a totally awesome hustle play that saw him refuse to stop running, Hoerner scored from second on a ball that barely got out of the infield.
Stats That Matter
The Cubs forced Gray out of the game after 84 pitches in just 3.1 innings
Five different Cubs had multi-hit games as they plated eight runs without the benefit of a longball.
Contreras was 4-for-4 with a walk, two runs scored, and an RBI. His average has climbed all the way to .261.
Hoerner, whose playing time has been limited of late, had a big game and went 2-for-4 with a run and 3 RBI.
The Cubs slash line as a team with the bases juiced this year: .188/.218/.250. Hoerner's hit was huge.
Bottom Line
The Cubs take the series in total "because baseball" fashion by winning the two games Yu Darvish didn't start. Go figure. They also maintain their three-game cushion over the Cardinals and their record now stands at 26-19 with 15 games to go.
On Deck
The Cubs head north to Milwaukee where they'll play a weekend set against the Brewers that opens with Jon Lester getting the ball against Brandon Woodruff. Game time is 7:10pm CT and the game will be on Marquee and 670 The Score.