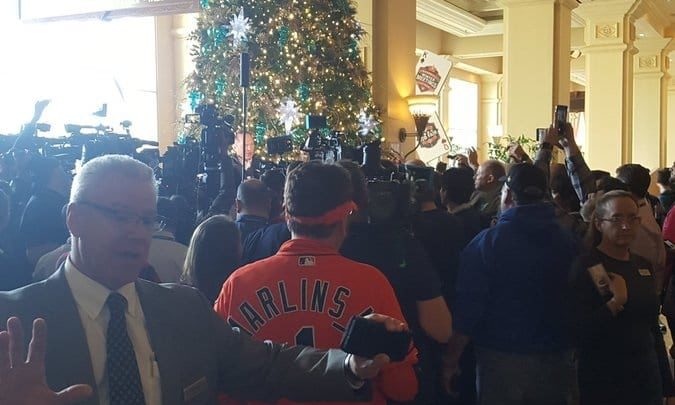 Scott Boras Talks Turkey, Says No MLB Team Lost Money in 2020
If there's anything superagent Scott Boras loves more than scoring huge contracts for his clients, it's regaling the media with bombastic analogies. It reminds me of the late Don Davis, a man folks in Central Indiana and beyond may remember as the proprietor of Don's Guns in Indianapolis. His infamous slogan of, "I don't wanna make any money, I just love to sell guns" was followed in commercials by him shooting finger guns while cackling maniacally.
Here's an ad for his $10 gun rental program, but you can find several other cringe-worthy commercials elsewhere on YouTube.
Though Boras has a significantly more erudite schtick, that desire to be the center of attention while slinging his wares surely has him missing the annual platform provided by the Winter Meetings. He relished the spectacle of marching into the lobby of whatever hotel was playing host that year and wrapping the gaggle of reporters around his little finger.
His appearances had grown even bigger and more legendary over recent years because he was just about the only person of note in the industry willing to share his thoughts freely. As Bill Shaikin laid out in the LA Times, technology was already rendering the in-person meetings obsolete well before the pandemic finished the job. In order to avoid being accosted by a journalist or, God forbid, a blogger with a load of questions and perhaps even an agenda, team execs simply holed up in their suites and communicated electronically with one another.
---
---
What's more, the once free-flowing waters of free agency have grown more sluggish and have almost frozen entirely over the past few years. That has affected the timing in the market, eliminating any frenzied signing period and often dragging big contracts into spring training or even the regular season.
"When you're the thermometer, you're not the turkey," Boras told Shaikin. "We put the thermometer in and the turkey tells us when it is done.
"That's kind of how the winter meetings work. Sometimes the turkey is done rather quickly, because the heat is high early. If the temperature is low, then obviously the turkey takes longer to cook."
That temperature doesn't figure to be much more than lukewarm as owners bemoan biblical losses and commissioner Rob Manfred says the industry took about a $3 billion hit in 2020. The Cubs alone claim to have missed out on as much as $140 million in revenue this past season, largely because Tom Ricketts said roughly 70% of their income is derived from gameday activities.
Boras, however, strikes back at those figures by pointing out that teams paid out less than 40% of player salaries due to the shortened season. They also collected local television revenue and reaped a national postseason windfall that included more teams and games due to an expanded format. Then there's the new $3.7 billion deal with Turner that nets the league a 65% increase over the previous pact that paid a mere $325 million annually.
"There's no team in baseball that lost money last year," Boras said.
He went on to say that there will be a full season played in 2021 because teams need to squeeze as much money as possible out of those local contracts. That includes the Cubs, who desperately need to leverage Marquee to the greatest extent possible after a short season that saw the new network struggle with carriage partnerships.
We'll certainly hear more from Boras as the virtual meetings are held this week, so be ready for a healthy dose of performative bluster that flies in the face of whatever narrative web the league is spinning.