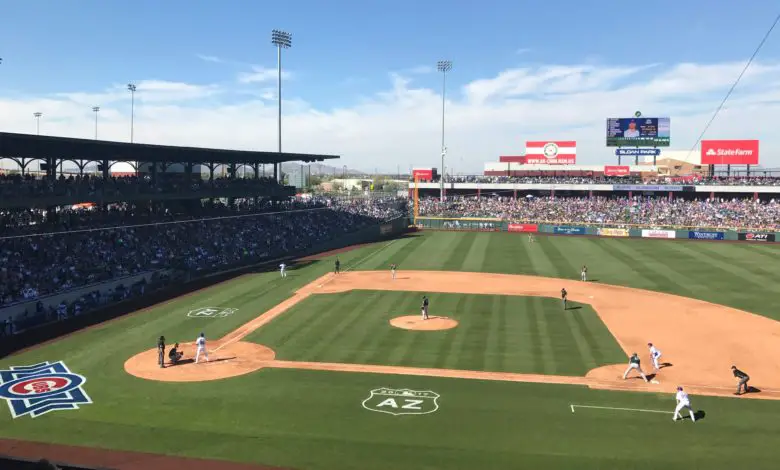 Cactus League Asks MLB to Delay Start of Spring Training Due to High COVID Infection Rates
In a letter sent to MLB commissioner Rob Manfred Monday, the Cactus League recommended delaying the start of spring training. Citing high COVID-19 infection rates in Maricopa County, home of the multiple spring training facilities, the league believes it is wise to wait until the pandemic slows in the area.
You can see an image of the letter in the tweet below, following which is the full statement.
BREAKING Arizona's Cactus League tells @MLB it wants to delay start of spring training because of Maricopa County's high COVID infection rate. #12News pic.twitter.com/H61DbDurVY

— Brahm Resnik (@brahmresnik) January 25, 2021
Amid the ongoing COVID-19 pandemic, the Cactus League has formed a task force to ensure that our 10 spring training facilities are prepared to host the 2021 spring training season in a manner that is safe for all involved. We stand ready to work with you on the final preparation and outcome to begin the season.

 

Last week, leaders of all eight Cactus League cities and the tribal community had the opportunity to meet with Major League Baseball representatives and provide an update on our efforts as the February reporting date for Major League Baseball players approaches.

 

We are grateful to MLB for its partnership and unified in our commitment to provide a safe, secure environment; to that end, the task force has worked to ensure that ballparks are able to meet COVID-19 protocols such as pod seating, social distancing and contactless transactions. But in view of the current state of the pandemic in Maricopa County — with one of the nation's highest infection rates — we believe it is wise to delay the start of spring training to allow for the COVID-19 situation to improve here. This position is based on public data from the University of Washington's Institute for Health Metrics and Evaluation, which projects a sharp decline in infections in Arizona by mid-March (an estimated 9,712 daily infections on February 15 and 3,072 infections on March 15).

 

We understand that any decision to delay spring training cannot be made unliterally by MLB. As leaders charged with protecting public health, and as committed, longtime partners in the spring training industry, we want you to know that we stand united on this point.

 

We appreciate the opportunity to offer input and thank MLB for its collaboration in assisting our facilities as they prepare for the 2021 spring training season. We welcome further discussions as needed.
The Cubs recently sent out a notice to Sloan Park season ticket holders to inform them of the safety measures being enacted at the ballpark, including pod seating. In order to accommodate this shift, season ticket holders will not be able to use their seat locations for the 2021 spring season. They will, however, have priority access to purchase single-game tickets before the general public.
It makes sense to push spring training and the regular season back, even if that means playing less than 162 games again. The most important thing is to maintain continuity so baseball isn't forced into another shutdown that creates further strife and uncertainty. Projections are obviously just that at this point, but the numbers above indicate a very sharp decrease in infection rates. Add in greater vaccine distribution and things look even better.
More on this as it becomes available.