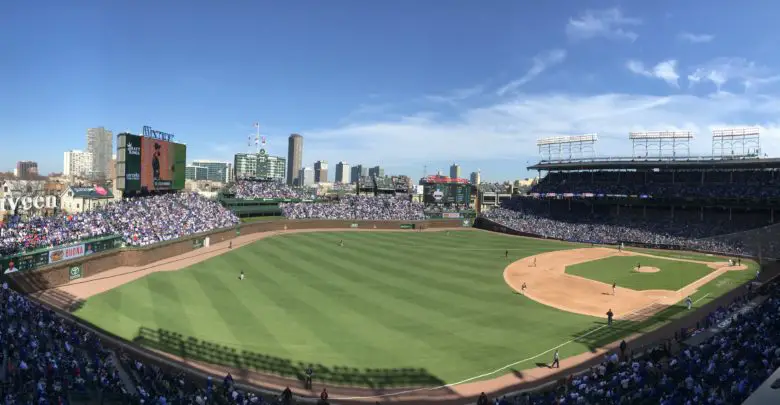 Chicago Reportedly Planning to Allow 'Some Fans' at Wrigley Field, Guaranteed Rate Starting With Opening Day
As COVID-19 numbers continue to drop across the country, Chicago is reporting its lowest positivity rate since the pandemic began nearly a year ago. One in 10 Chicago residents has already received their first dose of the vaccine, the Pfizer version of which has actually proven to be highly effective even before the follow-up booster. What's more, the revelation that undiluted vials can be stored and transported at more conventional temperatures means broader distribution.
The positive (pun intended) news continued Friday, when Johnson & Johnson's single-dose vaccine was approved for emergency use by a US Food and Drug Administration committee. The FDA is expected to officially approve the vaccine in short order, thereby making a reported 3.9 million doses available right away. That would increase vaccination rates by nearly 25%, particularly in rural areas and inner cities that haven't previously had adequate access.
That is all very, very good news on several fronts, but this is a baseball blog and we need to talk about what it means in terms of getting fans back to the ballpark. Sloan Park will be operating at 25% capacity for spring games, so you'll find me there for a couple games in March, and a report from David Kaplan on Friday evening claims the City of Chicago is planning for "some fans to be allowed at both Wrigley Field and Guaranteed Rate starting with Opening Day."
Sources with the City of Chicago have confirmed to me that the plan is for some fans to be allowed at both Wrigley Field and Guaranteed Rate starting with Opening Day. #Progress pic.twitter.com/5Go1nCvBTD

— David Kaplan (@thekapman) February 27, 2021
Folks, you don't need me to tell you how huge this would be. The morale boost for players and fans alike would certainly be huge after having to listen to piped-in noise over an abbreviated season in 2020. The only spectators allowed near Wrigley last year were on the rooftops, which is both ironic and a little sad. I was in attendance for the season-ending loss to the Marlins and it was just depressing.
Not that it would have been some kind of party had we been inside the ballpark, mind you, it's just that you get smacked in the face with the overwhelming sense of unreality when you shamble out to the street and almost no one else is there. Wrigleyville was like some kind of ghost town through which a few dazed visitors were passing unexpectedly.
Now, however, that's going to start changing. It'll no doubt be weird at first, with capacity starting out at something like 10-25% and then (fingers crossed) ramping up as vaccine distribution and temperatures rise throughout the summer. Of course, we all still need to keep doing what we can to ensure the numbers keep trending in the right way.
Even if you don't buy into the severity of the whole thing and don't think precautions like masks and social distancing are important, maybe consider leveraging your selfishness when it comes to getting back to Wrigley. The sooner this pandemic is gone, the sooner more and more fans will be able to buy tickets. So keep your mask on, register for whatever vaccine is available as soon as you qualify, and let's all sing Take Me Out to the Ballgame together this season.