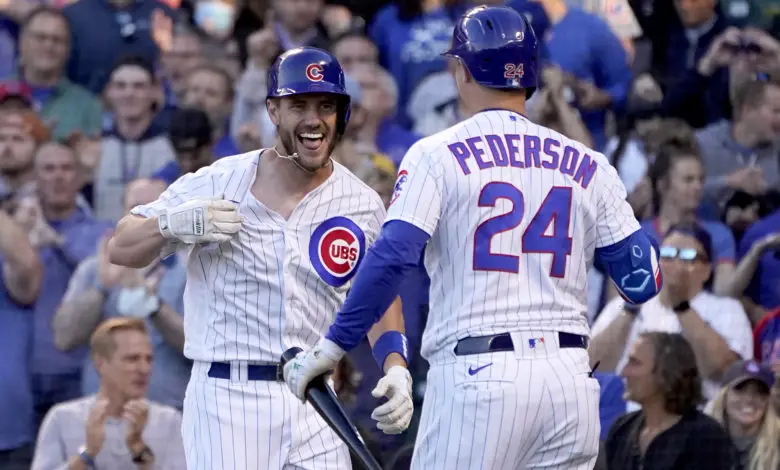 The Rundown: Cubs Paste Padres, Go for Sweep This Afternoon, Wisdom Stays Hot, Kimbrel Filthy, MLB Honors Lou Gehrig Today
"Whenever dark has fallen you know the spirit of the party starts to come alive." – George Benson, Give Me the Night
Instant Replay
A night game, a win against one of the best teams in baseball, and a raucous crowd at Wrigley Field had all of Chicago buzzing last night. That's the kind of cocktail that goes down smoothly, especially with the unhittable Craig Kimbrel as your chaser.
Craig Kimbrel. Reported. Bullying. 😯 pic.twitter.com/wDJsaMGq8G

— Rob Friedman (@PitchingNinja) June 2, 2021
The Cubs closer has been on a career-best run since the calendar turned to August last summer, but he was at his best last night. Sure, yesterday's game featured a 445-foot bomb by Willson Contreras and another home run from Patrick Wisdom, but it was Chicago's bullpen that continues to be the story surrounding the team's current hot streak. That run now stands at eight wins in 10 games as the North Siders go for the sweep in this afternoon's series finale. The Cubs relievers added three more scoreless frames to their impressive '21 resume.
Last night's 4-3 win over the Padres felt so much like a League Championship Series game that I had to temper my emotions at times while watching. I don't know how long it will last, but there's a kind of magic to this season, at least over the course of the last month, that is so reminiscent of the 2016 team. Getting fired up for regular season games is something fans haven't been used to in a long time, and it's a very good thing when June baseball feels like end-of-September baseball.
The Cubs clinched their sixth straight series win last night and, and at 31-23, enter today's game holding on to first place in the NL Central with a half-game lead over the Cardinals.
The Good: Wisdom is on fire with nine hits in 20 at-bats and five for extra bases, including his fourth homer of the year.
The Bad: The Cubs won despite going 0-for-8 with runners in scoring position. They've become a more contact-oriented team lately, but it's nice to know they can rely on the home run when necessary, too. The Cubs have hit seven taters in the first two games of the series.
The Filthy: Why aren't we mentioning Kimbrel as a potential MVP or Cy Young Award winner? We've certainly come a long way since holding our breaths each time Dirty Craig takes the mound, but it's tough to argue he's not the best pitcher in the National League right now. In 23 innings pitched, Kimbrel has a 0.79 ERA with 39 strikeouts.
---
---
Cubs News & Notes
Odds & Sods
Contreras made sure to let his former understudy know whose turf he's on in an answer to Caratini's blast in the top of the inning.
https://twitter.com/MLBastian/status/1399902902626443264
Climbing the Ladder
"I know how much I lean on you
Only you can see
The changes that I've been through
Have left a mark on me." – Gerry Rafferty, Right Down the Line
Games Played: 54
Total Plate Appearances: 2,023
Total Strikeouts: 509
Strikeout Rate: 25.2%
Team Batting Average: .241
Cubs' players love playing in front of their fans and have that home swagger down pat.
Apropos of Nothing
When you review baseball regulations, would you be surprised to learn that it's required that all balls be properly "mudded" before each game?
How About That!
MLB will celebrate Lou Gehrig across all of its stadiums today while raising awareness for the debilitating disease that cost Gehrig his life.
The Giants are the first MLB team to wear Pride Month hats and jerseys.
The Orioles ended their 14-game losing streak while the team was filming a documentary to commemorate their team record 21-game losing streak to start the 1988 season.
Mets pitcher Marcus Stroman referred to "racist undertones" in a tweet late Tuesday night after television analyst Bob Brenly made comments about the right-hander's head covering during New York's game against the Diamondbacks.
The Yankees announced they acquired one-tool prospect Connor Cannon yesterday as the PTBNL for Mike Tauchman. The one tool is off-the-charts power for the appropriately named slugger.
Photos of some A's minor leaguers' post game meals went viral on Tuesday, one of them of a sloppy cheese sandwich that displayed just how poorly the players are treated. Not a good look for baseball.
Former Cy Young award winner Mike Marshall passed away yesterday at the age of 78. Marshall holds the record for most appearances by a major league pitcher in one season with 106 in 1974, a year he pitched 208.1 innings as a reliever.
Tuesday's Three Stars
Odubel Herrera – The Phillies center fielder hit two home runs, scored three times, and plated three of his own in Philadelphia's 17-3 win over the Reds.
Andrew McCutchen – The 34-year-old outfielder matched teammate Herrera with two jacks of his own and four RBI.
Anthony Rendon – The Angels third baseman drove in five runs on a 3-for-5 night as Los Angeles upended the Giants 8-1.
Extra Innings
Believe it or not, it took a civilian battling Amyotrophic Lateral Sclerosis (ALS) to get Major League Baseball to honor Gehrig each season, a cause that is also near and dear to Cubs' announcer Jon "Boog" Sciambi. Gehrig passed away 80 years ago today.
Jeff Passan: The Ballad of Bryan Wayne Galentine: How one man's dream led to creation of Lou Gehrig Day across MLB https://t.co/QaX4ficGcd

— Buster Olney (@Buster_ESPN) June 2, 2021
They Said It
"Seems like [Wrigley Field] is 100 percent [capacity]. It's an amazing feeling to play behind it. It's amazing you can just look out and see how happy everyone has been back at the ballpark." – Anthony Rizzo
"They like the way we're playing, maybe. I don't know. I felt like last night as I was walking on the field, 'Go Cubs Go' was as loud as I've ever heard, and I've heard some loud ones." – David Ross
Wednesday Walk Up Song
A Kind of Magic by Queen – May the Cubs exciting brand of baseball continue and result in a sweep of baseball's number one team today.